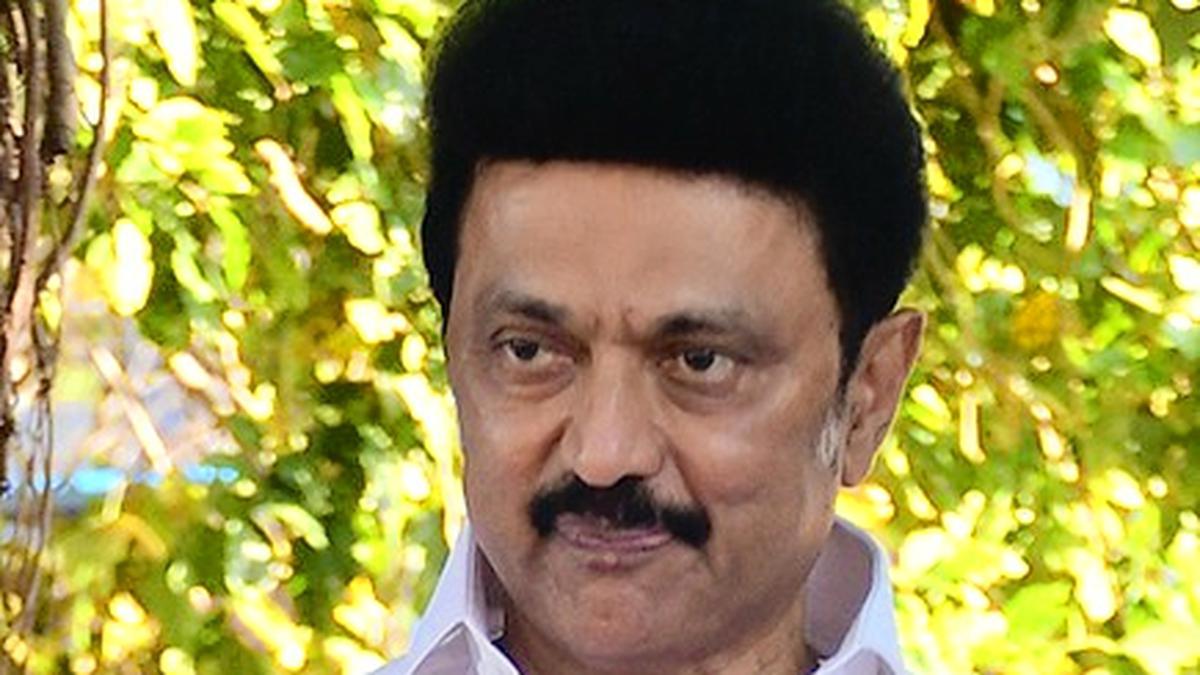 Stalin calls for report on data regarding grave crimes in Tamil Nadu from 2018 to 2022
The Hindu
The move follows a review meeting held with senior police officers on January 19, where the complied data revealed a substantial increase in the number of grave crime cases reported in 2022 compared to 2019
Chief Minister M.K. Stalin has called for specific details of grave crimes reported in all cities/districts during the period 2018-2022. The move follows a review meeting he had with senior police officers on January 19 to assess the law and order situation in the State.
The data compiled by the police headquarters for the review meeting revealed a substantial increase in the number of grave crime cases reported in many cities/districts, including Tiruppur, Coimbatore, Cuddalore and Dharmapuri, in 2022 compared to 2019.
According to police sources, the State Crime Records Bureau (SCRB) has written to all Commissioners/Superintendents of Police that the Chief Minister's Office had called for an urgent report on the Sub-Division-wise data of violent crimes (murder, culpable homicide not amounting to murder, attempt to commit murder, hurt/grievous hurt, riots and arson), property crimes (murder for gain, dacoity, robbery, burglary, theft and chain snatching) and crime against women and children (rape, dowry death, cases registered under the Dowry Prohibition Act, sexual harassment, cruelty by husband and relative, missing persons, kidnapping and abduction of women, rape and other cases under the Protection of Children from Sexual Offences Act).
The Chief Minister's Office had also called for particulars of land grabbing cases, narcotic drugs and psychotropic substances cases, Lottery Act cases, counterfeiting and cheating cases, Exorbitant Interest Act (Usury) cases, National Security Act (NSA) detention, extortion, blackmailing and Arms Act cases, among others, the sources said.
The crime data from 2018-2022 is already compiled and published by the SCRB and National Crime Records Bureau (NCRB) at regular intervals. "The data compiled for the Chief Minister's review meeting showed an increasing trend in murder cases in Tirupur, Tirunelveli, Chennai, Thoothukudi and Theni. There was a rise in dacoity and robbery cases in Coimbatore, Madurai, Tiruppur, Kancheepuram and Perambalur.
Pointing to grave crimes, the Additional Director General of Police (Law and Order) even called for the explanation of the concerned police chiefs on their plan of action to curb the offences in their respective jurisdictions, a senior police official said.
The official, who did not want to be quoted, said the Chief Minister, who had been showing keen interest on eradicating the menace of drugs in Tamil Nadu, had also sought details on the quantity of ganja, heroin and other drugs seized across the State, and the number of accused persons arrested in those cases.
More Related News
Some parts of Tamil Nadu may receive light to moderate rain till Tuesday. Chennai is expected to get light rain on April 2
Suspended YSR Congress Party (YSRCP) MLA Kotamreddy Sridhar Reddy has condemned the attack on Bharatiya Janata Party (BJP) national secretary Y. Satya Kumar's convoy, alleging involvement of the ruling party in the incident. ''It was a providential escape for me too. I escaped an attack by a violent mob. My car driver took another route to Nellore after seeing the mob. Democracy is under threat under the YSRCP rule," said the suspended MLA.
The tweets flagged by the government also include older posts related to anti-minority speeches made by political leaders
Presenting her second budget, Madurai Mayor Indrani Ponvasanth said under the able leadership of Chief Minister M.K. Stalin, Madurai would be given a facelift in all spheres. While heritage buildings, parks and monuments would be preserved, growth and development suited to the modern times would be implemented in all aspects, she said.
With focus on priority areas of emerging economies, plenary sessions of the second Sherpas' meeting under India's G20 presidency begins in Kumarakom.
While the toll charges for a single way journey on the expressway for cars was ₹135, it will be increased to ₹165 and for a return journey on the same day, the charges will jump from ₹205 to ₹250.
"Most of Shaista Parveen's family members are in jail or absconding."
Gujarat Titans skipper Hardik Pandya won the toss and elected to field against Chennai Super Kings in the Indian Premier League opener in Ahmedabad on March 31.
Information and Public Relations Minister Ch. Venu Gopala Krishna on Friday appealed to the rural reporters to enroll in the Diploma in Journalism course being offered by the C. Raghavachari Andhra Pradesh Press Academy (APPA)
A cardiac patient, Udayagiri MLA Mekapati Chandrasekhar Reddy had earlier undergone treatment for the same in Chennai and Bengaluru
The victim reached home and reported the incident to her mother, with whose help she got treated at a hospital.