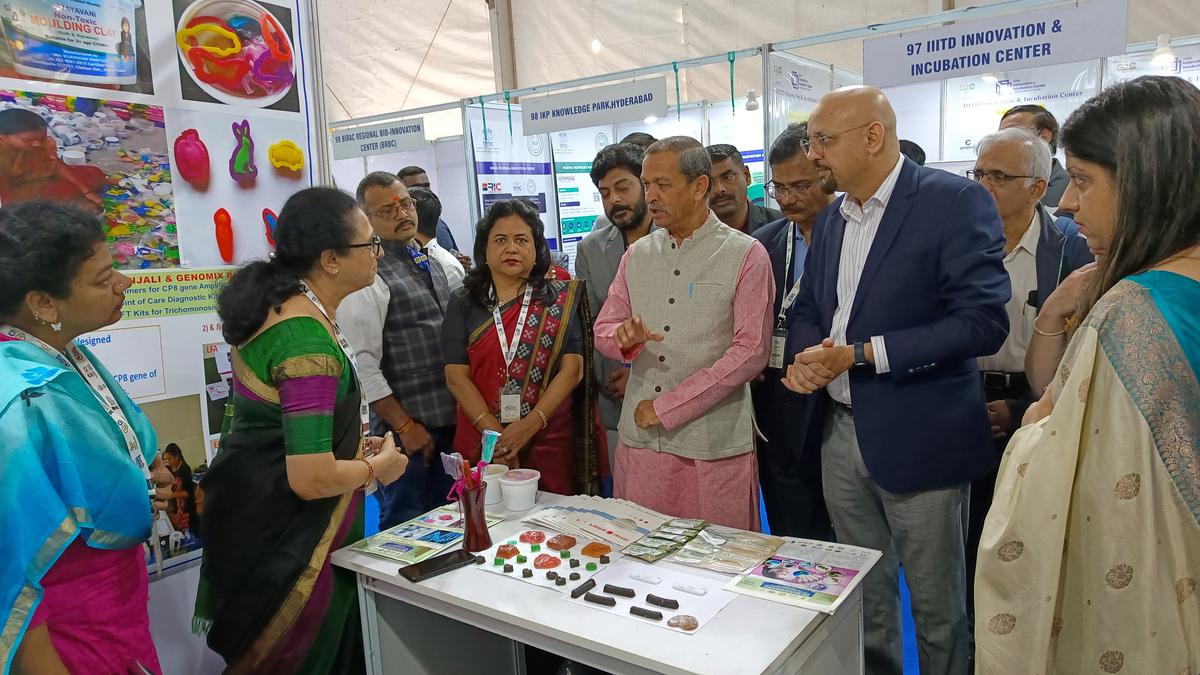 SPMVV showcases its achievements in Biotech at startup conclave in Bhopal
The Hindu
TIRUPATI
Sri Padmavati Mahila Viswa Vidyalayam(SPMVV) showcased its achievements on the innovation front at the start-up conclave held at the India International Scientific Festival (IISF) 2022 that came to a grand close at Manit in Bhopal on Tuesday.
Union Minister for Science and Technology Jitendra Singh, who participated in the exhibition, emphasised the importance of promoting startups through support from incubators and funding opportunities available in the form of schemes through DST, DBT, MSME etc.
SPMVV's Women Biotech Incubation Facility (WBIF) Chief Executive Officer V. Kalarani and scientific officer Shilpa Nayuni, who represented the varsity, gave presentations on the state-of-the-art biotech related infrastructure, services and outreach programmes aimed at rural women.
Madhya Pradesh Minister of Science and Technology Om Prakash Saklecha visited the WBIF stall and appreciated the all-women university for promoting startups in the life sciences sector to improve the lot of rural women.
As many as 200 startups, exhibitors, business mentors, research scientists and industry representations from India and abroad, government representatives and policymakers attended the festival.
More Related News
Congress legislator Sunny Joseph, who moved an adjournment motion to discuss the threat, accused the government of remaining inert to the plight of 30 lakh people living in fear in the periphery of 23 protected forests
A total of 2,715 women police personnel will participate in the programme which focuses on self-motivation, managing relationships, facing work challenges and other skills
Other highlights that are coming to Amazon Prime Video this week include 'Rüyanda Görürsün'
The outlay for the railways is nine times the amount provided in 2013-2014, Finance Minister Nirmala Sitharaman said while presenting the Union Budget 2023-24
PMK president Anbumani Ramadoss accused T.N. CM M.K. Stalin of adopting opposite stands when it came to farmers' welfare; he said the proposed land acquisition move by NLCIL would badly impact farmers in Cuddalore district
The State is expected to go to polls in May 2023
In the last Budget, ₹48,000 crore was allocated towards the Government's housing scheme
IMD further forecast light and moderate rainfall at many places over coastal Tamil Nadu and Puducherry on Wednesday and Thursday
The water will help irrigate 2,200 acres of agricultural land in 11 villages in Villupuram district and 1,000 acres in five villages in the Union Territory
Here is a quiz on interesting nuggets, historic facts and everything else that happened on January 31.
Trinamool Congress hits back at the National People's Party for backing the "foreigner-embracing" Citizenship (Amendment) Act after being accused of batting for Bangladeshis