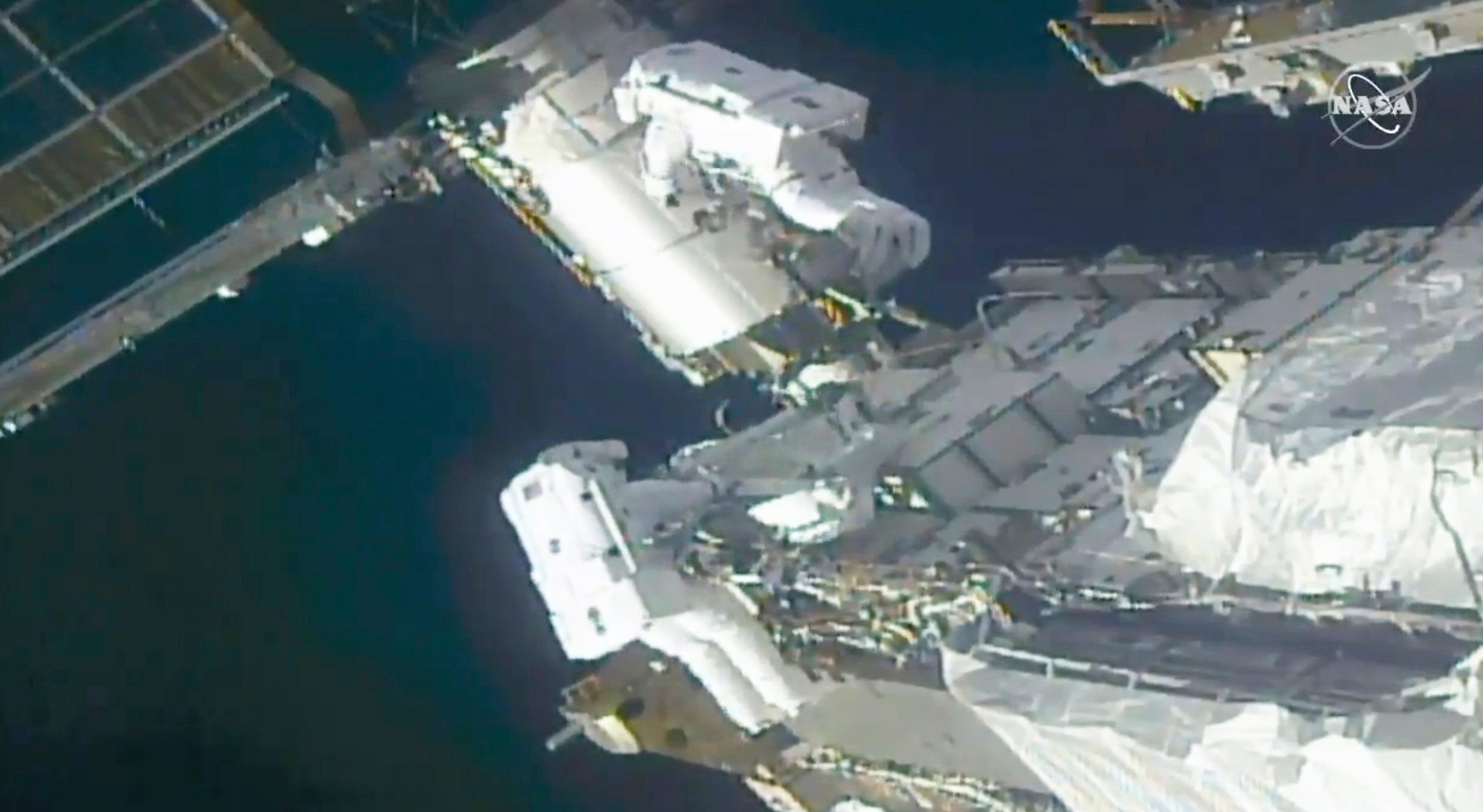 Spacewalking astronauts prep station for new solar wings
Fox News
The astronauts replaced wings on the port side of the station where the oldest and most degraded solar wings are located.
"We know it's super tight in there," Mission Control radioed. The astronauts headed with their unusually large load to the far port side of the station, careful not to bump into anything. That's where the station's oldest and most degraded solar wings are located. Glover quickly began putting the struts together in the shape of a triangle, using a cordless power drill, and Rubins bolted the completed piece to the space station.
More Related News
A young woman — a mom of two kids — was about to commit suicide when a bystander asked if she was OK. The young woman was talked off the bridge and expressed gratitude for the random act of kindness.
The Green New Deal once seemed like a fringe idea, but Americans are learning the full scope of what President Biden is delivering for climate extremists.
A new study published in the journal JAMA Open Network found that eating "ultraprocessed" foods can contribute to a higher risk of depression. Nutritionists weighed in on these findings.
"In God We Trust" has been the national national motto since 1956. Pastor Jesse Bradley of Washington state addresses its important in our national welfare.
Warnings against tainted Halloween candy have been around for decades, but there's little to no evidence to substantiate the rumor. Here's how the myth might've gotten started.
Sigma Alpha Epsilon, a fraternity at the University of Alabama, has been sued for allegedly hazing a student to the point where the minor lost consciousness.
A Michigan family reunited after the youngest child visited home during a break in his stay in the hospital where he has been fighting a rare brain cancer.
Police identified Sabrina Peckham as being the woman whose body was found in the jaws of an alligator late last week in Largo, Florida, according to reports.
Leukemia, brain or spinal cord tumors and lymphoma are among the common types of cancer seen in children. If your child receives a diagnosis, there are several ways to show support.
Here are three reasons why your student should consider getting a college degree.
Throwing certain items in the trash can be extremely harmful to the environment. Make sure to double check before throwing particular items in the bin.