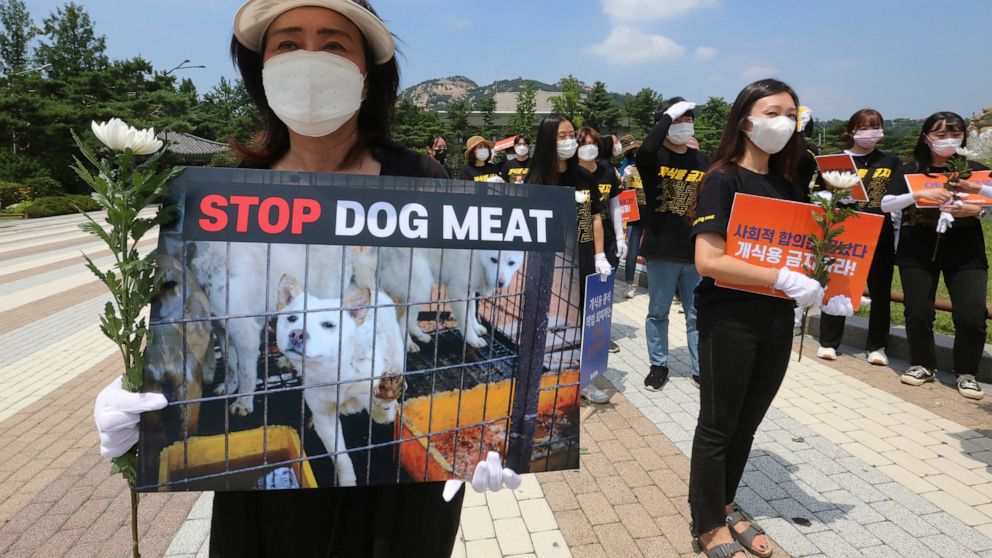 South Korea to launch task force on banning dog meat
ABC News
South Korea says it will launch a task force to consider outlawing dog meat consumption after the country's president offered to look into ending the centuries-old practice
SEOUL, South Korea -- South Korea on Thursday said it will launch a task force to consider outlawing dog meat consumption after the country's president offered to look into ending the centuries-old practice.
Restaurants that serve dog meat are dwindling in South Korea as younger people find dog meat a less appetizing dining option and pets are growing in popularity. Recent surveys indicate more people oppose banning dog meat even if many don't eat it.
In a statement, seven government offices including the Agriculture Ministry said they decided to launch the group comprising officials, civilian experts and people from related organizations to deliver recommendations on possibly outlawing dog meat consumption. It said authorities will gather information on dog farms, restaurants and other facilities while examining public opinion.
The government says the initiative, the first of its kind, doesn't necessarily guarantee the banning of dog meat. The seemingly vague stance drew quick protests from both dog farmers and animal rights activists.
More Related News
Former Argentine President Mauricio Macri has been charged with illegally spying on relatives of sailors whose submarine sank in 2017, a loss that was one of the most embarrassing incidents of his presidency
U.S. Secretary of State Antony Blinken is warning that President Vladimir Putin could quickly order an invasion of Ukraine if he has a pretext for doing so
British officials say about 30,000 people in the north of England and in Scotland have been without electricity for the better part of a week after a storm brought snow, ice and wind gusts of almost 100 miles per hour
Russia's top diplomat has warned NATO against redeploying U.S. atomic weapons to Eastern Europe if Germany refuses to keep hosting them
Russia has expressed concern about Ukraine's military buildup near the area of the separatist conflict in the country's east, a statement that comes amid Ukrainian and Western worries about an alleged plan by Moscow to invade its neighbor
China is lashing out at Shinzo Abe after the former Japanese prime minister warned of the serious security and economic consequences of any Chinese military action against self-ruled Taiwan
An Indian man has built a one-third sized replica of the historic Taj Mahal for his wife, but unlike the original, it's their residence, not a mausoleum