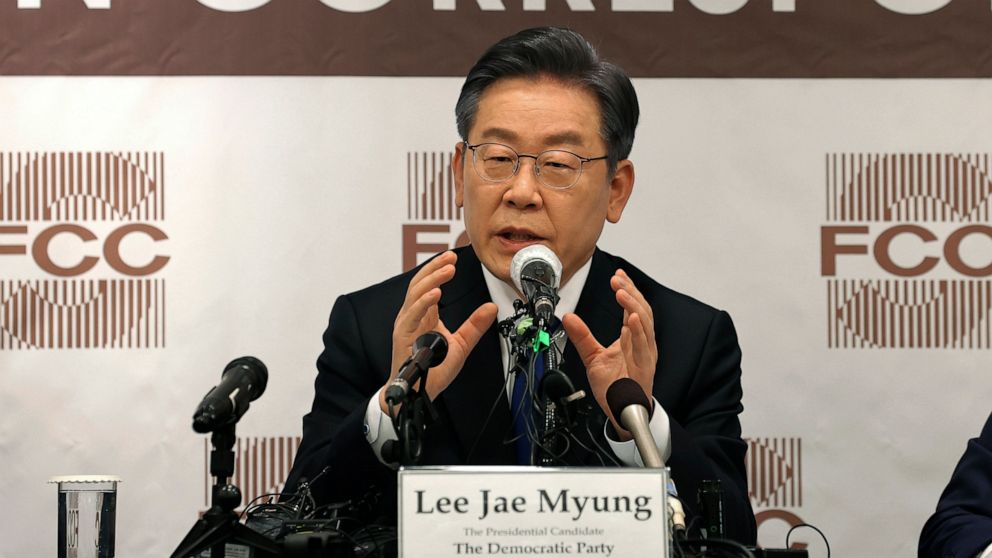 SKorea governing party candidate takes softer line on North
ABC News
The South Korean governing party's presidential candidate says he will continue a conciliatory approach toward North Korea if elected and questioned the effectiveness of U.S.-led economic sanctions in pressuring the North to abandon its nuclear ambitions
SEOUL, South Korea -- The South Korean governing party's presidential candidate said Thursday he will continue a conciliatory approach toward North Korea if elected and questioned the effectiveness of U.S.-led economic sanctions in pressuring the North to abandon its nuclear ambitions.
The comments by Lee Jae-myung, who represents President Moon Jae-in's liberal Democratic Party, come as nuclear negotiations between North Korea and the U.S. remain frozen over the issue of a relaxation of the crippling U.S.-led sanctions in exchange for steps by North Korea to wind down its nuclear weapons program.
Lee has been locked in a tight race in the March election with conservative candidate Yoon Suk Yeol, who has vowed a tougher stance on North Korea and promised to pursue stronger military cooperation with Washington and Tokyo to cope with North Korea's advancing nuclear threat.
In a meeting with foreign media, Lee stressed that South Korea should take a leading role in dealing with North Korea, reflecting concerns in Seoul that it is increasingly losing its voice in international efforts to resolve the nuclear standoff.
More Related News
Mexican President Andrés Manuel López Obrador is holding a massive rally in Mexico City to mark the mid-way point in his six-year term, amid polls showing about two-thirds of Mexicans approve of his administration
Mexico announced a joint plan with the United States to send development and agricultural aid to Honduras, Guatemala and El Salvador, to stem the wave of migration from those Central American countries
Former Argentine President Mauricio Macri has been charged with illegally spying on relatives of sailors whose submarine sank in 2017, a loss that was one of the most embarrassing incidents of his presidency
U.S. Secretary of State Antony Blinken is warning that President Vladimir Putin could quickly order an invasion of Ukraine if he has a pretext for doing so
British officials say about 30,000 people in the north of England and in Scotland have been without electricity for the better part of a week after a storm brought snow, ice and wind gusts of almost 100 miles per hour
Russia's top diplomat has warned NATO against redeploying U.S. atomic weapons to Eastern Europe if Germany refuses to keep hosting them
Russia has expressed concern about Ukraine's military buildup near the area of the separatist conflict in the country's east, a statement that comes amid Ukrainian and Western worries about an alleged plan by Moscow to invade its neighbor