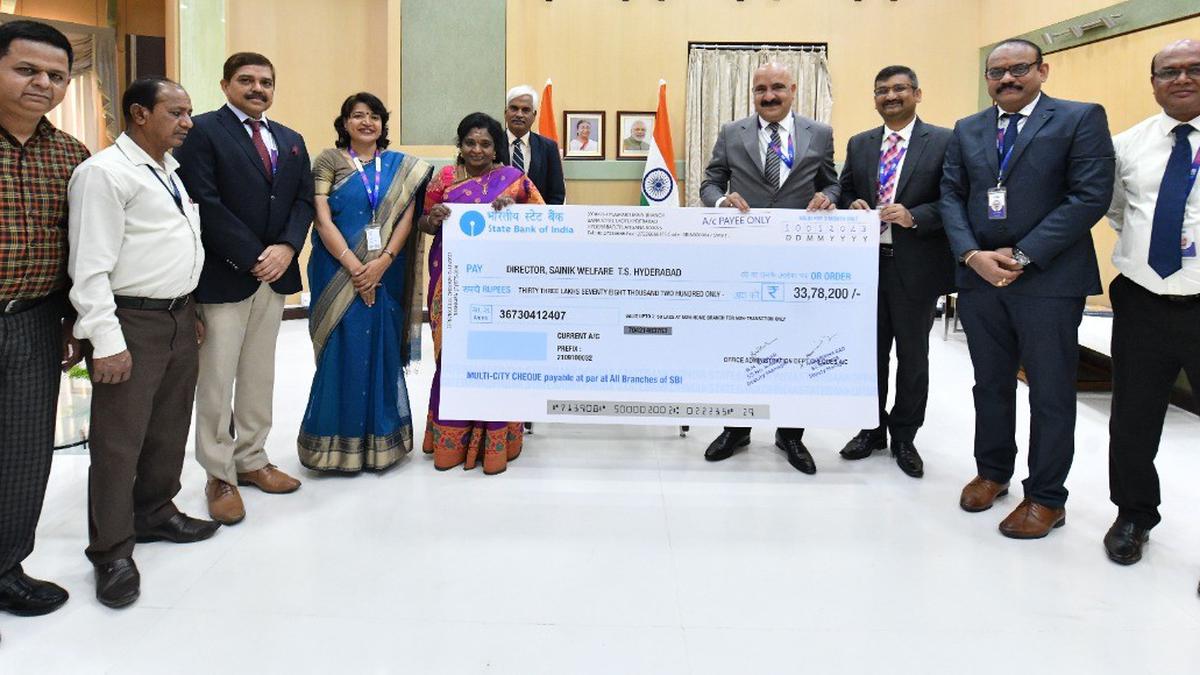 SBI staff contribute ₹33.78 lakh to Armed Forces Flag Day Fund
The Hindu
HYDERABAD
The State Bank of India, Hyderabad Circle (Telangana State) employees have contributed ₹33,78,200 for the Armed Forces Flag Day Fund, Telangana.
Chief General Manager Amit Jhingran handed over a cheque for the amount to Governor Tamilisai Soundararajan, who is the Chairperson of Armed Forces Flag Day Fund.
The Governor said the contribution was for a noble cause and the gesture would inspire other organisations and citizens to emulate. She also acknowledged the contribution of SBI in support of welfare of war veterans, ex-servicemen, war widows and their dependents.
SBI offers a host of schemes for serving Defence personnel and looked forward to contributing to various schemes for rehabilitation and resettlement of ex-servicemen, Mr. Jhingran said.
Col. Ramesh Kumar, Director, Sainik Welfare (Telangana), SBI GM-1 Manju Sharma, DGM and CDO Jitendra Kumar Sharma, AGM and CSO Maj JK Sisugoswami and AGM (M&C) Pallam Raju were present, the bank said in a release.
More Related News
He added that he would not hesitate to import coal and mandate thermal plants to run at full capacity to ensure continued supply of electricity
OPS files affidavit objecting to EPS's application that ECI should take the amended bylaws on record ahead of the byelection to Erode (East) Assembly constituency.
Crushed between the State and the Indian Railways, nearly one-third of the people living in Haldwani
Passes away on the day his iconic movie Sankarabharanam was released in 1980
MADURAI William Shakespeare's much-loved comedy, Twelfth Night, proved to be a crowd-puller yet agai
Justice Anita Sumanth, however, grants liberty to them to appeal before the Central Goods and Services Tax officials
Left Front and Congress settle their dispute over four seats while the IPFT is contesting one seat more than the five allotted by ally BJP
The agency has alleged that a part of the 'kickback' was used for the Aam Aadmi Party's poll campaign ahead of the Goa Assembly election in 2022
He says the funds allotted for the projects should be spent within the financial year and the government comes under criticism if there is any delay in completion of the projects
The new web-based application is expected to save time spent by the public on registration