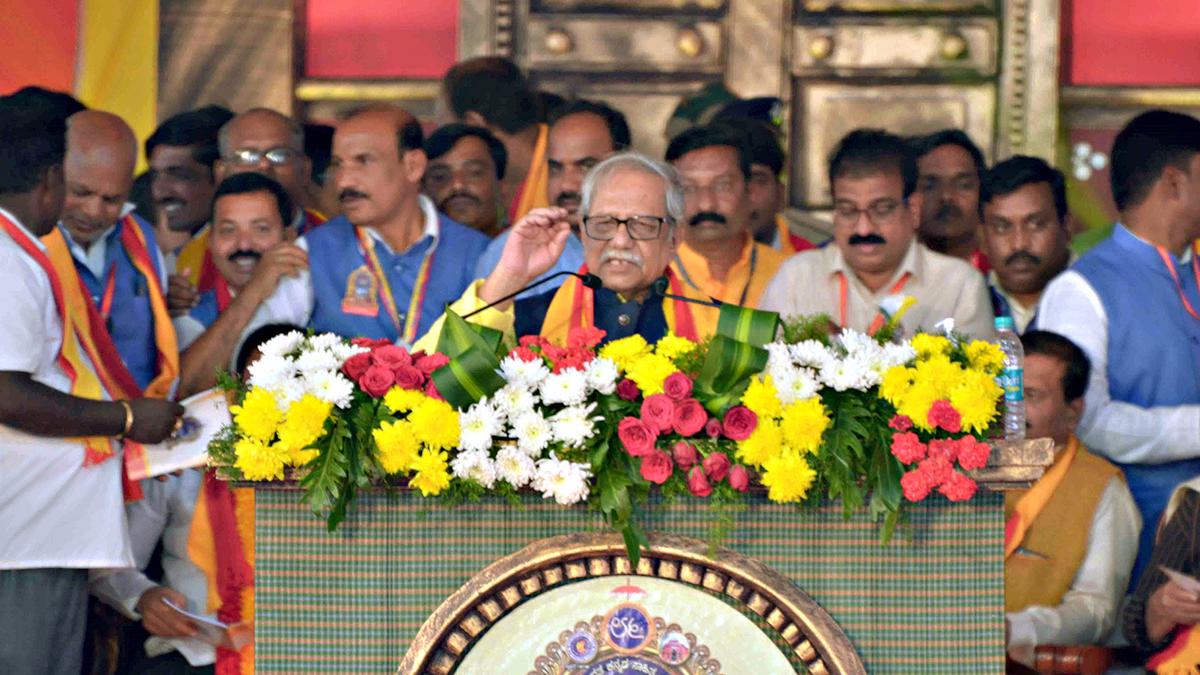 Sardar Patel's linguistic state model reason for border disputes, says Doddarange Gowda
The Hindu
President of the 86th Akhila Bharat Kannada Sahitya Sammelana seeks reorganization based on both language and culture
The President of the 86 th Akhila Bharat Kannada Sahitya Sammelana Doddarange Gowda said the reorganisation of states based on language, carried out by 'Iron Man of India' Sardar Vallabhbhai Patel was the reason for interstate border disputes.
Speaking at the session on "Gadinadu mattu Horanadu Kannadigara Talamalagalu" (Anxieties of Kannadigas residing in border areas and outside state) on the concluding day of Kannada Sahitya Sammelana in Haveri on Sunday, Doddarange Gowda said that Vallabhabai Patil carried out the reorganisation of states unscientifically based only on the criteria of language, which consequently led to various problems.
Mr. Doddarange Gowda accused Vallabhbhai Patel of drawing borders of states without much thought and based only on linguistic lines. He said the real reorganisation of states should have been done based on both culture and language and not just on linguistic lines. "There is need for reorganisation of states based on both language and culture," he said.
Referring to Karnataka's border issues with Kerala and Maharashtra, he pointed out that over 90% of the population in Akkalkot, Solapur and Jath region of Maharashtra constituted Kannadigas and they should be included in Karnataka.
Resource person Revanasiddappa Jalade took exception to the policy of allowing establishment of English Medium Schools without any restrictions. He said the neglect of Kannada and Kannada schools was intolerable. The government should bring out legislation on strengthening Kannada and Kannada schools, he demanded.
He pointed out that only 48 Kannada schools were remaining now in border areas and emphasised the need for relaxing the regulations that were preventing establishment of Kannada schools. "In the last three years not a single Kannada school has started functioning in Bengaluru, while over 150 English medium schools were established in the same period. The President of the sammelana wants the government to provide education in Kannada medium from Class I to V. The government should consider it seriously and implement it," he said.
Presiding over the session, the Chairman of the Karnataka Border Area Development Authority C. Somashekhar said that 68 taluks of the State shared border with six neighbouring states. The objectives of the authority was to help build academic and social life in border areas and for that purpose, it had extended a grant of ₹5 crore for cultural programmes. He also stressed the need for reciprocating the action by neighbouring states and setting up such authorities for Kannada development in their states.
More Related News
Effort for reduction of recurring accidents involving motorists and pedestrians
A total of 1,250 farmers were selected for assistance through individual plans with 10 actionable points for their kharif crops.
The advocates win the sixth edition of CJ's XI versus AG's XI by seven wickets; it is the fifth time that the lawyers have lifted the winner's trophy in the last six years
PALAKKAD A two-day State professional family conference titled Proface organised by the Wisdom Youth
Parts of our history and rich culture and Heritage on the brink of collapse with sinking Joshimath: SJM
Prime Minister Narendra Modi was addressing an NCC rally at the Cariappa Ground in Delhi Cantonment.
'Humanity must unite' is the theme of the festival, which will be held from Feb 5-14
The move follows a review meeting held with senior police officers on January 19, where the complied data revealed a substantial increase in the number of grave crime cases reported in 2022 compared to 2019
The domestic goat (Capra hircus) is a familiar presence in the rural landscape of India and in many
MADURAI Education and equal opportunities for women are the core of Dravidian philosophy and are at
'We are keen on proving that we represent the Kazhagam [AIADMK] genuinely and consider the bypoll an occasion to gain the public's confidence'