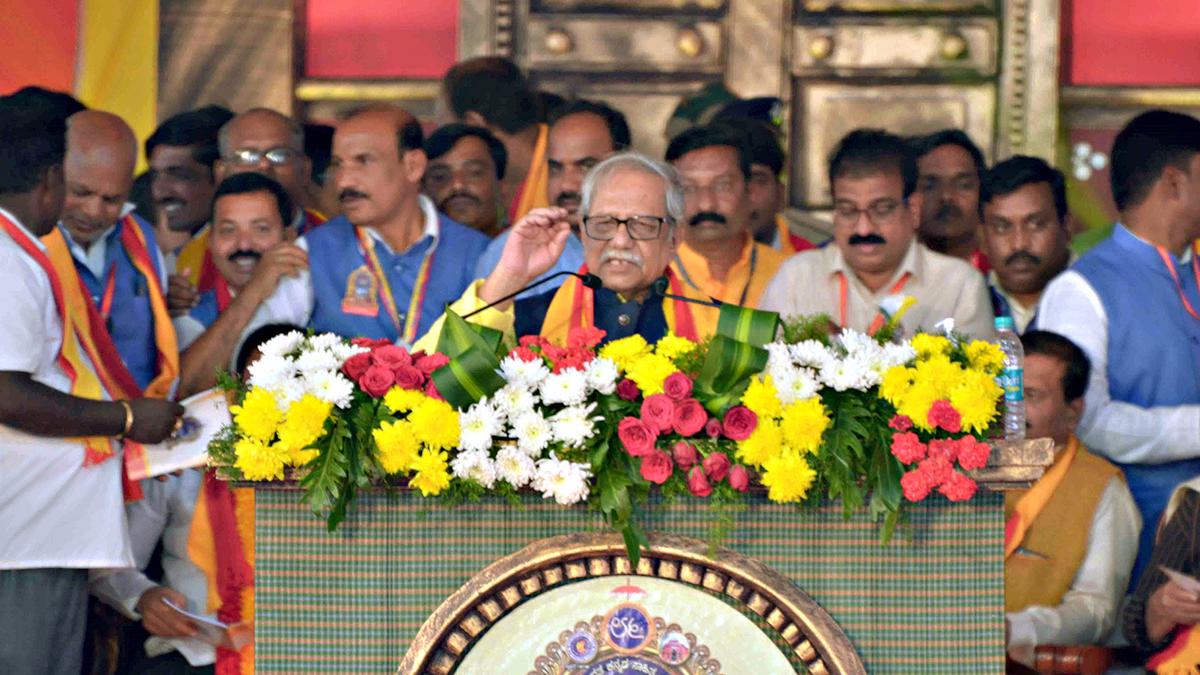 Sardar Patel's linguistic state model reason for border disputes, says Doddarange Gowda
The Hindu
President of the 86th Akhila Bharat Kannada Sahitya Sammelana seeks reorganization based on both language and culture
The President of the 86 th Akhila Bharat Kannada Sahitya Sammelana Doddarange Gowda said the reorganisation of states based on language, carried out by 'Iron Man of India' Sardar Vallabhbhai Patel was the reason for interstate border disputes.
Speaking at the session on "Gadinadu mattu Horanadu Kannadigara Talamalagalu" (Anxieties of Kannadigas residing in border areas and outside state) on the concluding day of Kannada Sahitya Sammelana in Haveri on Sunday, Doddarange Gowda said that Vallabhabai Patil carried out the reorganisation of states unscientifically based only on the criteria of language, which consequently led to various problems.
Mr. Doddarange Gowda accused Vallabhbhai Patel of drawing borders of states without much thought and based only on linguistic lines. He said the real reorganisation of states should have been done based on both culture and language and not just on linguistic lines. "There is need for reorganisation of states based on both language and culture," he said.
Referring to Karnataka's border issues with Kerala and Maharashtra, he pointed out that over 90% of the population in Akkalkot, Solapur and Jath region of Maharashtra constituted Kannadigas and they should be included in Karnataka.
Resource person Revanasiddappa Jalade took exception to the policy of allowing establishment of English Medium Schools without any restrictions. He said the neglect of Kannada and Kannada schools was intolerable. The government should bring out legislation on strengthening Kannada and Kannada schools, he demanded.
He pointed out that only 48 Kannada schools were remaining now in border areas and emphasised the need for relaxing the regulations that were preventing establishment of Kannada schools. "In the last three years not a single Kannada school has started functioning in Bengaluru, while over 150 English medium schools were established in the same period. The President of the sammelana wants the government to provide education in Kannada medium from Class I to V. The government should consider it seriously and implement it," he said.
Presiding over the session, the Chairman of the Karnataka Border Area Development Authority C. Somashekhar said that 68 taluks of the State shared border with six neighbouring states. The objectives of the authority was to help build academic and social life in border areas and for that purpose, it had extended a grant of ₹5 crore for cultural programmes. He also stressed the need for reciprocating the action by neighbouring states and setting up such authorities for Kannada development in their states.
More Related News
The four persons convicted of lynching Haryana's dairy farmer Rakbar Khan in Rajasthan's Alwar district in 2018 did not intend to cause his death, though they had thrashed him brutally with lathis and sticks on the suspicion of smuggling of cows, the sessions court in Alwar has held. The court sentenced the convicts to seven years' imprisonment on Thursday.
Coffee procurement by the Girijan Cooperative Corporation (GCC) has increased to 996 tonnes in 2022-23 from 106 tonnes during the previous year.
Andhra Goli Soda, is a century-old product, and still continues to be one of the most sought-after drinks and is now available in multi flavours in the market.
Wildlife experts feel the ongoing experiment with translocation of rice-loving elephant Arikompan will serve as a blueprint for the future handling of human-wildlife conflict
Lieutenant-Governor V.K. Saxena on Friday asked IAS officers posted in the national capital to work honestly and "not bow to any kind of pressure".
The trend of gradual reduction in snow cover in the ecologically fragile state of Himachal Pradesh continues to haunt the hill state – also the mean maximum and minimum average temperature is on the rise in this Himalayan region.
The pourakarmikas in Bengaluru continue to use plastic mats, and cardboard to carry street waste as Bruhat Bengaluru Mahanagara Palike (BBMP) withdrew pushcarts about two years back.
As Prime Minister Pushpa Kamal Dahal Prachanda prepares for an official visit to India, the "southern neighbour" maintained silence as fast-paced developments in Nepal remain the talk of the town here.
Chief Minister Jagan Mohan Reddy will be attending the NITI Aayog general council meeting on May 27 and participate in the inauguration of new Parliament building on May 28; he is likely to meet Prime Minister Narendra Modi and Union Home Minister Amit Shah during his visit
Tiruchi police to carry put comprehensive study on traffic-related issues
India-US friendship important for the entire planet: Garcetti