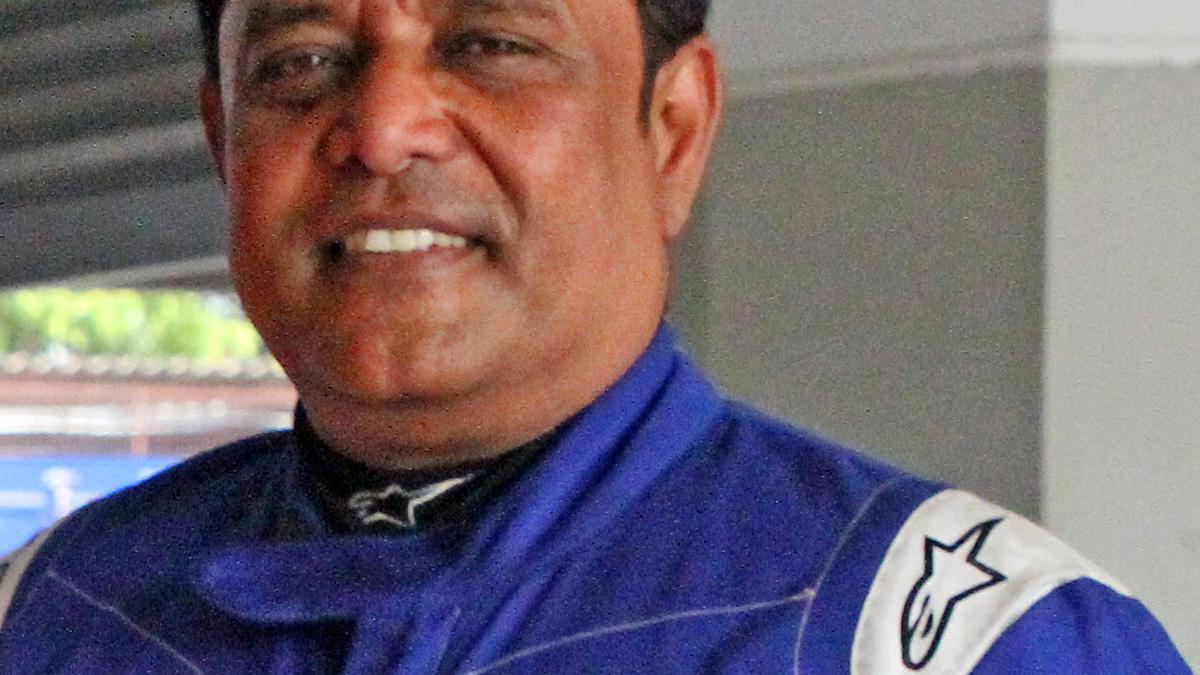 Saloon Car racer Kumar dies in crash at the National Car Racing Championship in Chennai
The Hindu
Chennai
K.E. Kumar, 59, a noted and respected racer, died in hospital following a crash in the second round of the MRF MMSC FMSCI Indian National Car Racing Championship 2022 at the Madras International Circuit, here on Sunday.
The mishap occurred when Kumar's car came in contact with that of a competitor during the saloon cars race in the morning. The car slid across the track and landed on the roof after slamming into a fence.
The race was immediately stopped (red flag). Within minutes, Kumar was extricated from the wreckage and shifted by ambulance to a nearby hospital after a preliminary examination at the track's Medical Centre. However, Kumar succumbed to his injuries.
Chairman of the Meet Vicky Chandhok said: "It is a most unfortunate incident. Kumar was an experienced racer. I have known him for several decades as a friend and competitor. The MMSC and the entire racing fraternity mourn his passing away and convey heartfelt condolences to his family."
Chandhok added that the national governing body for the sport FMSCI and the organisers, MMSC, have launched an investigation into the incident. Meanwhile, as a mark of respect to Kumar, who was a life member of MMSC, the remainder of the day's schedule was cancelled.
More Related News
A total of 2,715 women police personnel will participate in the programme which focuses on self-motivation, managing relationships, facing work challenges and other skills
Other highlights that are coming to Amazon Prime Video this week include 'Rüyanda Görürsün'
The outlay for the railways is nine times the amount provided in 2013-2014, Finance Minister Nirmala Sitharaman said while presenting the Union Budget 2023-24
PMK president Anbumani Ramadoss accused T.N. CM M.K. Stalin of adopting opposite stands when it came to farmers' welfare; he said the proposed land acquisition move by NLCIL would badly impact farmers in Cuddalore district
The State is expected to go to polls in May 2023
In the last Budget, ₹48,000 crore was allocated towards the Government's housing scheme
IMD further forecast light and moderate rainfall at many places over coastal Tamil Nadu and Puducherry on Wednesday and Thursday
The water will help irrigate 2,200 acres of agricultural land in 11 villages in Villupuram district and 1,000 acres in five villages in the Union Territory
Here is a quiz on interesting nuggets, historic facts and everything else that happened on January 31.
Trinamool Congress hits back at the National People's Party for backing the "foreigner-embracing" Citizenship (Amendment) Act after being accused of batting for Bangladeshis
Here are the key news stories to watch out for from Karnataka today