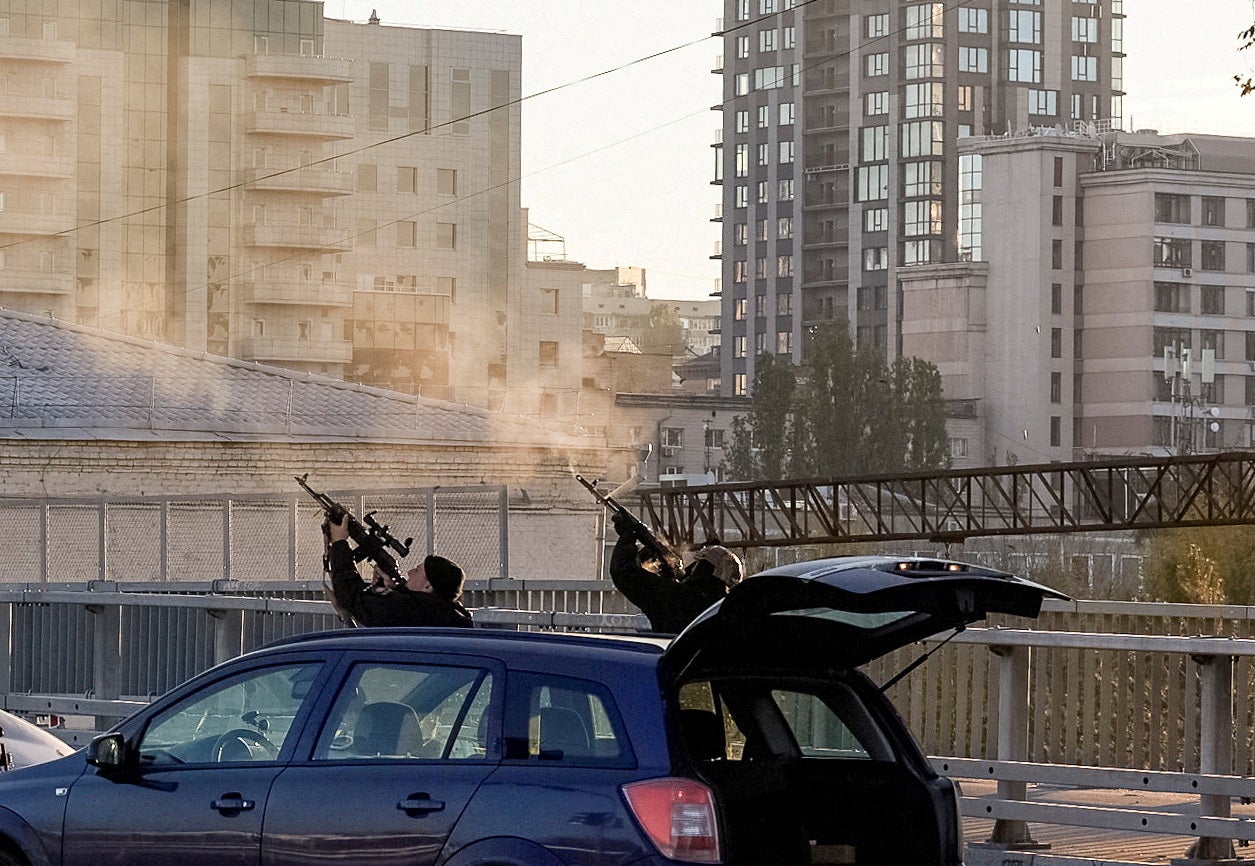 Russian drone swarm continues New Year assault on Kyiv
Fox News
A swarm of Russian kamikaze drones harassed Kyiv early Monday morning, with air-raid sirens blaring and at least two explosions being heard in the heart of the Ukrainian city.
Russia has made relentless use of the Iranian-made Shahed-136 drones since the fall. The drones have an extensive range and explode on impact. Anders Hagstrom is a reporter with Fox News Digital covering national politics and major breaking news events. Send tips to Anders.Hagstrom@Fox.com, or on Twitter: @Hagstrom_Anders.
Ukrainian air defenses routinely shoot down most of the drones on approach to their targets, the sheer volume of strikes allows some to detonate.
More Related News
Former Vice President Mike Pence sharply disagrees with Florida Gov. Ron DeSantis description of the bloody war between Ukraine and Russia as a "territorial dispute"
Andy Puzder discusses Silicon Valley Bank's board, their reported lack of banking experience and the company's 'woke' management.
At least 10 people were killed in Turkey from flood waters that swept through earthquake-affected provinces. At least five more people were reported missing.
The U.S. has accused two Russian SU-27 warplanes of harassing and downing a $32 million MQ-9 Reaper drone over international waters in what could be described as "coercive signaling" from Moscow.
Comments made this week by Florida Republican Gov. Ron DeSantis over the United States' defense of Ukraine in its war with Russia have rattled the cages of establishment Republicans.
Honduras is seeking diplomatic relations with China, in turn, switching allegiance from Taiwan, which Beijing rejects as its own diplomatic nation under the "One-China" policy.
The U.K. attempted to turn Moscow's "Russophobia" claims on their head after it accused the Kremlin of being the greatest threat to Russian culture and society with its ongoing war.
The U.S. has begun a new aggressive push to punish Russia in an effort to thwart the country's invasion of Ukraine. The U.S. plans to inflict pain on Russia's economy.
A hit-and-run incident in a town in eastern Quebec, Canada, has killed two people and injured nine others. The suspected driver later turned himself in.
The Catholic Church is celebrating the 10th anniversary of Pope Francis's pontificate with a smattering of messages from the Holy See.
United Nations Secretary-General Antonio Guterres asked scientists to serve facts which will push governments to make policies aimed at combatting climate change,