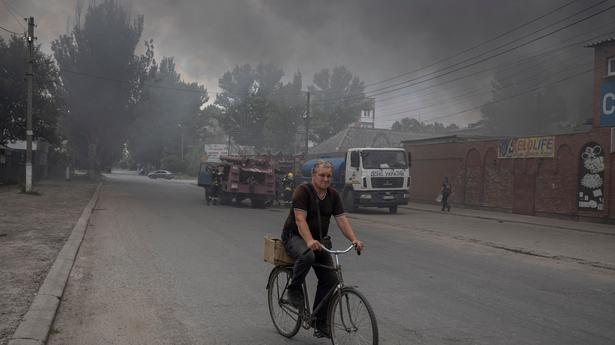 Russia-Ukraine crisis live updates | Fierce shelling in eastern Ukraine as NATO heralds its 'historic' expansion
The Hindu
Here are the latest developments from the ongoing Russia-Ukraine conflict on July 6
Russian troops are engaged in heavy fighting supported by widespread artillery fire as they launch a major offensive for Ukraine's Donetsk region, Ukrainian officials said, a day after Moscow declared victory in the neighbouring province of Luhansk. Donetsk and Luhansk comprise the Donbas, the industrialised eastern part of Ukraine that has seen the biggest battle in Europe for generations. Russia says it wants to wrest control of the entire Donbas from Ukraine on behalf of Moscow-backed separatists in two self-proclaimed people's republics.
The governor of the last remaining eastern province partly under Ukraine's control urged his more than 350,000 residents to flee as Russia escalated its offensive and air alerts were issued across nearly the entire country. Governor Pavlo Kyrylenko said that getting people out of Donetsk province is necessary to save lives and enable the Ukrainian army better to defend towns from the Russian advance.
In Brussels, NATO Secretary-General Jens Stoltenberg and the foreign ministers of Sweden and Finland hailed July 5 as "historic", after they kicked off accession procedures for the two countries that will expand the military alliance to 32 members. "The membership of both Finland and Sweden will not only contribute to our own security but to the collective security of the alliance," said Finland's Pekka Haavisto, after protocols were signed launching the required ratification process. Sweden and Finland both announced their intention to drop decades of military non-alignment and become part of NATO in the wake of Russia invading Ukraine in February.
Explained | Is NATO stronger after Ukraine invasion?
Here are the lastest updates:
Lysychansk was once a city of 100,000 people in Ukraine's eastern Luhansk region, but it now lies in ruins after its fall to Russian forces with many residents still living in bomb shelters and basements. The city was eerily quiet on Tuesday with scorched buildings, overturned vehicles and rubble a testament to the ferocity of the battle it has endured.
Tatiana Glushenko, a 45-year-old Lysychansk resident, told Reuters there were people still in basements and bomb shelters, including children and the elderly. Ms. Glushenko said she and her family had decided to stay in Lysychansk on worries about safety in other parts of Ukraine.
More Related News
Audi has opened bookings for the new Q3, which is likely to be launched in India next month. Custome
Decisions would be taken for making better arrangements for pilgrims after talks with religious leaders, says CM Gehlot.
Djokovic also not expected to be able to enter U.S. Open
Train witnesses overwhelming response with an average occupancy of 63%
The West Indies managed only 125/9 in reply of Kiwi's mammoth total of 215/5
Raju Srivastava was admitted to the hospital after suffering a heart attack on August 10, 2022
The court found Google misled some customers about personal location data collected through their Android mobile devices between January 2017 and December 2018.
Delhi flood control room said the water level breached the danger mark and reached 205.99 metres on August 13 morning
C.P. Muhammad Niyas, Judge, Kerala High Court, will inaugurate the programme at M.K. Damodaran Hall near the Kerala High court