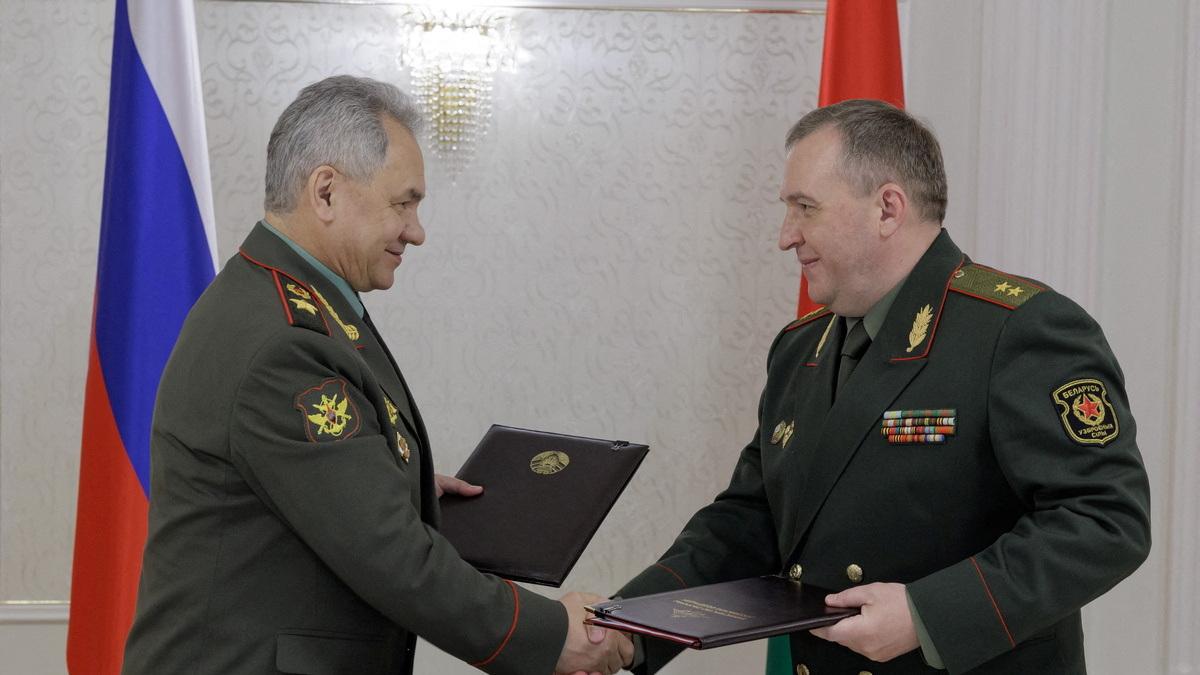 Russia sending nuclear arms to Belarus in Ukraine fight
The Hindu
Belarusian leader Alexander Lukashenko said on May 25, 2023, that Russia had begun moving nuclear weapons to its territory.
Belarusian leader Alexander Lukashenko said Thursday, May 25, 2023, that Russia had begun moving nuclear weapons to its territory, which borders the European Union, ratcheting up tensions with the West over the Ukraine conflict.
On the diplomatic front, Russia's Foreign Ministry announced a visit to Moscow by China's special envoy for Ukraine, Li Hui ¬ Beijing's latest effort to broker an end to the fighting.
Also read: India will do its best to end the war, PM Modi tells Zelenksy
Mr. Li's visit to the Russian capital, where he is expected to meet foreign minister Sergei Lavrov on Friday, comes after he met with Ukraine's President Volodymyr Zelensky in Kyiv.
"The transfer of nuclear munitions has begun," Mr. Lukashenko told reporters during a visit to Moscow to meet with President Vladimir Putin.
In Washington, White House Press Secretary Karine Jean-Pierre called Russia's move "yet another example of making irresponsible and provocative choices".
She added, however, that "we have not seen any reason to adjust our own nuclear posture... nor any indication that Russia is prepared to use nuclear weapons from Belarus".
More Related News
Punjab NRI Affairs Minister Kuldip Singh Dhaliwal sought intervention of External Affairs Minister S. Jaishankar as nearly 700 Indian students are facing deportation from Canada after their "admission offer letters" to educational institutions were found to be fake
Air India said it will send a ferry flight to Russia after a San Francisco-bound Air India flight from New Delhi made an emergency landing in Magadan airport after a technical glitch on June 6.
The Duke of Sussex, as he is formally known, maintained in his witness statement to London's High Court that he was not bringing the case out of a vendetta against the tabloids.
Explaining the reason behind the recent clash between ethnic Serbs and Kosovo peacekeepers and looking at the history between the two entities
An earthquake with a preliminary magnitude of 4.9 struck southern Haiti early Tuesday, killing at least four people and injuring 36 others, authorities said.
The British government has said it was aware of about 100 such stations around the world
A Pakistani court on June 6 ordered the immediate release of Pakistan Tehreek-e-Insaf (PTI) Vice Chairman Shah Mehmood Qureshi, who was arrested following the May 9 violent protests
Iran is claiming that it has created a hypersonic missile capable of travelling at 15 times the speed of sound
Ukraine and Russia are trading accusations of blame for the damage to the Kakhovka dam and hydroelectric power station, which are located in a part of Ukraine that Moscow controls
Hong Kong's government said on June 6 that it is seeking a court order to prohibit people from broadcasting or distributing the protest song "Glory to Hong Kong"
The NYPD has once again come under scrutiny for its unconstitutional 'stop and frisk' policy, a court-appointed Federal Monitor reported