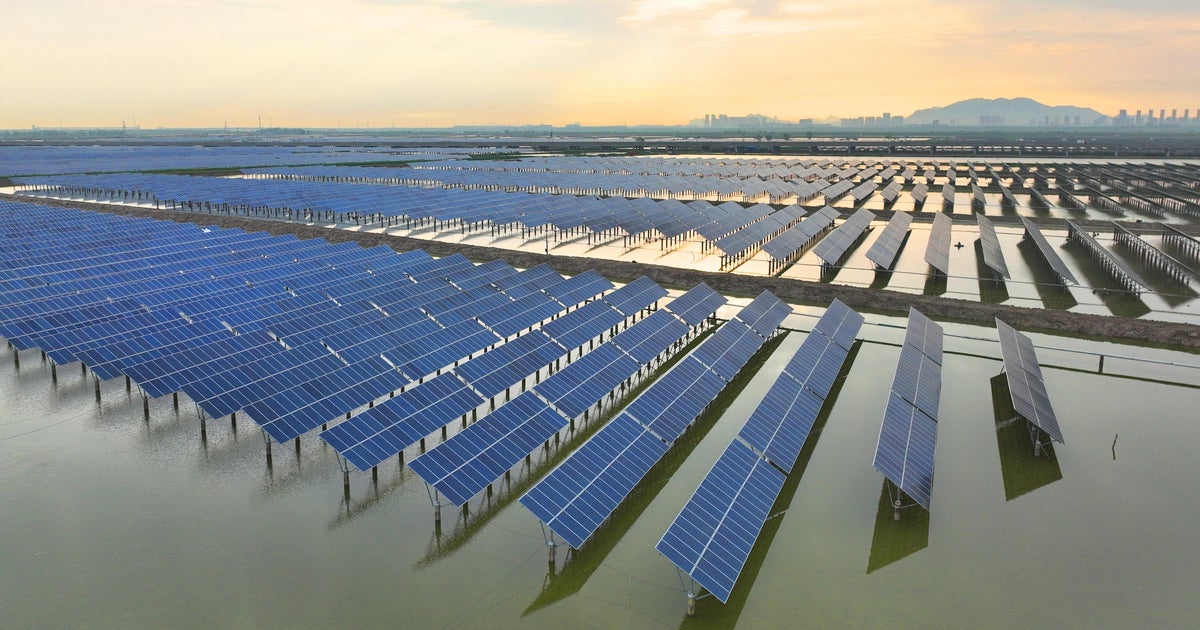 Russia's war in Ukraine is spurring investments in renewable energy
CBSN
The upheaval in oil and gas markets started by Russia's war in Ukraine is helping fuel a clean-energy boom as countries scramble to secure their power supply.
One notable record: Investment in solar outpaced that in oil for the first time last year, according to the International Energy Agency, which released a report this week on global energy investment.
But the world is still investing far too much in fossil fuels, the Paris-based group warned. Investment in that sector is currently double the maximum amount that would be allowed if nations are to meet their stated pledges to reduce emissions, the IEA said.
More Related News
Tucker Carlson on Tuesday posted the first episode of his new Twitter show since Fox News ousted him in April. The 10-minute video features the popular conservative commentator sitting in a wood-paneled room and delivering a monologue in which he skewers some of his favorite targets, including the news media.
Chris Licht is stepping down as CEO of global news network CNN, according to Oliver Darcy, CNN's senior media reporter.
Smoke from the wildfires raging across Canada has created a thick haze across New York City's iconic skyline, nearly fading out the Statue of Liberty and high-rises. The quality of air has become so bad in the past few days that now, the city has some of the worst air pollution in the world.
"Charmed" and "Beverly Hills, 90210" actor Shannen Doherty said on Instagram Tuesday that her breast cancer, which she was first diagnosed with in 2015, has spread to her brain.
Redmond, Ore — Someone left a dead raccoon and a sign with "intimidating language" that mentioned a Black city councilor outside the law office of an Oregon mayor, police said.
The mystery client who hired a detective to secretly track Reno's mayor with a GPS device is trying to persuade Nevada's Supreme Court he has a First Amendment right to remain anonymous, a protected privilege he says is a cornerstone of democracy and part of "the business of politics."
House Republican leaders hoping to pass a rule Monday to set up floor votes on a bill to constrain the government's ability to regulate gas stoves saw their efforts go up in flames after House Freedom Caucus (HFC) members, who are among the most conservative lawmakers in Congress, joined Democrats in opposing the rule.
A small plane crashed in western New York on Tuesday afternoon, killing two people, officials said.
People in New York City and across the northeastern United States woke up Tuesday morning to an unusual sight. Depending on the time, early risers reported witnessing either the moon or the sun bearing a reddish glow. It was not the first time in recent weeks that both the sun and the moon have turned red in skies over various parts of the Northeast and the Pacific Northwest, as wildfires burning in eastern and western Canada continue to send smoke down the border.
An Iowa teenager who stabbed his father to death and used an ax to kill his mother in 2021 will spend the next few decades in prison before he's eligible for parole. Ethan Orton received a life sentence Monday with a chance of parole in 50 years.
Florida Gov. Ron DeSantis released a statement Tuesday touting his state's record in assisting Texas immigration authorities, including with more than 190 arrests, a day after Texas law enforcement officials recommended criminal charges over migrant flights arranged by the governor.