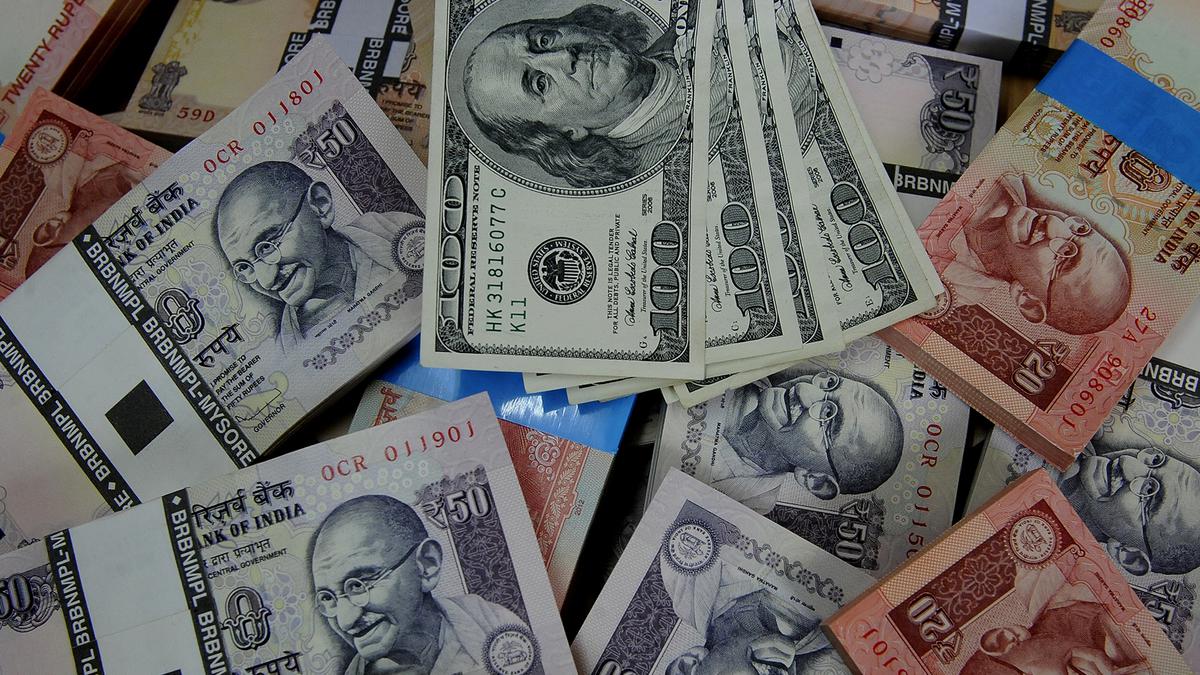 Rupee rises 15 paise to 82.47 against U.S. dollar
The Hindu
Forex traders said sustained foreign fund outflows and strength of the dollar in the overseas market weighed on investor sentiments and restricted the appreciation bias
The rupee gained 15 paise to 82.47 against the U.S. dollar in early trade on Friday tracking a firm trend in domestic equities.
Forex traders said sustained foreign fund outflows and strength of the American currency in the overseas market weighed on investor sentiments and restricted the appreciation bias.
At the interbank foreign exchange, the domestic unit opened at 82.52 against the dollar, then gained further ground to touch 82.47, registering a rise of 15 paise over its previous close.
On Thursday, the rupee settled at 82.62 against the dollar.
Meanwhile, the dollar index, which gauges the greenback's strength against a basket of six currencies, rose 0.03% to 105.07.
Brent crude futures, the global oil benchmark, advanced 1.22% to $79.65 per barrel.
As per ADP, the U.S. economy added 235,000 private jobs in December against expected 150,000. Initial jobless claims too came in lower at 204,000 against expected 225,000, IFA Global Research Academy said in a research note.
More Related News
At COP28, delegates to discuss curbing emissions, adaptation, and a fund to compensate those affected by climate change. Negotiations have been fraught with disagreements, but hope is pinned on the conference to deliver relief to millions suffering from climate change. #COP28 #ClimateChange #Emissions #Adaptation #LossAndDamageFund
S&P Global Ratings raised India's growth forecast for the current financial year to 6.4%, from 6%, saying that robust domestic momentum has offset headwinds from high food inflation and weak exports
. Argentina's recent presidential election saw the victory of Javier Milei, whose unconventional and worrying views, such as his opposition to abortion and ambivalent attitude towards the military government, have drawn attention. His economic proposals, such as replacing the peso with the dollar and eliminating the Central Bank, have also been debated. Dollarisation can act as a solution to hyperinflation, incentivising the economy to focus on export successes and easing conditions for foreign capital. Experiences of some countries, such as Ecuador, hold out promise for the project of dollarisation, with the economy showing considerable progress since 2000. However, the adoption of an external currency without the ability to chart independent policy can be seen in the case of Greece, where crushing austerity was adopted in exchange for financial assistance. Dollarisation is not a silver bullet, but if used well in conjunction with nimble domestic policy, can offer a route to success.
Adani Group has no involvement in Silkyara tunnel collapse; condemns any attempts to link its name. Group expresses thoughts and prayers for trapped workers and their families.
Food deficits in India to persist/widen over next 7yrs; demand for non-cereals/high-valued commodities to exceed population growth rate. Report calls for policy attention to ensure balance between domestic production & absorption, diversification towards high-value commodities to reduce food wastage.
FPIs net invest ₹378cr in Indian equities Nov, reversing Oct outflow. Cumulative FPI flows for 2023 remain healthy at ₹96,340cr. Improving risk appetite in EM & falling US yields draw FPI flows. Sectors like banking, capital goods & consumption likely to attract flows.
Turmeric is grown in about 2.5 lakh acres across Telangana, with the old Nizamabad and Karimnagar districts accounting for a third of the State's crop.
India's imports of almonds, beans, oranges, wines, lentils, pulses, several processed agro foods, sheep meat etc. from the state of South Australia (SA) have risen significantly since the Australia-India Economic Cooperation and Trade Agreement (ECTA) came into effect a year ago, said Nick Champion, Minister for Trade & Investment – South Australia.
CCI has purchased 2 lakh bales of cotton at MSP since Oct 1, 2023 in 9 states. 47 lakh bales have arrived at the market compared to 35 lakh bales last year. CCI buys 8-10% of arrivals at MSP to prevent prices from falling below it. Farmers selling at less than MSP due to lack of international demand. Price of Gujarat Shankar-6 variety is ₹55,800/candy, down from ₹66,000/candy a year ago.
Falling recovery rates from 43% to 32% between March 2019 and September 2023, and an increase in the average resolution time from 324 to 653 days versus the stipulated 330 days have emerged as impediments to the success of the Insolvency and Bankruptcy Code (IBC) which has completed 7 years, according to a report by CRISIL Rating.