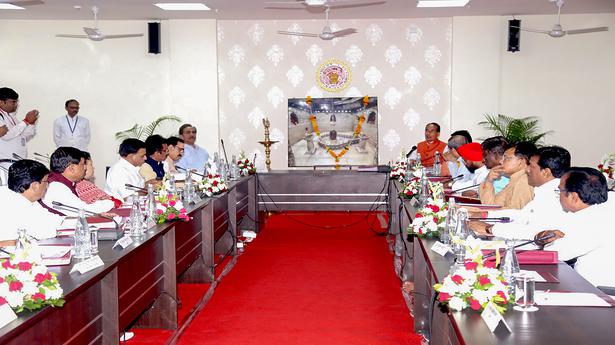 Row over Lord Mahakal's portrait at centrestage in Madhya Pradesh cabinet meeting
The Hindu
The State cabinet meeting was held in Ujjain for the first time in the history of Madhya Pradesh
At a Madhya Pradesh cabinet meeting held in the temple town of Ujjain, Chief Minister Shivraj Singh Chouhan ceded his seat to Lord Mahakal's portrait, an act some former bureaucrats said was "unprecedented" in the history of the State and could have been avoided.
A large portrait of Lord Mahakal was placed in the middle of the rectangular table; the place reserved for the Chief Minister whenever he holds a cabinet meeting.
Notably, the State cabinet meeting was held in Ujjain for the first time in the history of Madhya Pradesh.
At the cabinet meeting held on Tuesday, the Chief Minister and State chief secretary Iqbal S. Bains sat on the two corners of the rectangular table. The meeting was held in the building known as Samrat Vikramaditya Administrative Complex.
The State cabinet on Tuesday decided to name the newly-developed Mahakaleshwar Temple corridor "Mahakal Lok" in the meeting.
On October 11, Prime Minister Narendra Modi will inaugurate the first phase of the ₹856-crore Mahakaleshwar Temple corridor development project in Ujjain, located around 200 km from the State capital Bhopal.
More Related News
State Industries Minister Uday Samant said that a 'White Paper' will be released in the next 60 days to disclose information on the industrial investment received by the State
Mere departmental action unacceptable, says the PMK leader
Elaborate discussion on the issue in the monthly council meeting favours such a step to increase property tax collection in the twin cities
154 BS-III vehicles bought from Ashok Leyland in Kohima were allegedly registered as BS-IV vehicles by submitting forged documents before being sold in Andhra Pradesh
'You don't say that your vote is not for sale; if you are determined not to take money but vote for an honest candidate, there will be little room for us to bribe you'
Sharmila has a right to take up padayatra and her arrest is ridiculous
The ₹300-crore upgradation project will meet the requirements of passengers for 40 years, says South Central Railway General Manager Arun Kumar Jain
Mr. Shivpal Yadav is campaigning for Mr. Akhilesh Yadav's wife Dimple Yadav.