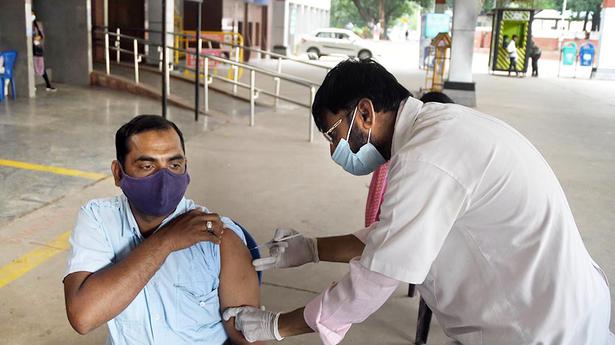 Rise in COVID cases : Centre writes to Karnataka on the need for heightened action to contain the spread
The Hindu
Karnataka has contributed to 10.1% of lndia's weekly new cases in week ending August 5
Karnataka has recorded a nearly two-fold rise in weekly COVID-19 cases since the third week of July. Bengaluru, which reported over 95% of the total daily cases, is now seeing a decline while the incidence is on the rise in the rest of Karnataka. At least 24 districts have recorded a significant rise in the last fortnight.
Karnataka has, in fact, contributed to 10.1% of lndia's weekly new cases in the week ending August 5. Concerned over the increasing cases, Union Health Secretary Rajesh Bhushan has written to the State reminding it of the need for heightened action to contain the spread of cases.
In his letter dated August 5 to Principal Secretary (Health and Family Welfare) T.K. Anil Kumar, Mr. Bhushan pointed out that Karnataka had recorded a 1.28 times increase in average daily new cases: from 1,435 (week ending July 29) to 1,837 (week ending August 5). An increase in the weekly positivity rate has also been reported from 5.30% (week ending July 29) to 6.28% (week ending August 5), the letter stated.
"The challenges which need to be addressed have been highlighted to the State multiple times. But the consistent increase as indicated above brings to the fore the need for heightened action at the State level to contain the spread of cases," the letter stated.
"Seven districts (Chikkamagaluru, Bagalkot, Koppal, Ramanagaram, Haveri, Kalaburagi, and Bengaluru Rural) have reported a decline in the number of total tests conducted in week ending August 4 as compared to week ending July 28. As many as 24 districts have reported an increase in cases during the same period," the letter pointed out.
"The upcoming months are likely to witness mass gatherings in context of various festivities to be held in different parts of the country, leading to a large number of individuals undertaking intra- and inter-State journeys or congregating at the same places. This may potentially facilitate transmission of infectious diseases, including COVID-19. lt is critical for the State to ensure adequate testing is undertaken in all districts while maintaining the recommended share of RT-PCR and Antigen tests," the letter said, adding that the State must also closely monitor districts reporting higher cases to prevent further spread of infection.
The Centre has also directed the State to monitor and report district-wise ILI and SARI cases in all health facilities. "In view of some changes in symptoms and clinical manifestation of the disease, it is crucial to monitor ILI/SARI on a regular basis for detecting early warning signals of the spread of infection," the letter stated.
More Related News
Audi has opened bookings for the new Q3, which is likely to be launched in India next month. Custome
Decisions would be taken for making better arrangements for pilgrims after talks with religious leaders, says CM Gehlot.
Djokovic also not expected to be able to enter U.S. Open
Train witnesses overwhelming response with an average occupancy of 63%
The West Indies managed only 125/9 in reply of Kiwi's mammoth total of 215/5
Raju Srivastava was admitted to the hospital after suffering a heart attack on August 10, 2022
The court found Google misled some customers about personal location data collected through their Android mobile devices between January 2017 and December 2018.
Delhi flood control room said the water level breached the danger mark and reached 205.99 metres on August 13 morning
C.P. Muhammad Niyas, Judge, Kerala High Court, will inaugurate the programme at M.K. Damodaran Hall near the Kerala High court