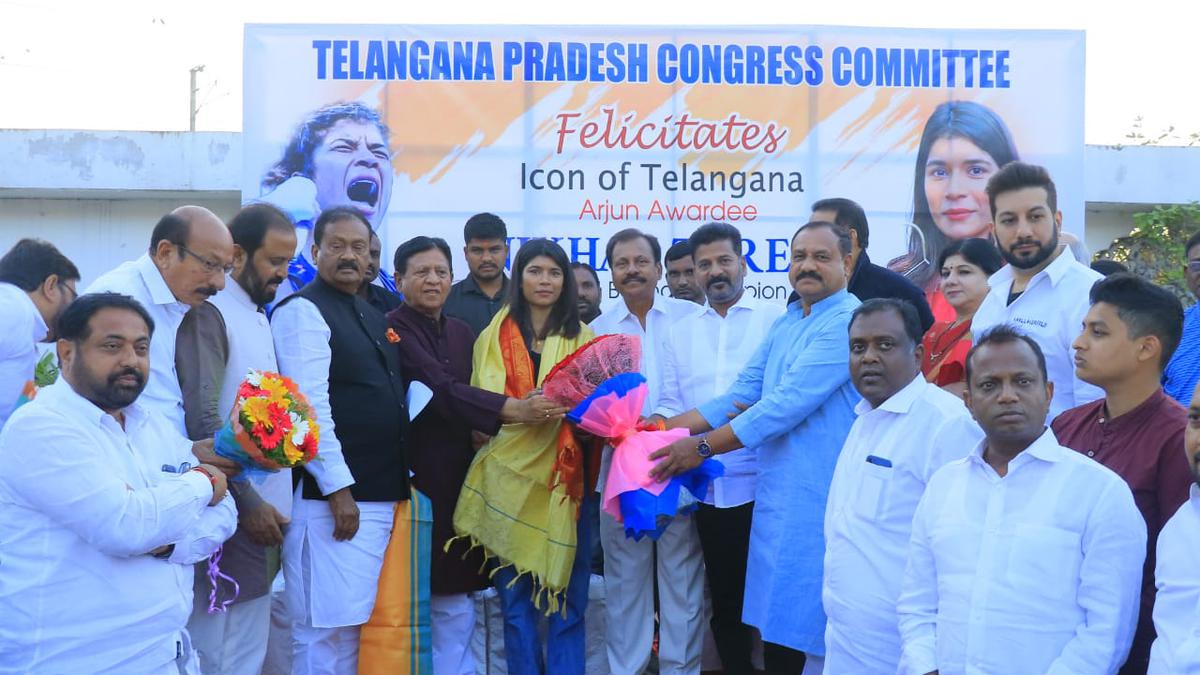 Revanth seeks Group-I job for boxer Nikhat Zareen
The Hindu
HYDERABAD
Telangana Pradesh Congress Committee (TPCC) president A. Revanth Reddy demanded the government to appoint international boxer from Telangana Nikhat Zareen as a Group-I officer in recognition of her achievements and a 5-acre land for her to start a sports academy.
He said this after felicitating and handing over a cheque of ₹5 lakh to the boxer on behalf of Telangana Congress. He said that the proposal to appoint her as Group-I officer was already pending with the government and the decision should be taken before January 26. At the same time, the government should also help in building a sports academy to train boxers.
Mr. Reddy said the felicitation was not only for her achievements but also to send a message that the Congress would support people who excel and bring laurels to the country and State. To avoid people reading politics into her felicitation, he said that the programme was organised at Nizam Club and not the party office.
Ms. Nikhat thanked Mr. Revanth Reddy and the Congressmen for felicitating her and sought support from all in bringing more laurels to the country. Congress leaders P. Sudershan Reddy, Shabbir Ali, Madhu Yaskhi Goud, Anjan Kumar Yadav, Mohd Azharuddin, and Mahesh Kumar Goud, among others, were present.
More Related News
Asked by TMC member Jawhar Sircar whether the appointment of Ms. Gowri was right, Leader of the House Piyush Goyal sought the indulgence of the chair.
One of the mightiest to perish was the Hittite empire, centered in modern Turkey and spanning parts of Syria and Iraq.
Ms. Murmu will be visiting Tamil Nadu for the first time after assuming office as the 15th President of India in July 2022
Pietersen has emerged as a huge advocate of the changes the SA20 has brought about, like allowing each captain the liberty to nominate 13 players to take the field
You can now wield a sharp blade and call it teamwork. We grapple with Hyderabad's latest sport
China's Alibaba Group said it is working on developing a ChatGPT-style artificial intelligence tool which is currently open to employees for testing
The court dismissed a petition filed by Godrej & Boyce company challenging acquisition proceedings initiated by the Maharashtra government and the NHSRCL in Mumbai's Vikhroli area for the project
Google's stock fell by nearly 8% after an ad for its Bard AI chatbot offered an incorrect answer
The violation was committed for the second, said officials
Justices R. Subramanian and Sathi Kumar Sukumara Kurup say they have been coming across, on a daily basis, incidents of exploitation by the government
The Centre's assertion came in response to a question in Lok Sabha by Congress MP Shashi Tharoor, who asked about "discrepancies" in the implementation of the projects under the smart city programme.