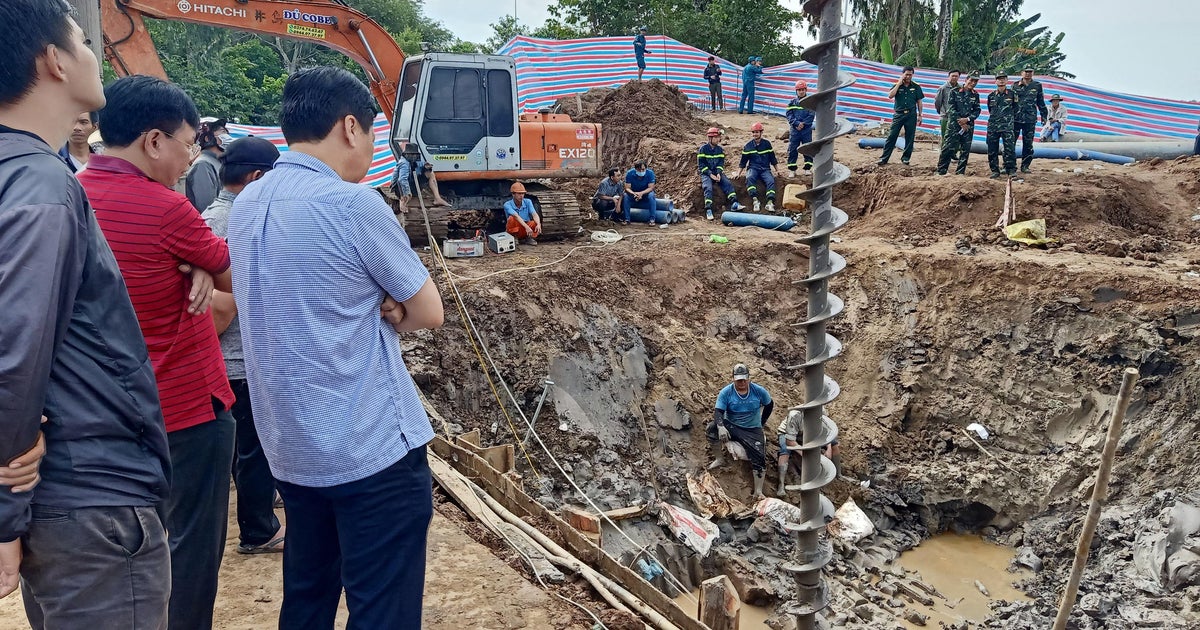 Rescuers race to save boy who fell into 115-foot shaft in Vietnam
CBSN
Hundreds of rescuers in Vietnam battled Monday to free a 10-year-old boy who fell into a 115-foot-deep hole at a construction site two days ago.
The boy, named Thai Ly Hao Nam, fell into the shaft of a hollow concrete pillar just 10 inches wide, sunk as part of a new bridge in southern Dong Thap province, apparently while looking for scrap metal, a rescuer told AFP by phone.
"We are trying our best. We cannot tell the boy's condition yet," the rescuer said, identifying himself only as Sau.
More Related News
King Charles III knighted Brian May, co-founder of the rock group Queen, during a Tuesday investiture ceremony at Buckingham Palace, the royal family announced. In addition to his fame as a rock guitarist, May is also an astrophysicist.
Researchers have discovered the oldest known remains of a giant ancient oceanic reptile, known as an ichthyosaur, on a remote Arctic island, offering new evidence of how the creature may have evolved.
Ten people were shot to death and another five were wounded in an attack at a bar in Mexico's central state of Guanajuato over the weekend, officials said.
A submarine with two dead bodies and nearly three tons of cocaine aboard was seized in the Pacific Ocean off the coast of Colombia, the country's navy announced Sunday. Two survivors "in poor health" were also found on the vessel and given first aid.
Two men died Monday after a pickup truck plowed into pedestrians who were walking beside a road in the eastern Quebec town of Amqui, officials said.
President Biden and the leaders of two close U.S. allies formally announced Monday that Australia will purchase nuclear-powered attack submarines from the U.S. to modernize its fleet amid growing concern about China's influence in the Indo-Pacific region.
Tokyo's high court on Monday ordered a retrial for an 87-year-old former professional boxer who has been on death row for more than five decades after a murder conviction that his lawyers said was based on a forced confession and fabricated evidence.
The South African rapper Costa Titch died on stage while performing, police said Sunday, as they opened an investigation into the circumstances of the 28-year-old's sudden death.
Seoul, South Korea — The South Korean and U.S. militaries launched their biggest joint military exercises in years Monday, as North Korea said it tested submarine-launched cruise missiles in an apparent protest of the drills it views as an invasion rehearsal. North Korea's launches Sunday signal the country likely will conduct provocative weapons testing activities during the U.S.-South Korean drills that are to run for 11 days. Last week, North Korean leader Kim Jong Un ordered his troops to be ready to repel its rivals' "frantic war preparation moves."
In what is now southern Italy, Pompeii was a bustling metropolis, until an eruption from the mighty volcano Vesuvius engulfed it in ash nearly 2,000 years ago. The stone skeleton of this ancient city has emerged through centuries of excavations – an intriguing glimpse of another time. Yet, at least one-third of the Roman city remains buried, and that means the tantalizing discoveries continue.
Israeli forces shot and killed three Palestinian militants Sunday who opened fire on troops in the occupied West Bank, the military said, the latest bloodshed in a year-long wave of violence in the region.