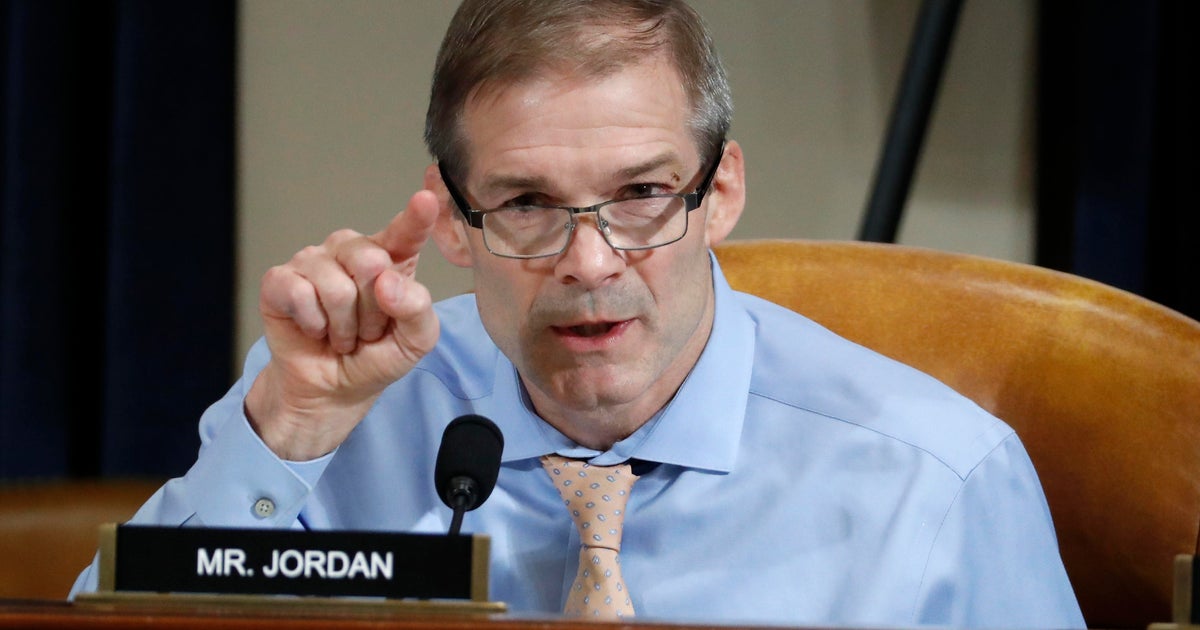 Republicans on House Judiciary panel focus on first White House target
CBSN
With the House Judiciary Committee's gavel and subpoena power close at hand, Rep. Jim Jordan, Republican of Ohio, is getting ready to launch his first investigations of the Biden administration, starting Friday with what he has recently referred to as the administration's "anti-parent directives." It's the type of request from House Republicans that the White House is describing as politically motivated, as Republicans prepare to take control of the House.
In a letter obtained by CBS News, Jordan and Republicans on the panel made their first request for testimony and documents from the Biden White House since the GOP won control of the chamber. They wrote to White House chief of staff Ron Klain to ask White House officials to testify at the beginning of the next Congress, as part of a House GOP probe of what they say is the administration's "misuse of federal criminal and counterterrorism resources to target concerned parents at school board meetings."
House Judiciary Republicans want to know more about any actions the Biden administration took regarding an October 2021 memo from Attorney General Merrick Garland noting the "disturbing spike in harassment, intimidation, and threats of violence against school administrators, board members, teachers, and staff" and directing the FBI and U.S. attorneys to meet with federal, state, local, tribal and territorial leaders to address strategies for dealing with those threats.
More Related News
A Louisiana fugitive who has been on the run for 32 years was finally captured in Mexico this week — and video released by the FBI shows him laughing as he's being handcuffed.
A Kansas man has been charged with two counts of murder after detectives in a newly formed cold case unit connected him to the deaths of two women nearly three decades ago.
North Charleston, S.C. — A military pilot whose advanced fighter jet went temporarily missing over the weekend is heard repeatedly requesting an ambulance in a perplexing 911 call from the South Carolina home where he had parachuted to safety, according to an audio recording released Thursday to The Associated Press.
Washington — A State Department IT contractor was charged with espionage after investigators alleged he sent classified documents from sensitive federal systems to foreign government contacts — and likely gave those contacts access to his U.S. government account, the Justice Department announced Thursday.
Salton City, California — Damien Lopez, age 4, has symptoms that many people who live near Southern California's Salton Sea also have.
Actor Matt Walsh has decided to take a pause from participating in the latest season of "Dancing with the Stars" due to the ongoing writer's strike.
Lizzo is facing another lawsuit from a former employee who alleges that the entertainer condoned a hostile work environment in which staff were subjected to harassment, discrimination and bullying. Asha Daniels, a wardrobe designer who worked on Lizzo's tour earlier this year, filed the new complaint in Los Angeles Superior Court on Thursday, the same day Lizzo was expected to receive the Quincy Jones Humanitarian Award from the Black Music Action Coalition.
Washington — Texas state officials this week recovered the bodies of two migrants, including a 3-year-old child, who are believed to have drowned while attempting to cross the U.S. southern border, where illegal crossings have soared to near-record levels in recent days.
Washington — A 96-year-old judge on Wednesday was suspended from hearing cases for one year after she refused to undergo medical examinations and turn over medical records sought in response to concerns raised by her fellow judges and staff about her fitness to continue her work.
WAWAYANDA, N.Y. -- Emergency responders are on the scene of an overturned bus on Interstate 84 in Orange County near the town of Wawayanda.
Sophie Turner is suing Joe Jonas for allegedly keeping their children in New York City even though the couple, who confirmed this month they are ending their marriage, agreed the children would go to England with Turner on Sept. 20.