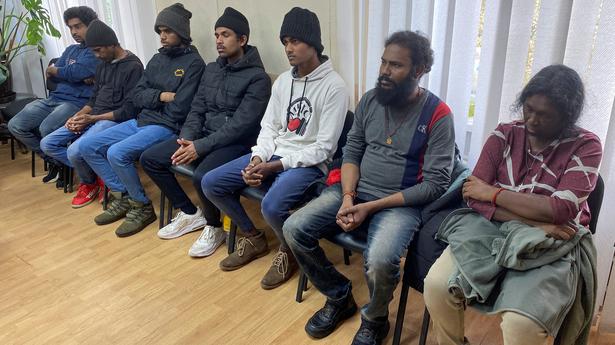 Reports of Sri Lankans rescued in Ukraine put Colombo in spot
The Hindu
Last week, Ukrainian President Volodymyr Zelensky reportedly said seven Sri Lankans, who were held by the "invading Russian forces since March" in Kharkiv, had been rescued from "torture chambers".
Recent media reports of Ukrainian authorities rescuing seven Sri Lankans from the Kharkiv region have put Colombo, which maintains close ties with Russia, on a sticky diplomatic wicket.
Last week, Ukrainian President Volodymyr Zelensky reportedly said seven Sri Lankans, who were held by the "invading Russian forces since March" in the Kharkiv region of Ukraine, had been rescued from "torture chambers". Mr. Zelenskyy drew attention to the "seven citizens of Sri Lanka", who were "students of Kupiansk Medical College". "Back in March, they had been captured by Russian soldiers and subsequently kept in a basement. Only now, after the liberation of the Kharkiv region, were these people rescued. They are being provided with proper medical care," he was quoted as saying by a Ukrainian media outlet, widely cited by Sri Lankan media.
The development came as a shock to many in Sri Lanka, as there had been no reports of Sri Lankans missing in Ukraine or being held in captive by Russian forces. Since Russia's invasion of Ukraine on February 24, Sri Lankan authorities facilitated the return of over 90 Sri Lankans, including 16 students living in Ukraine. According to official sources in Colombo, Sri Lanka was not aware of seven other Sri Lankans caught or trapped in Ukraine.
Reporting from Kharkiv this week, BBC said the Sri Lankans were imprisoned, forced into labour and "even tortured" during the last four months. "We thought we would never get out alive," one of the men in the rescued group was quoted as saying, while another showed an injury from alleged torture.
Sri Lanka's Ministry of Foreign Affairs on September 17 said it had requested the Ukrainian government 'to ascertain the veracity of the news item", as well as to provide more information on it "as a matter of priority', and is awaiting a response, according to an official. Colombo is in "close communication" with the Ukrainian Government through the Sri Lanka Embassy in Ankara which is concurrently accredited to Ukraine, as well as through the Ukrainian Embassy in New Delhi, the Ministry said in its statement last week.
Meanwhile, officials in Colombo told local media that the seven Sri Lankans were not students but "illegal immigrants" trying to flee the island nation's economic distress and claimed they did not wish to return. Following the crisis this year, the Sri Lankan Navy has intercepted a total of 966 persons so far. They were on illegal boats and trying to migrate to allegedly to Australia and Europe, a Navy official told The Hindu.
Another 229 persons found in hotels along coastal districts were also apprehended, the official said. However, it remains unclear where exactly the seven Sri Lankans are from and how they ended up in Ukraine.
More Related News
India has repeatedly raised - at various levels - its objections to the U.S. assistance package for the F-16s
Myanmar has been in chaos since the military seized power in a coup in February last year, with nearly 2,300 civilians killed in a crackdown on dissent
The pipelines have been at the centre of geopolitical tensions in recent months as Russia cut gas supplies to Europe
Though officials called on Russians to mobilise in Ukraine, some are turning down the opportunity to go to war
The Carl-Gustaf M4 is a recoilless rifle which has been ordered by the Indian armed forces.
Popular U. S. ski mountaineer Hilaree Nelson, 49, was skiing down from the 8,163-metre summit with her partner Jim Morrison when she fell off the mountain
While $3.3 billion will be spent in 2022, $10.7 billion is to be utilised between 2023-25
Ousted prime minister Imran Khan demanded the resignation of his successor Shehbaz Sharif over the issue
Antony Blinken expressed his sorrow over the devastation and loss of life throughout Pakistan caused by catastrophic flooding
Harris has been emphasising security ties during her time in Tokyo, where she's attending the state funeral of former Prime Minister Shinzo Abe
What has led to the clashes and protests? Why is the ruling Liberal Democratic Party being blamed? What stand has Prime Minister Fumio Kishida adopted?