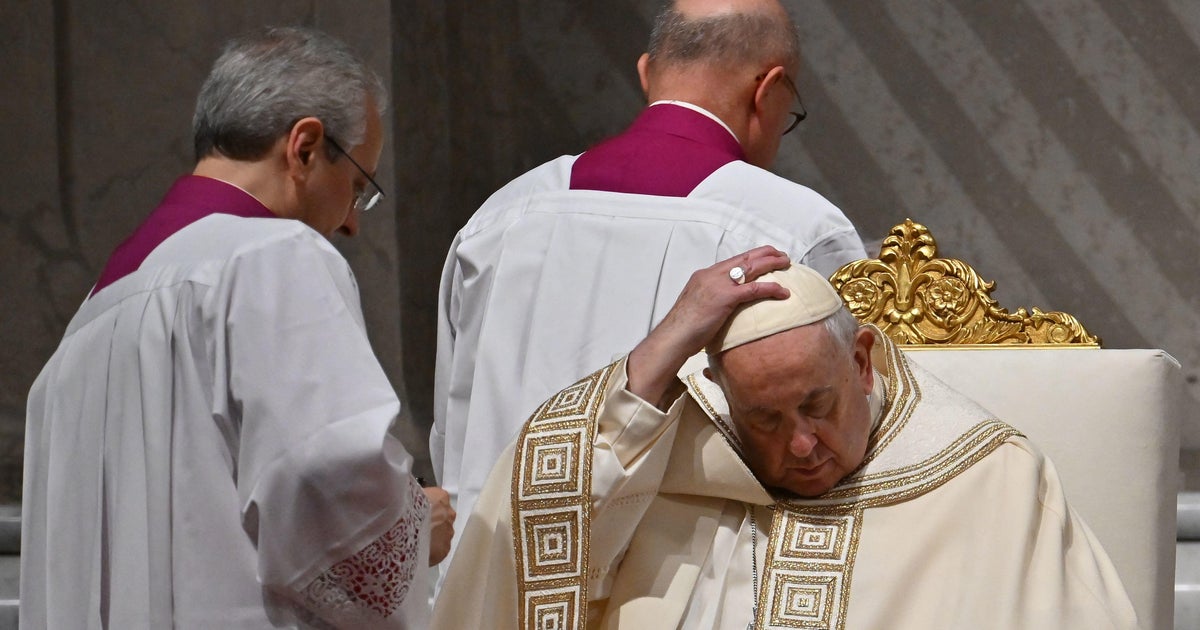 Pope Francis praises Pope Emeritus Benedict XVI's "kindness"
CBSN
Pope Francis has praised Pope Emeritus Benedict XVI's "kindness" in his first public comments since the death of the retired pontiff. Francis thanked Benedict on Saturday for "his testimony of faith and prayer, especially in these final years of retired life."
Speaking during a New Year's Eve vigil, Francis said only God knew "of his sacrifices offered for the good of the church."
Pope Francis is set to celebrate Benedict's funeral Mass on Thursday, the first time in the modern age that a current pope will eulogize a retired one.
More Related News
The number of people killed after days of clashes between Senegalese police and supporters of opposition leader Ousmane Sonko has now risen to 15, including two security officers, the government said on Saturday.
A gun battle involving an Egyptian police officer in southern Israel along the Egyptian border left three Israeli soldiers dead Saturday, the army said. It was a rare instance of deadly violence along the frontier.
Balasore, India — Rescuers found no more survivors in the overturned and mangled wreckage of two passenger trains that derailed in eastern India, killing more than 280 people and injuring hundreds in one of the country's deadliest rail crashes in decades, officials said Saturday.
Two passenger trains derailed in India on Wednesday, killing at least 13 people and trapping hundreds of others inside more than a dozen damaged coaches, officials said.
Berlin — Two Austrian citizens and a Danish national who were held in Iran were being released and allowed to return home, officials in Austria and Belgium said Friday. Austrian Foreign Minister Alexander Schallenberg said he was "very relieved" that Kamran Ghaderi and Massud Mossaheb were being brought back to their home country after "years of arduous detention in Iran."
A short-term ceasefire between two warring factions in Sudan has been suspended, the United States and Saudi Arabia announced in a joint statement Thursday. The announcement came hours after the U.S. announced new sanctions against companies and individuals affiliated with both the Sudanese Armed Forces and the Rapid Support Forces (RSF) paramilitary group.
Authorities in northern Mexican have found 45 bags containing human remains in a gorge on the outskirts of Guadalajara and are trying to determine how many bodies are there.
Moscow — Moscow said Thursday it thwarted a Ukrainian attempt to "invade" its southwestern border as Russia pounded Kyiv with missiles, killing three people including a woman and child. The Ukrainian capital faced nearly nightly air raids in May, including an unusual daytime attack on Monday that sent residents running for shelter.
Berlin — Investigators found objects in Portugal for clues on the disappearance of British toddler Madeleine McCann, but it is unclear for now if they are linked to the case, German prosecutors said Thursday. McCann was three when she went missing from her family's holiday apartment in Praia da Luz in 2007 while her parents dined at a nearby tapas bar.
Kim Yo Jong, the sister and senior aid of North Korean dictator Kim Jong Un, condemned the international community's reaction to North Korea's launch of a military spy satellite, which crashed into waters off the Korean Peninsula's western coast on Tuesday.