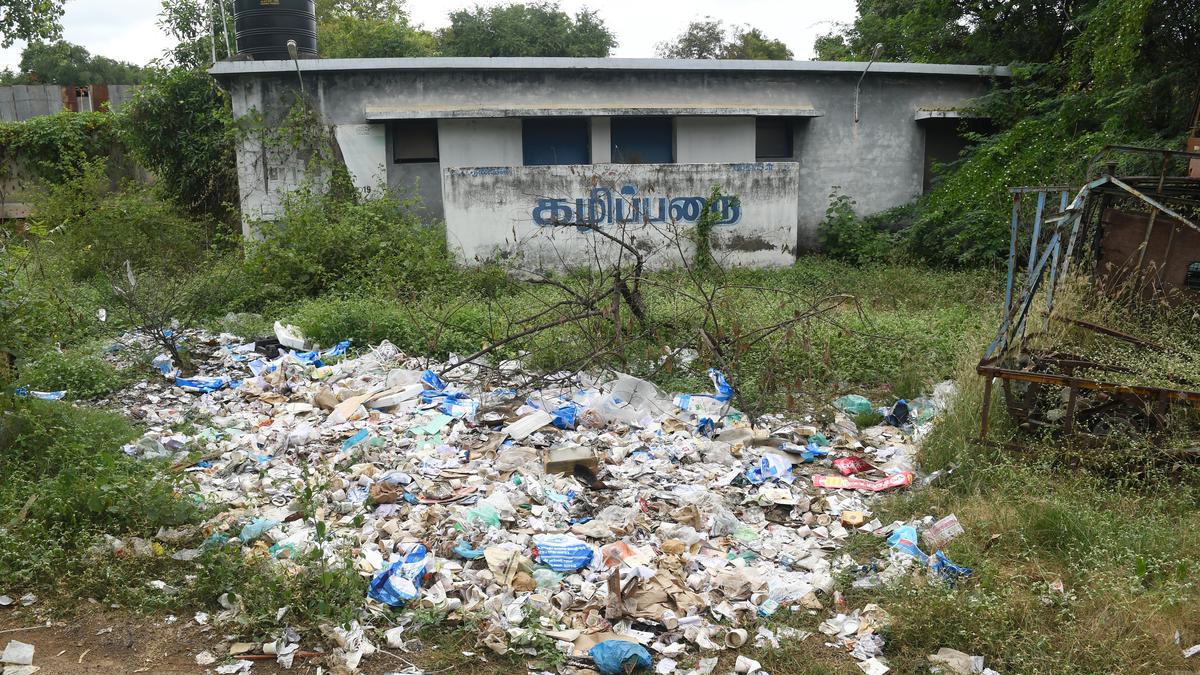 Poor upkeep of Collectorate premises irks public
The Hindu
Garbage heaps are set on fire at many places across the premises; plastic bottles, bags and PET bottles, among many unsegregated waste, go up in flames; abandoned vehicles are found at many places
Come Sunday, garbage heaps at many places on Madurai Collectorate premises are set on fire. Plastic bottles, bags and PET bottles, among many unsegregated waste, go up in flames.
It is no surprise that not many dustbins are found anywhere on the premises. One of the smouldering heaps was seen right beside a defunct toilet complex.
Further, abandoned vehicles are found at many places at the Collectorate, adding to the eyesore. A few trucks, SUVs, and lorries near the District Drug Warehouse remain almost submerged in wild growth of weeds and bushes laced with strewn away waste.
In contrast to the boards declaring the premises as a tobacco-free zone, cigarette butts are found near the canteens.
Adding to the uncleanliness of the place, empty alcohol bottles and irresponsibly discarded old batteries, plastic covers and wrappers can be seen, which makes one question the safety and surveillance right at the heart of the campus.
Over 10 stray dogs, including many with visible skin diseases, loiter around the premises. "Though they do not cause any trouble, many dogs look like they are suffering from psoriasis which do not make the public and visitors feel safe," said V. Pechiammal, 65, a petitioner from Kottampatti.
Citing the posters of political parties and associations pasted on boundary walls and buildings, N. Ramesh, a petitioner from Kallandhri said that it is one of the many sights that tarnishes the image of the Collectorate. The walls do not bear any 'Stick No Bills' signs either. "In addition, there are no proper signage for petitioners to find the right office. Installing one would help everyone, especially the elderly visitors," he added.
More Related News
Early June 8, Chief Minister Pinarayi Vijayan embarked on an eight-day foreign tour of the United States of America (USA) and Cuba amidst strident criticism from opposition parties.
Exploration of ways to monetise land without exploiting it led to the birth of Mycelium, a Bengaluru-based start-up that aims to buy private lands outside of protected forests and conserve or restore these spaces.
Heat-wave conditions are likely to continue in most parts of Jharkhand till June 12, the weather office said on June 8 Thursday.
Asia Kitchen by Mainland China opens a new 98-seater restaurant at Somerset Greenways in Chennai with Omurice and Thai khao niew mamung
The Southern Railway has decided to postpone the suspension of the Mass Rapid Transit System (MRTS) from Chennai Beach to Chepauk
Tamil Nadu police launch drive to trace missing children
Collector M. S. Sangeetha on Wednesday handed over compensation amount to the family members of those injured in the aftermath of an altercation that broke out during a temple festival in Othakadai in Madurai, last week.
More than 10,000 children took part in 363 summer camps organised by the Greater Visakhapatnam Municipal Corporation (GVMC) in 98 wards, Mayor G. Hari Venkata Kumari has said.
Here is a list of top news developments to look out for from Tamil Nadu on June 8, 2023.
Here are the important developments from Kerala to watch out for today.
Actor Amaan, who started off as a lead actor in TV serials, talks about the struggles of sustaining himself in Kannada cinema