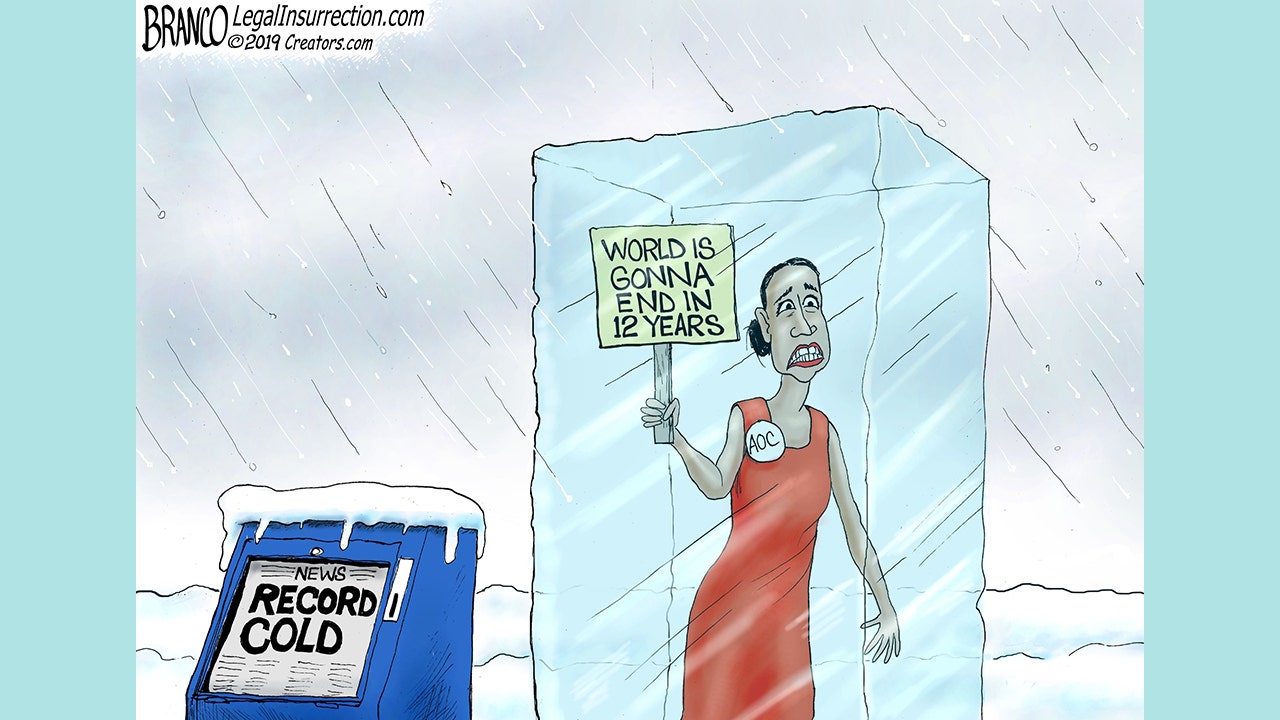 Political cartoon of the day: Best of political cartoons: Florida dreaming
Fox News
Florida dreaming 1.2.22 ( ) Best of political cartoons: Hanging by a thread 01.01.22 ( ) Who's ready for 2022? 12.31.21 ( ) BEST OF CARTOONS: Scare tactics 12.30.21 ( ) Does it make a sound? 12.30.21 ( ) Running on empty 12.29.21 ( ) Hitting the road 12.27.21 ( ) Florida or bust 12.26.21 ( ) It's beginning to look a lot like (last) Christmas 12.24.21 ( ) Take the money and run 12.24.21 ( ) It's that time of year...12.23.21 ( ) New breed of Democrat? 12.22.21 ( ) Inner thoughts 12.21.21 ( ) Bursting their bubble 12.20.21 ( ) If the shoe fits 12.18.21 ( ) Sinking fast 12.17.21 ( ) Baby, it's woke inside 12.16.21 ( ) Seeing spots 12.15.21 ( ) ( ) Ready for their close-up 12.13.21 ( ) Well-fed beast 12.12.21 ( ) Biden's battle plan 12.11.21 ( ) GOP roadside assistance 12.10.21 ( ) Not everyone gets pulled by reindeer, Santa 12.9.21 ( ) Stacey Abrams rides again 12.8.21 ( ) You're a mean one, Mr Biden ( ) ( ) Coming to a retailer near you? 12.5.21 ( ) Classroom conflict 12.5.21 ( ) Special Delivery 12.4.21 ( ) losing the race 12.3.21 ( ) Milking the system 12.2.21 ( ) Mixed messages 12.1.21 ( ) The science of Fauci 11.30.21 ( ) It's based on science! 11.29.21 ( ) No more mean tweets 11.28.21 ( ) Equity justice 11.27.21 ( ) Socialists drool 11.26.21 ( ) Safe spaces 11.25.21 ( ) Master of disguise 11.24.21 ( ) On the chopping block 11.23.21 ( ) Woke blinders on? 11.22.21 ( ) Taking notes 11.21.21 ( ) Kenosha blowback 11.20.21 ( ) Adding fuel to the fire 11.19.21 ( ) Down the toilet 11.18.21 ( ) Pointing fingers 11.17.21 ( ) Misplaced priorities? 11.16.21 ( ) Hung out to dry? 11.15.21 ( ) Political science 11.14.21 ( ) Dems' go-to arguments 11.13.21 ( ) Moving the goalposts 11.12.21 ( ) Media's missing priorities. 11.11.21 ( ) Plugging the pipeline 11.10.21 ( ) Shooting himself in the foot 11.9.21 ( ) Steaming mad 11.8.21 ( ) Hibernation over 11.7.21 ( ) Driven to win 11.6.21 ( ) That failed far-left magic 11.5.21 ( ) Virginia is for lovers...of Democracy 11.4.21 ( ) While Biden sleeps 11.3.21 ( ) 'Jab' turns into low blow 11.2.21 ( ) This next dedication goes out to Brandon 11.1.21 ( ) Far-left logic 10.31.21 ( ) Not Nancy 10.30.21 ( ) Not intimidated 10.29.21 ( ) Joe's got it under control 10.28.21 ( ) Bad buzz 10.27.21 ( ) ( ) ( ) Crime spike? What crime spike? 10.24.21 ( ) Hypocrisy exposed 10.23.21 ( ) Let's go, Biden? 10.22.21 ( ) Diving into debt 10.21.21 ( ) Misplaced priorities? 10.20.21 ( ) How old are you kids? 10.19.21 ( ) Dumpster fire 10.18.21 ( ) ( ) Breaking point 10.16.21 ( ) 2020 hindsight 10.15.21 ( ) Fauci in the rearview 10.13.21 ( ) Border redrawn ( ) Garland's memo 10.11.21 ( ) Traditions in the Trash 10.10.21 ( ) Along for the ride 10.9.21 ( ) Art meets reality 10.8.21 ( ) Justice is blind? 10.7.21 ( ) Deception in vogue? 10.6.21 ( ) US is selling the farm 10.5.21 ( ) Full steam ahead 10.4.21 ( ) Laughing at whose expense? ( ) ( ) Finger pointing 10.1.21 ( ) Too many curveballs 9.30.21 ( ) Save the lipstick 9.29.21 ( ) Misplaced outrage? 9.28.21 ( ) Trial by fire 9.27.21 ( ) What amendment? 9.26 ( ) ( ) Newsom on notice 9.25.21 ( ) Lifeguard's litmus test 9.24.21 ( ) Bridge over Biden's disaster 9.23.21 ( ) Sick and sickle? 9.22.21 ( ) Dems immigration policy flaws 9.21.21 ( ) Give us your tired, your poor and Democratic voters 9.20.21 ( ) Biden's wrecking ball ( ) Master plan 9.18.21 ( ) Wrong priorities? 9.17.21 ( ) Anything Goes 9.12.21 ( ) Somebody 'woke' up Gen. Milley 9.16.21 ( ) America's greatest threat? 9.15.21 ( ) Joe's Taliban booster shot ( ) Something stinks 9.13.21 ( ) America Remembers 9.11.21 ( ) Dems' diversion ( ) Biden's bungled airlift 9.9.2021 ( ) One happy fetus 9.8.21 ( ) Wandering thoughts 9.7.21 ( ) Larry v. Goliath 9.6.21 ( ) After the defunding 9.5.21 ( ) Odd man out 9.4.21 ( ) Gunslinger Joe 9.3.21 ( ) Their hero 9.2.21 ( ) September 1, 2021 ( ) No comparison 9.1.21 ( ) Hey Joe, somewhere you need to be? 8-31-2021 ( ) A failed plan 8.30.21 ( ) Fair warning 8.29.21 ( ) Biden's care package 8.28.21 ( ) Remembering the fallen 8.27.21 ( ) Who's the boss? 8.26.21 ( ) A major cleanup 8.25.21 ( ) Who's pulling the strings 8.23.21 ( ) Blame the middleman. 8.22.21 ( ) Didn't see it coming 8.21.21 ( ) Pulling the pin on diplomacy 8.20.21 ( ) While Milley napped ... 8.19.21 ( ) House specials 8.18.21 ( ) Fiddling while the world burns 8.17.21 ( ) Joe's Saigon moment 8.16.21 ( ) Word police watching 8.15.21 ( ) Dems' cover-up 8.14.21 ( ) Burning money 8.13.21 ( ) Taking a bite out of the dollar 8.12.21 ( ) Biden, Dems seize opportunity 8.11.21 ( ) Congress tosses away kid's future 8.10.21 ( ) Iceberg on the Potomac 8.9.21 ( ) For me, not thee 8.8.21 ( ) Worms crawl in, worms crawl out 8.7.21 ( ) Sticking it to the Constitution 8.6.21 ( ) Dems crawl back 8.5.21 ( ) A helping hand 8.4.21 ( ) Bubble Wrap to the rescue 8.3.21 ( ) Puttering along 8.2.21 ( ) Life in the nanny state 8.1.21 ( ) Selective outrage 7.31.21 ( ) Biden's mixed messages 7.30.21 ( ) 'Follow the science' 7.29.21 ( ) Judge and jury 7.28.21 ( ) A load of bull 7.27.21 ( ) Best of political cartoons: AOC's solution to methane problems ( ) Gold Coast loses its shine 7.26.21 ( ) Best of political cartoons: When Democrats attack 7.25.21 ( ) Best of political cartoons: History of leftist panic 7.24.21 ( ) Erasing history 7.23.21 ( ) Bye bye golden goose 7.22.217.22.21 ( ) Spreading fear 7.21.21 ( ) Best of political cartoons: America's most lethal virus 7.19.21 ( ) Best of political cartoons: Eye of the beholder 7.18.21 ( ) His greatest fear realized 7.16.21 ( ) Biden's Cuba policy 7.15.21 ( ) Highly 'critical' 7.14.21 ( ) The coattails of prosperity 7.13.21 ( ) Best of political cartoons: Losing the patient ( ) Introducing: The Hunter Biden Art Gallery 7.12.21 ( ) (Devil in the details 7.10.21) Sounding the alarm 7.10.21 ( ) The man behind the...bag? 7.9.21 ( ) Slaying the three-headed dragon 7.8.21 ( ) Dem's 'repair' kit 7.7.21 ( ) Dem's new credo 7.6.21 ( ) Milley's medal 7.5.21 ( ) 'With liberty and justice for all' 7.4.21 ( ) The ol' ball and chain 7.3.21 ( ) Dont't let school interfere with education 7.2.21 ( ) No shelter from the storm 7.1.21 ( ) Who's the dummy? 6.30.21 ( ) On the backs of slave labor 6.29.21 ( ) Psaki's shoe licker 6.28.21 ( ) Do as I say 6.27.21 ( ) Mismatch 6.26.21 ( ) Chuck sees dead people 6.25.21 ( ) Garbage in, garbage out? 6.24.21 ( ) Dem's crime solution 6.23.21 ( ) I'll Take Potpourri for $1,000 6.22.21 ( ) Misplaced concerns? 6.21.21 ( ) Biden mails it in 6.20.21 ( ) Tagger Joe 6.19.21 ( ) Art of the deals 6.18.21 ( ) Threat to homeland 6.17.21 ( ) The world stage 6.16.21 ( ) Pandemic origins 6.15.21 ( ) Who has America's back? ( ) Nowhere to hide 6.13.21 ( ) Changing the subject 6.12.21 ( ) Consumers bear the costs 6.11.21 ( ) Constitution up in smoke 6.10.21 ( ) Swinging the pendulum 6.9.21 ( ) Chasing windmills 6.8.21 ( ) Rookie mistake 6.7.21 ( ) Minnesota Woke 6.6.21 ( ) Wrong-way Biden 6.5.21 ( ) Fauci's droplets 6.4.21 ( ) Worth rewriting 6.3.21 ( ) Upside down world 6.2.21 ( ) Pelosi's taking names? 6.1.21 ( ) Freedom's foundation 5.28.21 ( ) Xi's pets 5.27.21 ( ) ( ) Bait and switch 5.25.21 ( ) (Flocking together 5.24.21) None of your lip 5.23.21 ( ) Governors lead the way 5.22.21 ( ) Petro pals 5.21.21 ( ) Damned if he does 5.20.21 ( ) All bark, not bite 5.19.21 ( ) Follow the money 5.17.21 ( ) Class warfare 5.16.21 ( ) Crash and burn 5.15.21 ( ) Buyer's remorse 5.14.21 ( ) 'Squad' cheering on Israel's sworn enemy 5.13.21 ( ) And the award goes to... 5.12.21 ( ) Long-term side effects 5.18.21 ( ) Shifting political winds 5.11.21 ( ) Buyer beware 5.10.21 ( ) Dems' loose lips 5.9.21 ( ) Joltin' Joe 5.8.21 ( ) Censorship meets its match? 5.7.21 ( ) Media splitting country over race 5.6.21 ( ) The smell test 5.5.21 ( ) Critical race theory accessory 5.4.21 ( ) Facing racism head on ( ) Please Riot Again! 5-2 ( ) Hit Piece 5-1 ( ) Burdened with debt 4.30.21 ( ) Rudy Giuliani under the microscope 4.29.21 ( ) Foot in the mouth 4.28.21 ( ) The man behind the mask 4.27.21 ( ) Equity isn't always equal(ity) 4.26.21 ( ) License to abuse 4.25.21 ( ) Weather happens 4.24.21 ( ) State of emergencies 4.18.21 ( ) Merit, schmerit 4.23.21 ( ) Silenced by color 4.22.21 ( ) Pouring gasoline on the fire 4.21.21 ( ) One last roadblock 4.20.21 ( ) Two-headed monster 4.19.21 ( ) The irony 4.17.21 ( ) Harris a puppeteer for Biden China policy 4.16.21 ( ) One big joke 4.15.21 ( ) From Bernie to BLM 4.14.21 ( ) Biden's infrastructure plan like putting lipstick on a pig 4.13.21 ( ) Ready to ignite 4.12.21 ( ) Weighty decision 4.11.21 ( ) Editor Joe 4.10.21 ( ) Senseless acts 4.9.21 ( ) Mixed message 4.8.21 ( ) It's starting to show 4.7.21 ( ) Democratic denial 4.6.21 ( ) MLB buys into 'woke' propaganda 4.5.21 ( ) Easter in Minnesota 4.4.21 ( ) Packed in 4.3.21 ( ) Mad about taxes 4.2.21 ( ) Pumping up his rep 4.1.21 ( ) Devil in the details 3.31.21 ( ) Election reform stake 3.30.21 ( ) Mixed messages 3.29.21 ( ) Unlimited supply 3.28.21 ( ) Any Democrat who's handy 3.27.21 ( ) ( ) Running on empty 3.25.21 ( ) Second Amendment under fire 3.24.21 ( ) Off with their heads! 3.23.21 ( ) Rolling out the red carpet. 3.22.21 ( ) No police allowed 3.21.21 ( ) Biden's fall 3.20.21 ( ) Ultimate slap in the face 3.19.21 ( ) Biden's Border Crisis 3.18.2021 ( ) The blame game 3.16.21 ( ) Obedience training 3.16.21 ( ) Inside Biden's mind 3.15.21 ( ) Dangerous waters 3.14.21 ( ) Just read the prompter 3.13.21 ( ) Cagey president? 3.12.21 ( ) Have you seen my dogs? 3.11.21 ( ) Royal robbery 3.10.21 ( ) Playing Biden like a violin 3.9.21 ( ) Return to open borders 3.8.21 ( ) AlphaNewsMN.com Cartoon, March 7, 2021 ( ) The Gipper speaks 3.6.21 ( ) A Cancel lineup 3.5.21 ( ) Rush Limbaugh at the Pearly gates ( ) Biden's migrant blood on hands ( ) The real Andrew Cuomo? 3/3/2021 ( ) Mr Potato Head goes gender-neutral 3.2.21 ( ) Fauci moves the goalposts yet again 3.1.21 ( ) First things first 2.28.21 ( ) Shot in the dark? 2.27.21 ( ) Going to the piggy bank 2.26.21 ( ) Free speech under fire 2.25.21 ( ) Mixed media message 2.24.21 ( ) The man behind the curtain 2.23.21 ( ) Who's running the White House 2.22.21 ( ) Licenses for all 2.21.21 ( ) Biden checks the boxes 2.20.21 ( ) Trump gone, but not forgotten 2.19.21 ( ) Passing the torch of truth and liberty 2.18.21 ( ) Global chill 2.17.21 ( ) Another swing and a miss! 2.16.21 ( ) Mickey Mouse fights freedom of speech 2.15.21 ( ) Dem governor's priorities 2.14.21 ( ) Cuomo wins again 2.13.21 ( ) Taking aim 2.12.21 ( ) Where is the media's attention? 2.11.21 ( ) Dems going "where no one has gone before" 2.10.21 ( ) Left's unhealthy addiction to Trump Feb 09, 2021 ( ) Feb 08, 2021 ( ) Feb 07, 2021 ( ) Feb 06, 2021 ( ) Feb 03, 2021 ( ) Jan 31, 2021 ( ) Feb 05, 2021 ( ) Feb 04, 2021 ( ) Feb 02, 2021 ( ) Feb 01, 2021 ( ) Jan 29, 2021 ( ) Jan 28, 2021 ( ) Jan 27, 2021 ( ) Jan 26, 2021 ( ) Jan 25, 2021 ( ) Nowhere to hide 6.13.21 ( )
More Related News
Fox News host Greg Gutfeld examines the media's coverage of police beating Tyre Nichols to death on 'Gutfeld!'
Fox News host Jesse Watters gives his take on illegal migrants in New York City and America's immigration policies on 'Jesse Watters Primetime.'
Will Keeps, of Des Moines, Iowa, an ex-gang member who founded an educational program for at-risk youth, was released from the hospital Monday after he was wounded in a school shooting.
Sens. Tim Scott and Cory Booker remain committed to negotiating for police reform following the death of Tyre Nichols, but hopes of a bill approved in both chambers are slim.
Rep. Adam Schiff, D-Calif., was mistakenly labeled a Republican while facing questions regarding his removal from the House Intelligence Committee on CNN Sunday.
Democratic Kentucky Gov. Andy Beshear spoke on the state's teacher shortage Monday, and is expected to push the state legislature to increase education funding.
CAMERA, a media watchdog group, accused CNN of purposefully publishing a cartoon featuring antisemitic tropes in a piece about an Israeli artist.
The nation's largest police organizations are willing to work with Congress to revive police reform negotiations following the death of Tyre Nichols, but are not optimistic anything will bear fruit.
DOJ says it is working with the intelligence community before briefing the Senate Intelligence Committee on the improper retention of classified records by Biden and Trump.
A planned increase in Texas' homestead exemption could potentially save homeowners thousands of dollars over the lifetime of their homes.
Top Democrats are demanding Meta provide answers on why it reinstated former President Trump to Facebook and Instagram, calling it "inexplicable."