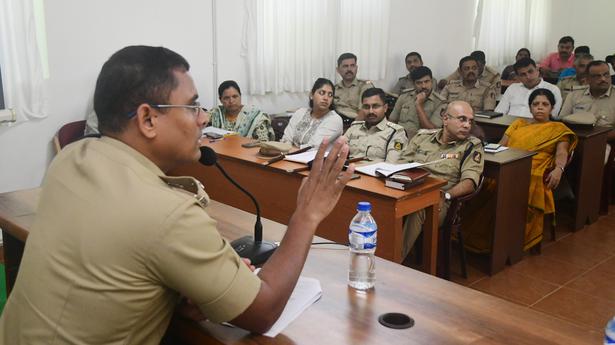 Police restoring defunct CCTV cameras in Dakshina Kannada
The Hindu
As many as 1,500 CCTV cameras, which are installed by the police, local bodies and business establishments, are being used for surveillance and crime detection
The police are taking action to restore non-working CCTV camera sets installed at vital locations in Dakshina Kannada, said Superintendent of Police Rishikesh Sonawane here on Friday.
In answer to a question during the Scheduled Castes and Scheduled Tribes grievance redressal meeting held at his office, Mr. Sonawane said that as many as 1,500 CCTV cameras, which are installed by the police, local bodies and business establishments, are being used for surveillance and crime detection. This includes 150 CCTV cameras installed by the office of Inspector-General of Police (Western Range).
Some of the CCTVs are malfunctioning because of technical problem. There are also CCTV cameras that have stopped working due to heavy rainfall. "Steps are being taken to repair them," Mr. Sonawane said.
Vishwanath, a Dalit activist from Bantwal, expressed the need for repairing a CCTV camera installed at a place in Bantwal Rural Police limits. The jurisdictional police inspector said that the CCTV camera has been installed by a private person and he is being asked to repair it.
Mr. Sonawane said that the police will ask people to repair malfunctioning CCTV cameras installed by private persons. Stating the importance of CCTV cameras in crime detection, Mr. Sonawane said that it was footage from CCTV cameras installed in Bellare that helped the police identify the accused involved in the murder of (BJP Yuva Morcha leader) Praveen Nettaru.
To activist Nemiraj's complaint that a bhajana mandali was building a marriage hall in the "DC Manna" land, which is meant for SCs and STs, in Venur Police limits, Mr. Sonawane said that revenue officials will be asked to visit the site.
Activists Anil Kumar and S.P. Anand sought the arrest of those involved in the death of Dalit activist Deekayya in his house in Kaniyuru in Belthangady police station limits on July 4, 2022. Mr. Sonawane said that the allegations are being investigated by Police Inspector Nandakumar.
More Related News
During his 'Mann Ki Baat' radio broadcast on Sunday, Prime Minister Narendra Modi had announced that the airport would be renamed after Bhagat Singh as a tribute to the freedom fighter.
A video on the Popular Front of India
The incident came to public attention following the social media post by one of the actors about the harrowing experience
Maitreyi Ramakrishnan's childhood devotion to 'My Little Pony' turned out to be homework for her latest TV project
The deal involves dramas, comedies, documentaries, animation and children's series and will see the Pakistani activist team up with Oscar winner Adam McKay's production house on a feature film
"BJP has nothing else to do, but to crush Kejriwal's increasing popularity and crush the AAP," AAP MP Sanjay Singh said.
Mr. Govindan added that banning only one organisation against communalism will not help
He welcomed the Union Government's decision to ban the Popular Front of India (PFI)
Liquor businessman Sameer Mahendru is expected to be produced before a local court where the Enforcement Directorate will seek his further remand
Muhammad Ali Jauhar University is a private university established in 2006 by a trust and Samajwadi Party leader Azam Khan is its chancellor
The message from the Russian authorities has named Purnima Anand who worked as "an observer from India" during the referendum