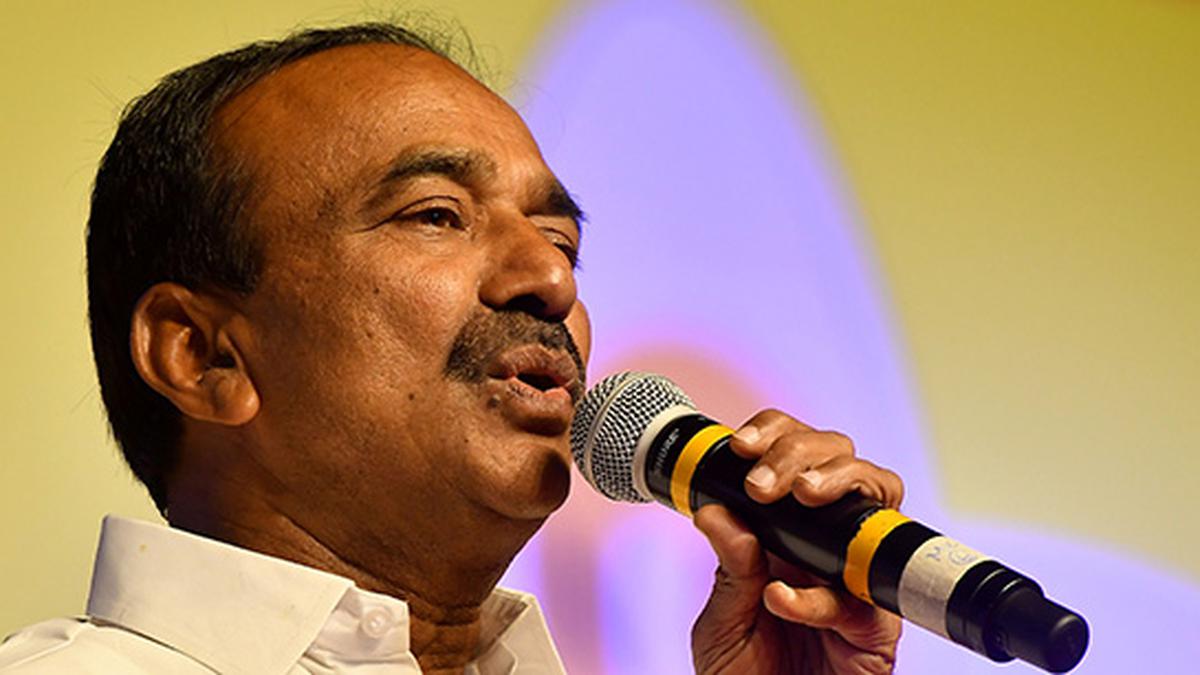 People should question unimplementable freebies by parties, says Eatala Rajender
The Hindu
Eatala Rajender appeals to people to question parties & leaders on how they'll implement freebies & fund them. Karnataka Congress govt in fix unable to implement promises. Modi govt has credibility as it implemented promises. BJP to announce manifesto with something for all sections.
Former Minister and Telangana BJP election coordination committee chairman Eatala Rajender on Thursday has appealed to the people to question political parties and leaders about how they intend to implement the freebies announced as part of the welfare schemes and the financial outgo when they come for campaign during the elections.
"Chief Minister K. Chandrasekhar Rao had also announced several schemes like stipend to the unemployed, total farm loan waiver, two-bedroom housing for all, Dalit Bhima and so on. But, deeds have not matched words and every section has been cheated after he boasted about being a rich State and what not," he remarked.
Addressing a press conference at the party office, Mr. Rajender said the BRS government has been forced to depend on liquor sales and mortgage even roads to fund the welfare schemes and now the Congress party is following suit by making "unimplementable" promises without indicating from where the funds will be raised.
"The Congress government in Karnataka is in a fix unable to implement the promised freebies and whittling them down. The party should explain how it will give pension of ₹2,500 to all the women and the criteria or we will see another KCR kind of drama. Even when KCR was announcing ₹1 lakh loan waiver for farmers I knew in my heart it would be a tough task ," he said.
The BJP leader claimed that unlike other parties, the Narendra Modi government had got "credibility" because it has been able to implement whatever promises it had made during the elections. As the first finance minister of Telangana, he could affirm that governments have just ₹5,000-₹10,000 crore to spend extra whatever be the scheme.
"We are soon going to announce our election manifesto where there will be something for the youth, women, farmers and other sections of the society," he declared and once again denied he was contemplating to shift loyalties as is being speculated in a section of the media.
More Related News
The workshop is tailored for a diverse audience, beckoning those eager to adopt a millet diet, individuals seeking a healthier way of life, and those grappling with lifestyle disorders.
Top news developments from Telangana today, December 1, 2023
Taslima Nasrin's novel Lajja brought her fame, a fatwa, and exile. Her works have been banned and fatwas renewed, and her views on patriarchy, gender injustice, and sexual freedom have caused controversy. Her new poetry collection Burning Roses in My Garden comprises poems that range in topic from love to language, country, and humanity. Nasrin's voice is soft, wistful, and reflective, and her blend of ideology and sensitivity is unique.
.Varavara Rao allowed to travel to Hyderabad for cataract surgery: NIA court permits activist to travel Dec 5-11; must report to NIA Dec 4 and provide details of journey. Court warns against misuse of liberty.
Adya Singh from Patna wins National Crossword Champion trophy 2023. Sahil Sabne & Sakshee Vaidya from Pune & Dhara & Lakshmi from Delhi are runners-up. 38 teams from across India competed in 2-day Grand Finale at YMCA Auditorium, New Delhi. Alan Cowell, English teacher from Don Bosco Academy, Patna, was Cross Master. Civil society initiative Extra-C has been organizing contest since 2013, acknowledged by Limca Book of Records.
Dudiya is a gripping tale of a young female Naxal recruit, exploring the exploitation of Adivasis and the rise of Naxalism in India. Through the character of Dudiya, Vishwas Patil sensitively portrays the dark reality of India's Maoist insurgency, while gently scoffing at the perceived threat of the 'urban Naxal'.
Kerala HC Division Bench stays single judge's order nullifying election of V.A. Sreejith as chairperson of Education Standing Committee of Kochi Corporation. Court directs State Election Commission to keep ballots in sealed cover. Single judge had allowed petition filed by UDF candidate Bastin Babu. Case to be considered later.
NCP leader Chhagan Bhujbal faced opposition from Maratha community during his tour of villages affected by unseasonal rains in Nashik district. He was opposed for his stand on Maratha reservation issue. He was shown black flags and slogans were raised against him. He managed to visit few villages and had to cut short his tour due to the opposition. He assured to make efforts to get special funds approved for the farmers and urged not to bring politics in it.
Devanampiye and Piyadasi (meaning 'Devanampriya' and 'Priyadarshi' in Sanskrit and 'beloved of the gods' and 'one with a benevolent gaze' in English) were the two names that were widely referred to, either separately or together, in the ancient inscriptions and Buddhist literature found across South Asia. Since nobody could authentically ascertain the identity of the person, different historians came up with different opinions. In the course of lengthy debate, some even attributed them to an imaginary personality and a great mythological figure.
Despite discrepancies in voter lists and lack of awareness, Hyderabad saw enthusiastic participation from senior citizens and individuals with disabilities. Raju and his son were unable to cast their votes due to his name missing from the list, while others faced similar disappointments. At various polling stations, individuals argued with staff due to lack of awareness, while others hurried to nearby stationeries to obtain printouts. Subramanya Ponnada, a physically challenged man, demonstrated his commitment by casting his vote.