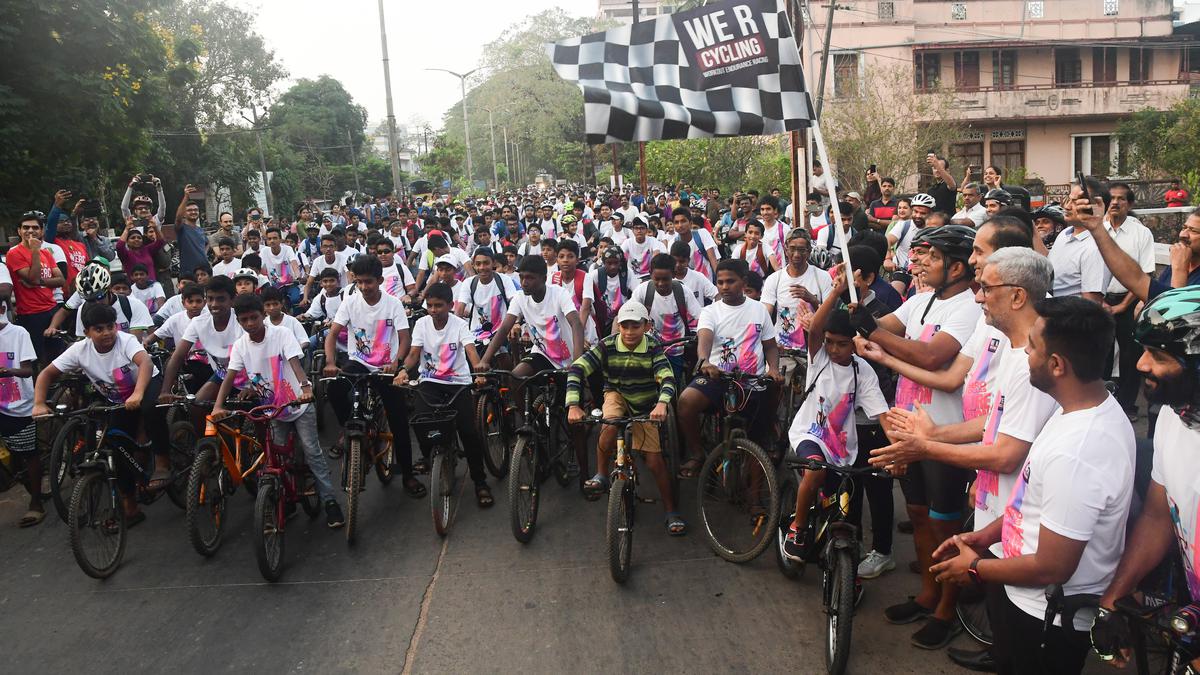 Over one thousand students participate in Mangaluru Cyclothon, the first mega ride of 2023
The Hindu
We R Cycling (WERC), a professionally managed sports club, organised the event to spread awareness about cycling and road safety
Over one thousand students from various schools in Mangaluru woke up early on a Sunday morning and enthusiastically participated in the Hero Cycles Mangaluru Cyclothon 2023, the first mega ride of 2023, organised by We R Cycling (WERC), a professionally managed sports club in the city, on Sunday, January 8.
City Police Commissioner N. Shashi Kumar, an avid cyclist, told students he would not have had the moral authority to speak about the benefits of cycling had he not completed a 200 km overnight ride to Kundapura the previous night. Dressed in cycling gear, Mr. Kumar arrived at the Mangala Stadium with his bike. He told students that riding was one of the activities to keep oneself fit and feel rejuvenated — mentally and physically. However, one has to follow all the safety norms, including wearing helmets, he cautioned.
WERC organised the event in association with Hero Cycles, Ideal Ice Cream, Kasharp Fitness and Taj Cycles to spread the awareness about Cycling and Road Safety.
Over 50 volunteers from WERC and Mangalore Runners Club guided students en-route about the best practices to be adopted while riding in public places. As many as 1,060 students had registered for the event, while their parents and other cyclists of the city too participated in the Cyclothon.
Wearing specially designed T-shirts for the event, students rode through the thoroughfares of the city, including City Corporation, PVS, Bunts Hostel and Hampanakatta before finishing the rally at Canara School Grounds, Urwa.
While Nahyan Ahmed and Payal D Rai were the lucky winners of boys' and girls' bicycles respectively at the draw of lots by Assistant Commissioner of Police (Traffic) Geetha Kulkarni and Ideal Ice Creams Owner Mukund Kamath, Bunty Raj from Lakshmi Cloth Stores handed over gift vouchers to five other lucky winners. Anand Prabhu's Kasharp Fitness organised a post-ride cool down session for the riders. Hero Cycles Area Manager Imtiyaz, Taj Cycles' S.M. Mutalib, WERC President Sarvesh Samaga and others were present.
More Related News
ERODE Four candidates, including two independents, filed their nomination papers to contest the by-e
ERODE Restriction on carrying cash and seizure of cash for want of valid documents as part of the en
In the chargesheet comprising more than 1,200 pages filed by Deputy Superintendent of Police P.S. Zala in the CJM's court, Mr. Patel was shown as the tenth accused
It was acute in the northern and eastern States of India
Shankar Mishra, accused of allegedly urinating on a woman on board an Air India flight from New York to Delhi on November 26 last year, was arrested by the Delhi Police on January 6
The institute has been at the centre of a storm following a protest movement by students demanding the resignation of the institute's director Shankar Mohan for alleged caste discrimination
It has been in the epicentre of heavy fighting.
From pushing a car stuck in snow to playing a game of sheen-jung, the Gandhi siblings charm viewers online as well as locally