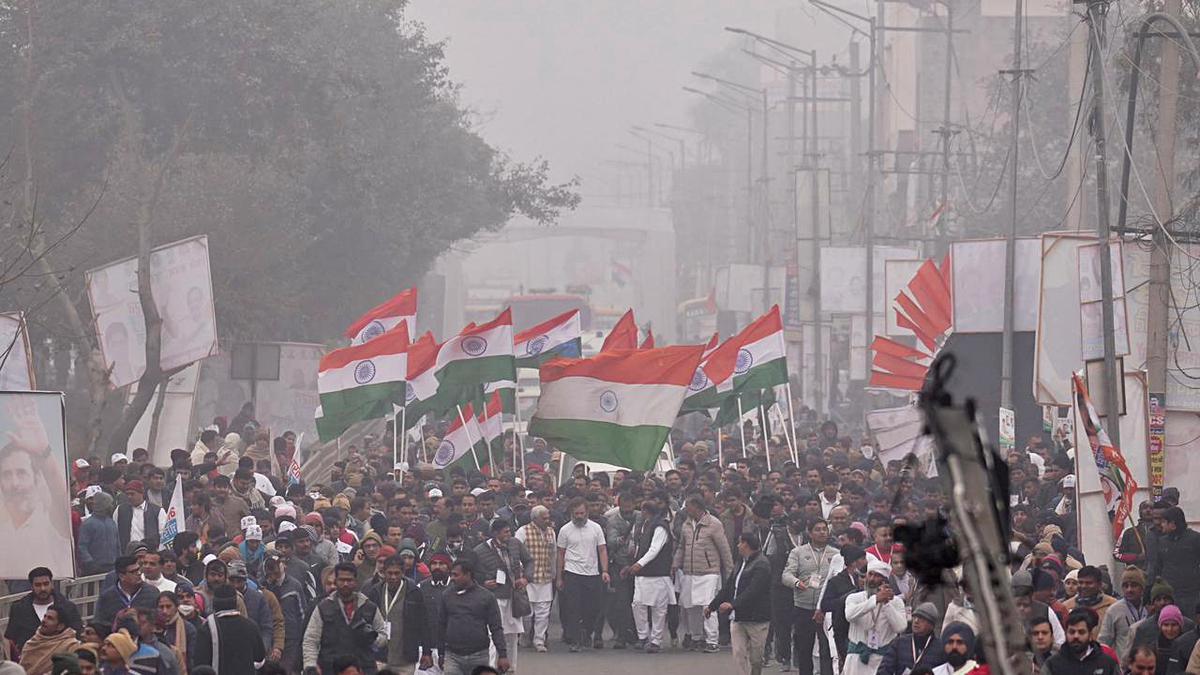 Opposition parties in U.P. say no political significance should be attached to their decision to welcome Bharat Jodo Yatra
The Hindu
Political leaders of main opposition Samajwadi Party and BSP had wished success to the Yatra in Uttar Pradesh through separate tweets, while the RLD had joined the Yatra
Congress leader Rahul Gandhi's Bharat Jodo Yatra might have created quite a buzz during its Uttar Pradesh leg but parties say no political meaning should be attached to their leaders welcoming the march in the State, and that it would be premature to link it with Opposition unity ahead of the 2024 Lok Sabha polls.
Political leaders of main opposition Samajwadi Party and BSP had wished success to the Yatra in Uttar Pradesh through separate tweets, while the RLD had joined the Yatra in the State after receiving an invitation for participation.
RLD workers were seen at the Yatra which traversed through western region of the State, the stronghold of the party. However, RLD president Jayant Chaudhary was missing as he was out of the country at that time.
"The workers of the RLD welcomed the Bharat Jodo Yatra as Rahul Gandhi has set out to strengthen brotherhood against communal politics and the president of RLD Jayant Chaudhary also is convening 'bhaichara sammelans' all over UP for the same purpose," RLD national spokesman Anil Dubey said.
He said every leader or worker, who talks about 'bhaichara' or fights against communal forces will be welcomed by the RLD.
Mr. Gandhi was on a Yatra in Baghpat in western Uttar Pradesh where the tradition has been since the time of Chaudhary Charan Singh to welcome all guests and the Congress leader had come for a good mission so the RLD welcomed him, Dubey said.
However, Mr. Dubey said no political significance should be attached to their decision to welcome Mr. Gandhi.
More Related News
She urged people of poll-bound Tripura to break myth of a double-engine government and vote only for her party, to introduce 'Bengal model' of governance
The Assembly Session will start with the Governor's address to the House, the first in the State Assembly after assuming office
As both teams head into the semifinal clash at the M. Chinnaswamy Stadium starting Wednesday, Karnataka has a score to settle.
Notwithstanding a couple of untimely adjournments, both the Houses conducted discussion on the Presi
The Home Minister, while chairing the meeting of the Parliamentary Consultative Committee on LWE, said that for the first time in four decades, the number of deaths of civilians and security forces was under 100 last year
Bengaluru Traffic Police launches special drive to crack down on vehicles using fake number plates
Madurai The first fully-solar powered police check post of Madurai district police was inaugurated a
The 21st edition of the event is open for school students in two categories
The High Court, in the meantime, began hearing submissions on the bail plea of the Rashtriya Janata Dal's youth wing leader and Jamia Millia Islamia student Meeran Haider in the same case