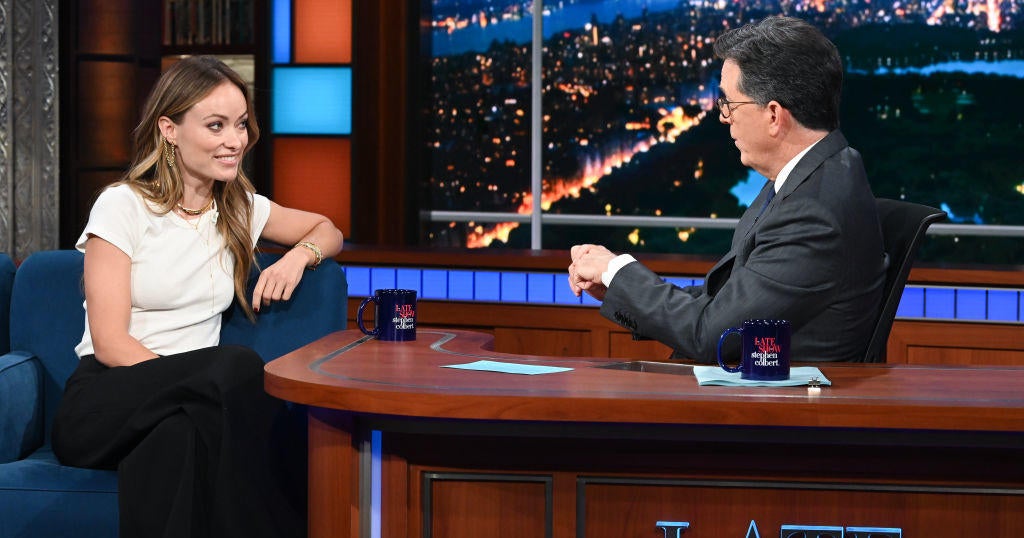 Olivia Wilde addresses drama surrounding "Don't Worry Darling"
CBSN
Olivia Wilde opened up about much of the drama surrounding her new film "Don't Worry Darling," which has been plagued by rumors of feuds between multiple actors and Wilde herself, in an interview on "The Late Show With Stephen Colbert." The director and actress addressed the viral "spitgate" incident between Harry Styles and Chris Pine, and said that questions over whether she fired actor Shia LaBeouf from the movie, or he chose to leave, was an issue of "semantics."
LaBeouf was originally set to play a leading role in "Don't Worry Darling," but Wilde in August told Variety she had fired the actor because "his process was not conducive to the ethos that I demand in my productions." LaBeouf then fired back, saying he quit the film over a lack of time to rehearse, and provided Variety with texts he exchanged with Wilde and a video that she sent to him after he had left the film, in which she appears to ask if he would be willing to come back. In the video, Wilde also appears to reference actress Florence Pugh, who plays the wife of the character LaBeouf was originally cast to play before being replaced by Harry Styles.
"You know, I think this might be a bit of a wake-up call for Miss Flo, and I want to know if you're open to giving this a shot with me, with us," Wilde said in the video, according to Variety.
More Related News
Queen Elizabeth II's coffin began moving in a procession through central London on Wednesday from Buckingham Palace to Westminster Hall, where the late monarch will lie in state for four days until her funeral on Monday.
London — The reign of Great Britain's new monarch, King Charles III, began immediately when his mother, Queen Elizabeth II, died on September 8. But even a royal transition planned meticulously over the course of Elizabeth's record 70-year reign has left some big questions unanswered.
London — Mourners were lined up Tuesday in Scotland's capital to try and pay their respects in person to Queen Elizabeth II, as the late monarch lied in state in Edinburgh's St. Giles' Cathedral. Later Tuesday, the queen's coffin was to be flown to London aboard a Royal Air Force C-17 Globemaster, accompanied by her sister Princess Anne, and then brought to Buckingham Palace.
Some of Hollywood's biggest stars walked the red carpet of the 74th Primetime Emmys at Microsoft Theater on Monday, Sept. 12, in Los Angeles. This year's show includes an especially exciting batch of nominees.
Few people would be interested in interviewing their exes—much less on camera for hundreds of thousands of people to witness. But Emmy-nominated host and actress Drew Barrymore didn't shy away from interviewing her ex-boyfriend, actor Justin Long.
Britain continued its official period of mourning Monday, exactly one week before the state funeral of Queen Elizabeth II. A number of scheduled engagements were taking place around the country.
You've seen it – 900 million other people have seen it – the part of the opening ceremonies for the 2012 Olympics in which 007 Is upstaged by the Queen's Corgis at Buckingham Palace.
The defense for R. Kelly and two co-defendants rested Friday at the R&B singer's trial on charges of trial-fixing, child pornography and enticing minors for sex, with closing arguments and the start of jury deliberations scheduled for early next week.