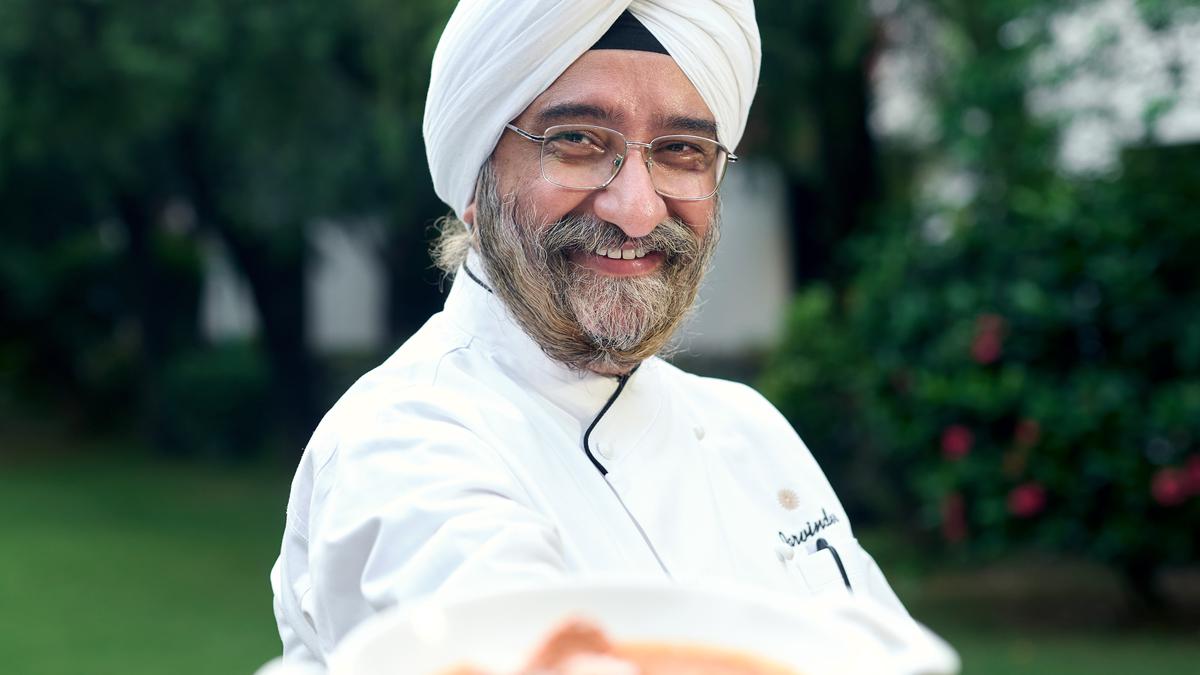 No such thing as Punjabi food?
The Hindu
Chef Parvinder Bali forages for ingredients, recipes and family histories on his mission to showcase the depth and richness of food emerging from Amritsar to Ropar
To step into the world of Chef Parvinder Bali, is a lot like leaning over a buffet where each preparation is an indissoluble chunk of history. Bali has authored several books on culinary theory like Food Productions and Operations, Theory on Bakery and Patisserie which are taught in culinary schools across India. Associated with Oberoi Group's Oberoi Centre of Learning and Development, New Delhi, he was looking to connect with historians to collate a book on the langar (the communal meal served in a gurdwara) cuisines of India.
His plans took an interesting turn when he was introduced to former chief minister of Punjab Captain Amarinder Singh, who hails from the erstwhile royal family of Patiala. Instead of langar, the Captain advisedthe chef to write about the 450-year-old recipes handwritten in Gurmukhi, emerging from his own gharana in Patiala. .
A work in progress, the book comprises Raja Bhalindra Singh's (Amarinder's uncle) collection of preparations from Patiala. At The Trident in Chennai recently, Chef Bali laid before us the pages from India's rich culinary history lost in the crevices of time. Originally from Baramulla in Kashmir, a plethora of recipes emerging from the kitchens of different maharajas punctuated his stories, starting from Maharaj Raj Rajinder Singh's (1892) Martabaan Wali Bateyr or quails cooked in pickling spices in an earthen pot, Maharaja Bhupinder Singh's (1910) Mirchi Ka Halwa or green capsicum pudding to Raja Baba Ala Singh Sidhu's (1764) Moongphalli Waley Meat Kebab or Lamb kebabs with crushed peanuts, Maharaja Bhalendra Singh's (1932) Shalgam Wala Gosht or lamb braised with turnip, and Maharaja Bhupinder Singh's (1905) Khaam Khatai or green gram lentil kebabs.
Curiously, the book does not contain any paneer or potato recipes. Bali explains, "Potatoes were introduced in India only in the 1500s by the Portuguese, and paneer was a result of Turkish influences. It was called peynir and was consumed as raw slices for breakfast."
Each time Chef Bali , enters a kitchen, he brings to the table his cultural frontiers, the battering of Partition and an acute culinary dexterity. All of this is embodied in cooking techniques, traditional recipes and unique menus.
"If you go to an 85-year-old grandmother in Punjab and talk to her about Dal Makhni and Butter Chicken, she will look at you in amazement," he proclaims.
"There's nothing called Punjabi food. There's food emerging from the riyasats of Punjab like Amritsar, Jalandhar and certain villages like Malwa, Doaba, and Ropar," affirms the chef whoseculinary theory books are taught across India, Kenya, Nepal, Malaysia, and Hong Kong.
More Related News
The Supreme Court upheld the Centre's proposal to give a six-month extension of service to Delhi Chief Secretary Naresh Kumar a day before he was due to retire on November 30
Agriculture Minister Cheluvarayaswamy expresses discontent over Union govt's reluctance to release drought relief to Karnataka farmers. He states that Karnataka contributes ₹4 lakh crore to Union govt's tax revenues, yet only gets back ₹30,000 crore. He urges Union govt to understand & release relief. He also directs officials to increase crop insurance registration & take up awareness activities. He emphasizes on water conservation & millet cultivation, curbing spurious & substandard products & establishing harvest hubs. He adds that 32,000 farm ponds will be built at ₹200 crore.
SDI, Mudasarlova, to shift to Dwaraka Bus Station building temporarily. Govt. has initiated steps to shift departments to Visakhapatnam for development. SDI has trained thousands of students since 2017. Building being renovated; rent to be ₹6-8 lakh/month. Move to help further develop region.
Police raid house, recover 200kg ganja. Tenant absconding. Police Commissioner urges citizens to verify tenants before renting. Teams formed to nab accused, cases booked under NDPS Act. House to be sealed. Courier services to be investigated.
The Bihar Education Department appears to be at loggerheads with the Raj Bhavan again after it ordered the suspension of the salaries paid to two Vice-Chancellors of State-run universities
Hyderabad Metro Rail completes 6 yrs of operations. Daily ridership nears 5 lakh, with Red Line carrying 2.45 lakh passengers. COVID-19 pandemic halted operations for 6 months. Govt instructs L&TMRH to lease train sets to tackle rush hour traffic. L&TMRH seeks financial assistance from govt. Airport Metro & Old City line pending, Bengaluru surpasses Hyderabad with 74 km of metro line.
Congress leader Rahul Gandhi on Wednesday dropped enough hints to send home the message that he may be contesting from Wayanad yet again.
V.V. Lakshminarayana to contest elections from Visakhapatnam. The former Joint Director of Central Bureau of Investigation underlines the need for weeding out bogus votes and initiating action against those deleting names of genuine voters.
MoUs signed at GIS summit translating into reality, says A.P. Chief Minister Jagan Mohan Reddy. In the last more than four years, 130 large and mega industries have come up across the State with an investment of ₹69,000 crore and providing employment to 86,000 persons, he says.
The Union Cabinet approved a special development mission for Particularly Vulnerable Tribal Groups (PVTG) with a total outlay of over ₹24,104 crore over a three-year period