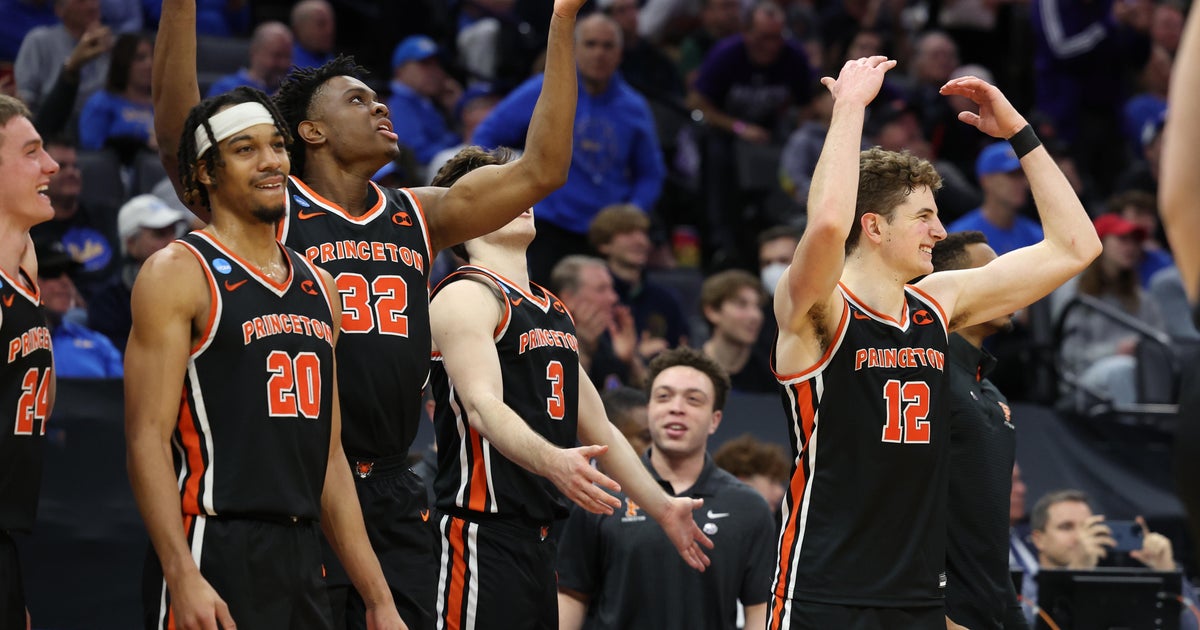 No. 15 seed Princeton stuns Missouri to reach Sweet 16
CBSN
Blake Peters made five 3-pointers in the second half and the No. 15 seeded Princeton shocked another power conference team to reach the NCAA Tournament regional semifinals for the first time in 56 years by beating No. 7 seed Missouri 78-63 on Saturday.
As the final minute ticked off the clock, the Princeton fans started chanting "Sweet 16! Sweet 16!" and coach Mitch Henderson cleared the bench with the victory easily in hand.
This upset was no small-school fluke against a more heralded team. It was a thoroughly dominating performance that sent Princeton to a place it hadn't been in more than a half-century.
More Related News
Some frozen fruit products from the Scenic Fruit Company sold at Costco, Trader Joe's and a handful of other stores are being recalled due to possible hepatitis A contamination, the Food and Drug Administration announced Friday.
Brown freshman Olivia Pichardo became the first woman to appear in a Division I baseball game when she pinch hit in a 10-1 loss to Bryant on Friday.
Meta, the parent company of Facebook and Instagram, launched a paid subscription service in the U.S. on Friday — allowing users on both platforms to pay for verification.
Fairleigh Dickinson became the second No. 16 seed in history to win an NCAA Tournament game, stunning top-seeded Purdue 63-58 behind 19 points from Sean Moore and a relentless, hustling defense on Friday night.
A federal judge in Washington, D.C., issued a warning about the risk of future political violence and the dangers of ongoing misinformation and denialism regarding the Jan. 6 Capitol attack.
The Army has launched an investigation after a member of its Golden Knights parachute team died from injuries he sustained during a training jump.
Washington — The White House under former President Donald Trump failed to report more than 100 gifts given to him and his family by foreign governments during his time in office, and some of those gifts remain missing, according to a report released Friday by Democratic staffers on the House Oversight Committee.
Washington — The Justice Department is investigating TikTok's Chinese parent company, ByteDance, for possible spying on U.S. citizens, including journalists, CBS News has confirmed.
Lance Reddick, an actor known for his roles in the HBO police drama "The Wire" and the "John Wick" action movies, has died, his representative Mia Hansen confirmed to CBS News. He was 60.
Washington — YouTube on Friday lifted restrictions on former President Donald Trump's account that have been in place since the weeks after the Jan. 6, 2021, attack on the Capitol.
Former Theranos executive Ramesh "Sunny" Balwani found an escape hatch Thursday from the scheduled start of his nearly 13-year prison sentence for a blood-testing hoax he engineered with his former boss and lover, Elizabeth Holmes.