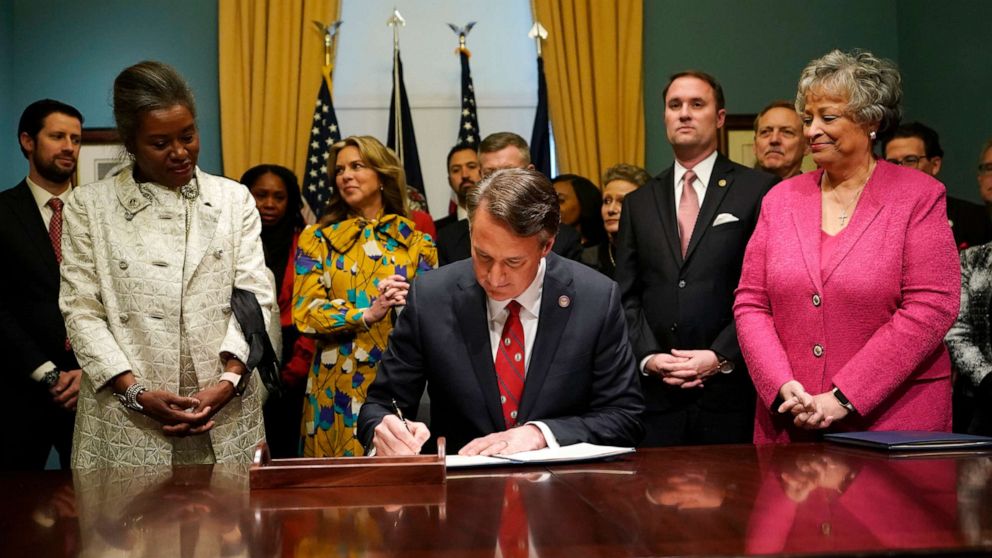 Newly inaugurated Virginia governor, schools clash over mask mandates
ABC News
Newly inaugurated Virginia Gov. Glenn Youngkin signed nine Executive Orders.
Newly inaugurated Virginia Gov. Glenn Youngkin, a Republican, signed several executive orders over the weekend, including one removing masking requirements in schools across the state. However, a growing number of school districts have said that their masking policies will remain in place.
"There is no greater priority than the health and welfare of Virginia's children. Under Virginia law, parents, not the government, have the fundamental right to make decisions concerning the care of their children," Youngkin's second executive order read.
White House press secretary Jen Psaki, from her personal Twitter account, weighed in on the issue as a parent in Arlington County, Virginia. Psaki applauded the county where her kids go to school for keeping the mask requirement in place and swiped at the new Republican governor's order.
"Hi there. Arlington county parent here (don't believe you are @GlennYoungkin but correct me if I am wrong). Thank you to @APSVirginia for standing up for our kids, teachers and administrators and their safety in the midst of a transmissible variant," Psaki wrote.
More Related News
The law gives the Department of Agriculture authority to let WIC participants buy whatever formula is available during times of crisis.
Biden said last year he'd only meet with the North Korean leader so long as he committed to a discussion about denuclearization.
One person died and multiple people were injured after a destructive tornado tore through northern Michigan Friday afternoon, authorities said.
A federal judge in Louisiana decided the fate of a major move behind the Biden administration's immigration agenda.
An investigation is underway after a Chicago police officer shot an unarmed 13-year-old boy who authorities allege was involved in two recent carjackings.
A dispute broke out between two groups, eventually leading one individual to fire shots into the crowd, hitting nine people, police said.
Dozens of artillery systems supplied by the United States to Ukraine are not fitted with advanced computer systems, which improve efficiency and accuracy.
Former President Donald Trump has already injected election conspiracy theories into Pennsylvania's Senate primary, which is almost certainly headed to a recount.
The production of firearms in the U.S. has ramped up exponentially in recent decades, according to a new study by the Bureau of Alcohol, Tobacco, Firearms and Explosives
Members of Alexei Navalny's team are pressing the U.S. to pursue sanctions against 6,000 Russians who they say are among the "next tier" of those enabling Vladimir Putin.
The suspect who allegedly rushed and tackled comedian Dave Chappelle on stage last month has been charged with attempted murder in a separate incident.