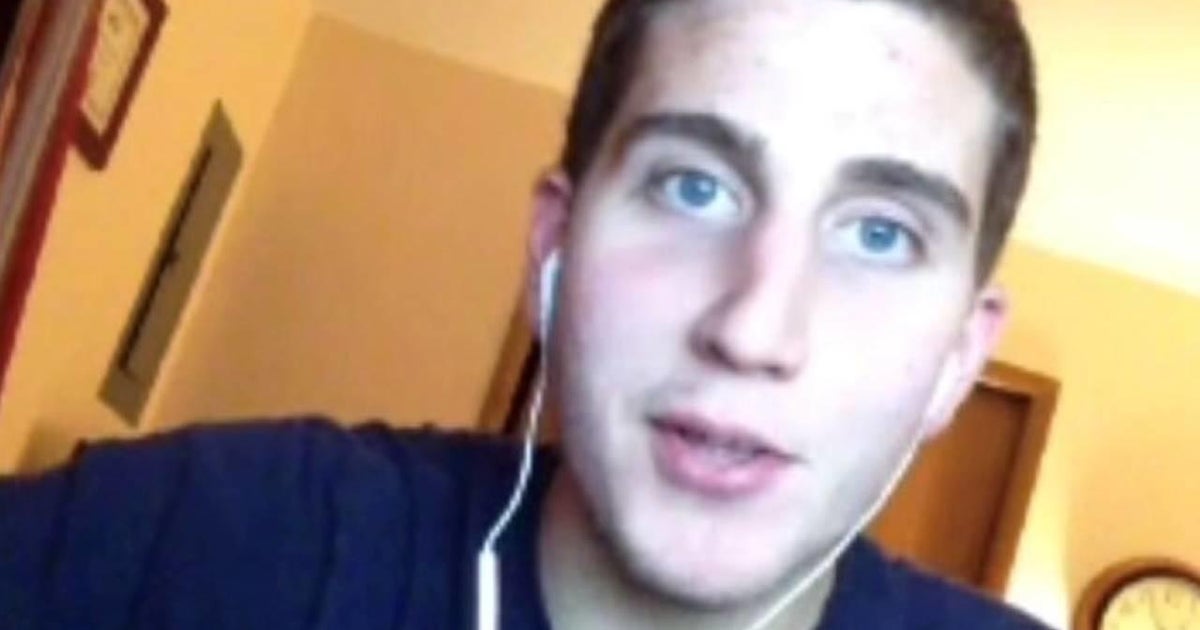 Never-before-seen photos and details about the man accused of murdering four Idaho college students
CBSN
Under a dark Idaho sky, investigators flew Bryan Kohberger to the college town of Moscow. Police delivered him to the Latah County Jail. On Jan. 5, in an orange jumpsuit, his face vacant, the 28-year-old made what will likely be his first of many appearances in this court. OFFICER (bodycam video): Hello MICHAEL KOHBERGER (to officer): We're gonna be going to Pennsylvania, a couple more miles. OFFICER: Hours? And days? OFFICER: So, you're coming from Washington State University? MICHAEL KOHBERGER: Yeah. BRYAN KOHBERGER: Yup OFFICER: And you're going where? MICHAEL KOHBERGER: We're gonna be going to Pennsylvania.
He stands charged with the murder of four students from the University of Idaho: Kaylee Goncalves, Madison "Maddie" Mogen, Ethan Chapin and Xana Kernodle. Investigators say he stabbed them to death in the home the women shared. MICHAEL KOHBERGER: How you doing? OFFICER: Oh, OK. BRYAN KOHBERGER: Hours.
JUDGE: The maximum penalty for this offense, if you plead guilty or be found guilty is up to death and imprisonment for life. Do you understand? OFFICER: How ya'll doin today? MICHAEL KOHBERGER: …to the Pocono Mountains. We're a little, we're slightly punchy. We've been driving for hours. MICHAEL KOHBERGER: Hours. Well, we've been driving for almost a day.
More Related News
BALTIMORE -- A homicide investigation is underway after Pava LaPere, the 26-year-old CEO of a Baltimore technology company, was found dead at a Mount Vernon apartment building Monday morning, police said. "The circumstances surrounding Pava's death are deeply distressing, and our deepest condolences are with her family, friends, and loved ones during this incredibly devastating time. Pava was not only the visionary force behind EcoMap but was also a deeply compassionate and dedicated leader. Her untiring commitment to our company, to Baltimore, to amplifying the critical work of ecosystems across the country, and to building a deeply inclusive culture as a leader, friend, and partner set a standard for leadership, and her legacy will live on through the work we continue to do." "The Johns Hopkins community deeply mourns the tragic loss of Pava LaPere, a 2019 graduate who made Baltimore home and invested her talent in our city. Pava was well-known and loved in the Baltimore entrepreneurship community and will be profoundly missed. Our solemn thoughts are with her family in this time of grief." "The entire team at UpSurge Baltimore expresses its profound shock and sorrow over the tragic and untimely death of Pava LaPere, Founder and CEO of EcoMap. Pava was a friend and inspiration to so many of us. Our deepest, most heartfelt condolences go out to Pava's family, friends, and the entire EcoMap team. We stand in solidarity with them, mourning the loss of a true visionary. The Baltimore tech community has lost a shining star, and it is difficult to put into words the depth of the community's sorrow at Pava's death." "The Loyola University Maryland community is deeply saddened to learn of the loss of Ecomap CEO, Pava LaPere. Ms. LaPere served on the newly established advisory board for the Simon Center for Innovation & Entrepreneurship. She was a phenomenally accomplished CEO and innovator, and an inspiration and a friend to so many. She always led with values first, and was deeply committed to Baltimore, and the promises of technology and entrepreneurship for all. Loyola University Maryland joins the communities Ms. LaPere built at Ecomap and across the city in grieving the loss of a true star. She and her family are in our prayers."
If the U.S. government shuts down next week, a lapse in federal funding to agencies that enable air travel could disrupt Americans' fall travel plans.
Target said Tuesday it is shuttering nine stores in four states because mounting thefts and organized retail crime at those locations is jeopardizing the safety of workers and customers.
The conventional wisdom is that retail politics — the door-knocking, hand-shaking grassroots campaigning for months before the primaries — make Iowa and New Hampshire different from what we see nationally. And like a lot of conventional wisdom these days, that's looking outdated.
Donald Trump and his company "repeatedly" violated state fraud law, a New York judge ruled Tuesday.
Nine members of the "Los Chapitos" faction of Mexico's Sinaloa Cartel were sanctioned by the U.S. Treasury for fentanyl trafficking the agency announced in a news statement on Tuesday. A tenth individual, a leader of Clan del Golfo, one of Colombia's most significant cocaine cartels, was also sanctioned.
Washington — Law enforcement agencies have so far seized over 55 million pills of fentanyl this year and more than 9,000 pounds of powder containing the deadly drug, Attorney General Merrick Garland told dozens of families whose loved ones died after ingesting fentanyl. And the Drug Enforcement Administration is on pace to seize more fentanyl in 2023 than in any previous year, a yield that continues to grow annually, according to DEA Administrator Ann Milgram.
The judge in the case against the Philadelphia police officer seen on video shooting Eddie Irizarry last month dismissed all charges, including a murder count, onTuesday.
Taylor Swift isn't just sending Eras Tour merchandise flying off shelves, she's now boosting sales of NFL apparel, too.
The Federal Trade Commission and 17 state attorneys general on Tuesday filed a much-anticipated antitrust case against Amazon, alleging the retailing giant illegally wields monopoly power to maintain higher prices, harming customers and hurting rivals.
Washington — Sen. Cory Booker called for fellow New Jersey Democrat Bob Menendez to resign from the Senate on Tuesday, joining a growing list of Democrats in the upper chamber who have called on him to step down after his indictment on federal bribery charges.