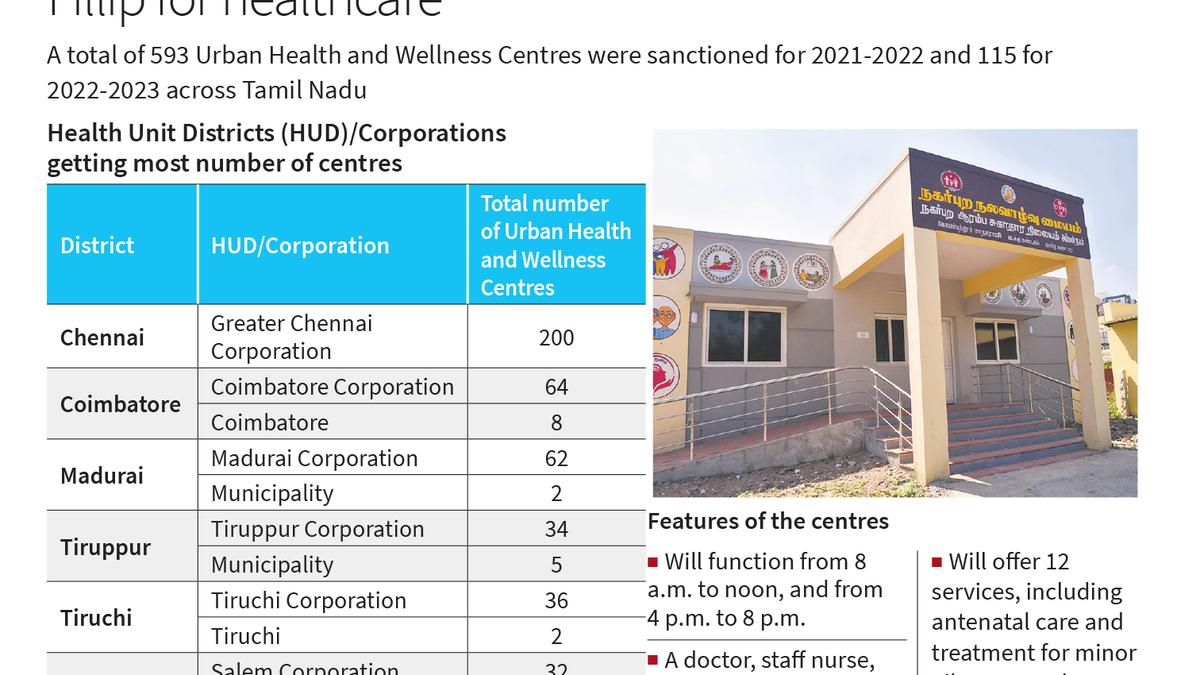 Nearly 500 urban health and wellness centres to be thrown open to the public in a month
The Hindu
Construction is in progress for 593 facilities. Chennai has the most number of these centres, with a total of 200 coming up. The centres will ensure immediate treatment for people, especially those who are living in urban slums, says official
Work on 708 Urban Health and Wellness Centres is progressing fast in Tamil Nadu. In the first phase, nearly 500 of these centres are to be opened for members of the public in a month.
A total of 593 Urban Health and Wellness Centres were sanctioned for 2021-22 and 115 for 2022-23 across the State. Chennai has the most number of these centres, with a total of 200 coming up. As many as 64 centres are being set up in the Coimbatore Corporation, 62 in the Madurai Corporation, 36 in the Tiruchi Corporation, 34 in the Tiruppur Corporation, 32 in the Salem Corporation and 21 in the Erode Corporation.
Officials said that almost all of the centres would have new buildings. Construction was in progress for 593 facilities.
"Urban Health and Wellness Centres are the need of the hour in view of the increasing urban population. They will definitely ensure immediate treatment for people, especially those who are living in urban slums, and will also reduce their out-of-pocket expenditure," said T.S. Selvavinayagam, Director of Public Health and Preventive Medicine.
In phase I, around 500 centres will be opened in a month. Each centre will have a doctor, a staff nurse, a health inspector and a support staff member. The recruitment for these posts will be carried out through the District Health Societies.
The Urban Health and Wellness Centres will function from 8 a.m. to noon and from 4 p.m. to 8 p.m. "They will basically function as clinics in the morning and evening hours, and offer 12 services, including antenatal care, infant immunisation and treatment for minor ailments such as fever, cold and cough. The centres will be linked with the school health teams for follow-up and will dispense medications for non-communicable diseases such as diabetes and hypertension. They will also have a health education component," Dr. Selvavinayagam said.
More Related News
While the toll charges for a single way journey on the expressway for cars was ₹135, it will be increased to ₹165 and for a return journey on the same day, the charges will jump from ₹205 to ₹250.
"Most of Shaista Parveen's family members are in jail or absconding."
Gujarat Titans skipper Hardik Pandya won the toss and elected to field against Chennai Super Kings in the Indian Premier League opener in Ahmedabad on March 31.
Information and Public Relations Minister Ch. Venu Gopala Krishna on Friday appealed to the rural reporters to enroll in the Diploma in Journalism course being offered by the C. Raghavachari Andhra Pradesh Press Academy (APPA)
A cardiac patient, Udayagiri MLA Mekapati Chandrasekhar Reddy had earlier undergone treatment for the same in Chennai and Bengaluru
The victim reached home and reported the incident to her mother, with whose help she got treated at a hospital.
In the midst of a heated debate surrounding the legacy of Hindu ideologist Vinayak Damodar Savarkar, Maharashtra Minister Mangal Prabhat Lodha has announced plans to celebrate 'Swatantraveer Savarkar Vichar Jagran Saptaha', across the State.
Tamil Nadu Today newsletter, your guide from The Hindu on the major news stories to follow today
Prithu's feat gained traction in modern times after Assam Chief Minister Himanta Biswa Sarma cited the "path shown" by the 13th-century king to underscore the need to struggle against an existential threat.
Harvest of 'nendran' variety of bananas, which has good market potential in Kerala and some parts of Tamil Nadu, is in full swing in Tiruchi and Karur districts. Unlike varieties such as 'poovan', 'rasthali' 'karporavalli' and 'elachi', farmers in Tiruchi and Karur districts raise nendran banana intending to tap its demand in Kerala. It is mainly raised on agricultural fields situated close to the banks of the Cauvery in Karur and Tiruchi districts.
Misra and her team decided to build hybrid FETs to increase electron mobility.