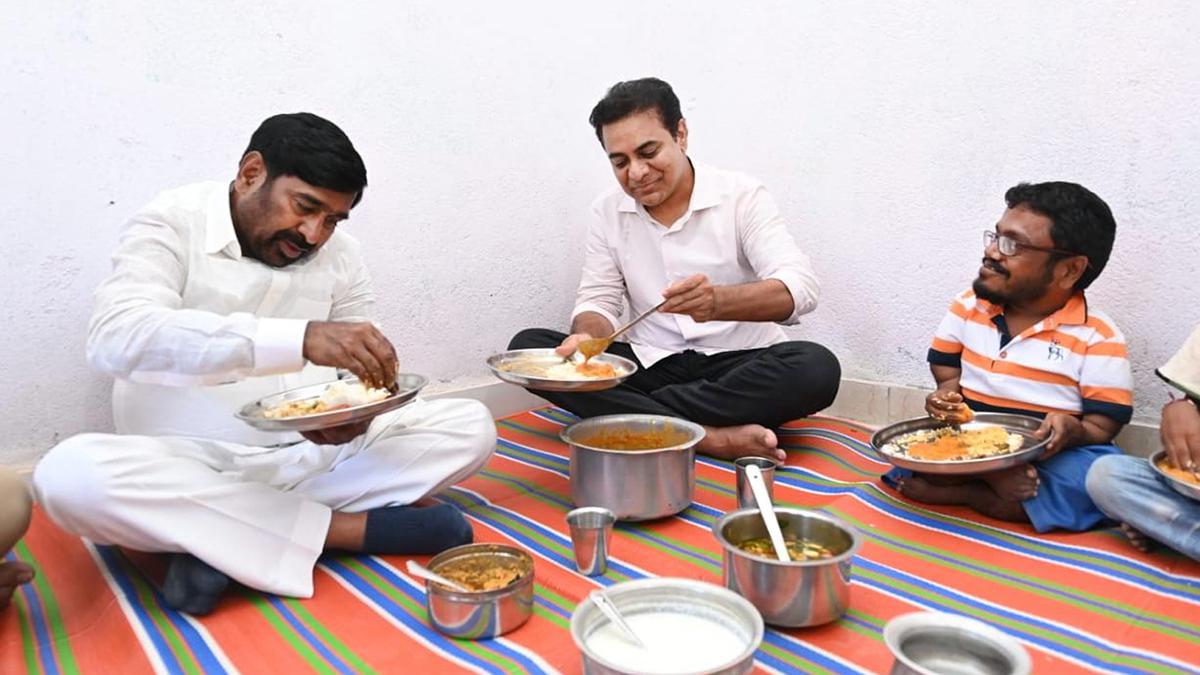 Nalgonda's fluoride fighter Amshala Swamy dies after accidental fall from new EV
The Hindu
Leaders recollect his role in the movement against fluoride problem
Amshala Swamy, 34, a crusader against fluorosis in Nalgonda district, died at his native village, Shivannagudem, in Marriguda mandal following an accidental fall from his newly-bought electric three-wheeler on Friday night.
According to information reaching here, Swamy sustained head injuries after slipping off the three-wheeler. He was riding pillion as the vehicle was moving up the ramp at his residence. The vehicle was being driven by Swamy's father. He had repeated episodes of vomiting late in the night before breathing his last.
Swamy was an active member in the movement against fluoride problem in Nalgonda district, particularly in Munugode constituency, led by Fluoride Vimukti Porata Samithi and Jala Sadhan Samithi (JSS).
On March 12, 2003, a delegation led by JSS president Dushcharla Satyanarayana took two fluoride-affected children, including Swamy, to Parliament with the help of former Union Minister Bandaru Dattatreya and explained the problem to then Prime Minister Atal Bihari Vajpayee.
Expressing his condolences, Minister for Industries K.T. Rama Rao said Swamy was a fighter who championed the cause of fluorosis victims and was an inspiration to many. "He will always remain close to my heart," Mr.Rama Rao wrote on a social media platform. He had visited Swamy's residence at Shivannagudem before the Munugode bypolls and had lunch with the fluoride victim.
In a statement, Chief Minister K.Chandrasekhar Rao said Swamy had fought for the eradication of fluorosis throughout his life. He was the inspiration behind the government's resolve to make Nalgonda fluoride-free by providing safe drinking water through Mission Bhagiratha. Terming the death of Swamy painful, the Chief Minister expressed condolences to the bereaved family.
Chairman of the Legislative Council Gutha Sukender Reddy said Swamy had fought fluorosis with a steely resolve in spite of being a victim himself since birth. Minister for Energy G. Jagadish Reddy and Munugode MLA K. Prabhakar Reddy also condoled Swamy's untimely death.
More Related News
Andhra University Vice-Chancellor P.V.G.D. Prasad Reddy flagged off the Mobile Air Pollution Monitoring Facility (MAPMF) at the Department of Meteorology and Oceanography on the university campus in Visakhapatnam on Friday
The National Investigation Agency (NIA) has seized more than ₹7.80 lakh in cash and a vehicle as "proceeds of terrorism" in a case related to the recovery of arms and explosives, smuggled from Pakistan
The Greater Chennai Corporation registered a steep increase in property tax collection on March 31, with collection touching ₹50 crore for the first time on a single day
Posters and hoarding mocking 'turmeric board' appear in Nizamabad
Residents of Sinkukandam and 301 Colony, near Chinnakanal, in Idukki launched a day and night protest at Sinkukandam on Friday morning demanding that the High Court-appointed committee should hear them before submitting its report to the court on April 5.
Police reportedly asked Enforcement Directorate officials to approach the Chief Secretary to probe money laundering angle in the leak of question papers of TSPSC examinations
Assam Chief Minister Himanta Biswa Sarma on March 31 threatened to sue his Delhi counterpart Arvind Kejriwal, while slamming Congress leader Rahul Gandhi for being "morally corrupt".
Qualcomm India will support the initiative under its CSR programmes, prototyping centre T-Works said on Friday, announcing the signing of a grant agreement with the tech company for the PCB fabrication facility.
Some parts of Tamil Nadu may receive light to moderate rain till Tuesday. Chennai is expected to get light rain on April 2
Suspended YSR Congress Party (YSRCP) MLA Kotamreddy Sridhar Reddy has condemned the attack on Bharatiya Janata Party (BJP) national secretary Y. Satya Kumar's convoy, alleging involvement of the ruling party in the incident. ''It was a providential escape for me too. I escaped an attack by a violent mob. My car driver took another route to Nellore after seeing the mob. Democracy is under threat under the YSRCP rule," said the suspended MLA.
The tweets flagged by the government also include older posts related to anti-minority speeches made by political leaders