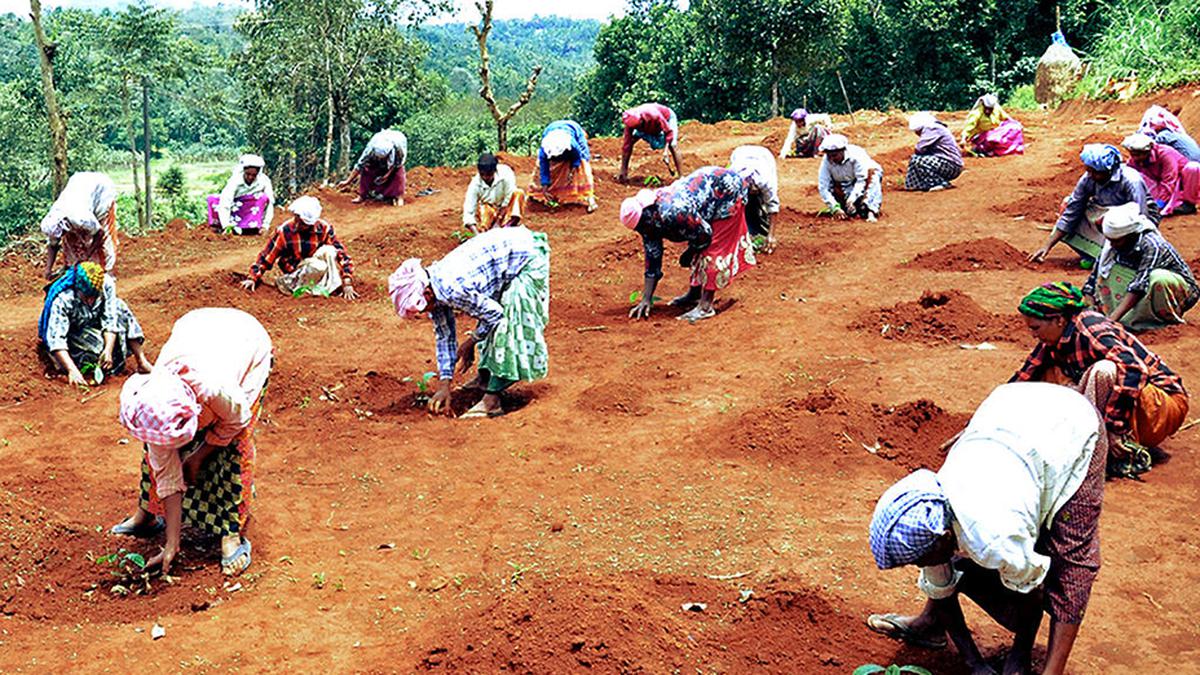 Morning digest | Women's participation in MGNREGS touches ten-year high this year; most Central govt. offices may go fully digital by Feb. 2023, and more
The Hindu
The major news headlines of the day and more.
Women's participation in MGNREGS at a ten-year high
The proportion of women workers participating in the Mahatma Gandhi National Rural Employment Guarantee Scheme (MGNREGS) has touched a ten-year high in the ongoing financial year. According to the latest statistics available with the Union Ministry of Rural Development, 57.8% of the workers who used the scheme this year were women, their highest level of participation since 2012-13.
Most Central government offices may go fully digital by February 2023
As most Central government offices are expected to go fully digital by the end of February 2023, several security measures have been put in place to avoid any cybersecurity incidents such as the recent cyber and ransomware attack at the All India Institute of Medical Sciences (AIIMS) in Delhi.
India abstains on UNGA resolution asking ICJ opinion on "violation" of Palestinian rights
India abstained in the U.N. General Assembly on a resolution that asked the International Court of Justice for its opinion on the legal consequences of Israel's "prolonged occupation" and annexation of the Palestinian territory.
Reject those who win a few seats and resort to blackmail, Amit Shah tells people
More Related News
Ahead of G-20 working group committee meeting scheduled to be held from March 28, the Greater Visakhapatnam Municipal Corporation (GVMC) organised a mock G-20 meeting at AU Convocation Hall in Visakhapatnam on Friday
Prime Minister Narendra Modi said Uttar Pradesh is emerging as a place of hope and aspiration while setting new benchmarks in every field of development while inaugurating and laying the foundation stones of various development projects in Varanasi on March 24.
When choosing a bank for a fixed deposit, shopping around can make all the difference.
The mini port project envisages construction of a 100-metre-long wharf near the old jankar jetty at Ponnani
Chief Justice of India D.Y. Chandrachud will lay the foundation stone for the additional court building on the Madurai District Court campus in the presence of Chief Minister M.K. Stalin on March 25.
Uttar Pradesh Chief Minister Yogi Adityanath on March 24 said Congress has always indulged in "politics of dividing the country" and has promoted Naxalism and terrorism for political gains, after Rahul Gandhi was disqualified from the Lok Sabha.
Over a thousand students from 24 institutions participated in the recently-concluded all Indian cultural meet organised by the Puducherry Technological University (PTU).
Mr. Shekhawat told the court that he and his family members, including his deceased mother, have been called 'an accused' in the Sanjeevani scam.
Kerala Health Minister promises legislation to deter attacks on health workers
Shiv Sena (UBT) leader Uddhav Thackeray on March 24 dubbed Rahul Gandhi's disqualification as 'murder' of democracy. The Opposition Maha Vikas Aghadi also staged a walkout in the Maharashtra Legislative Assembly to protest the disqualification of the Congress leader.
Musicians Amira Gill (25) from Delhi and Seattle-based Vasundhara Gupta (27) are voicing the verses that build a haunting narrative of Partition