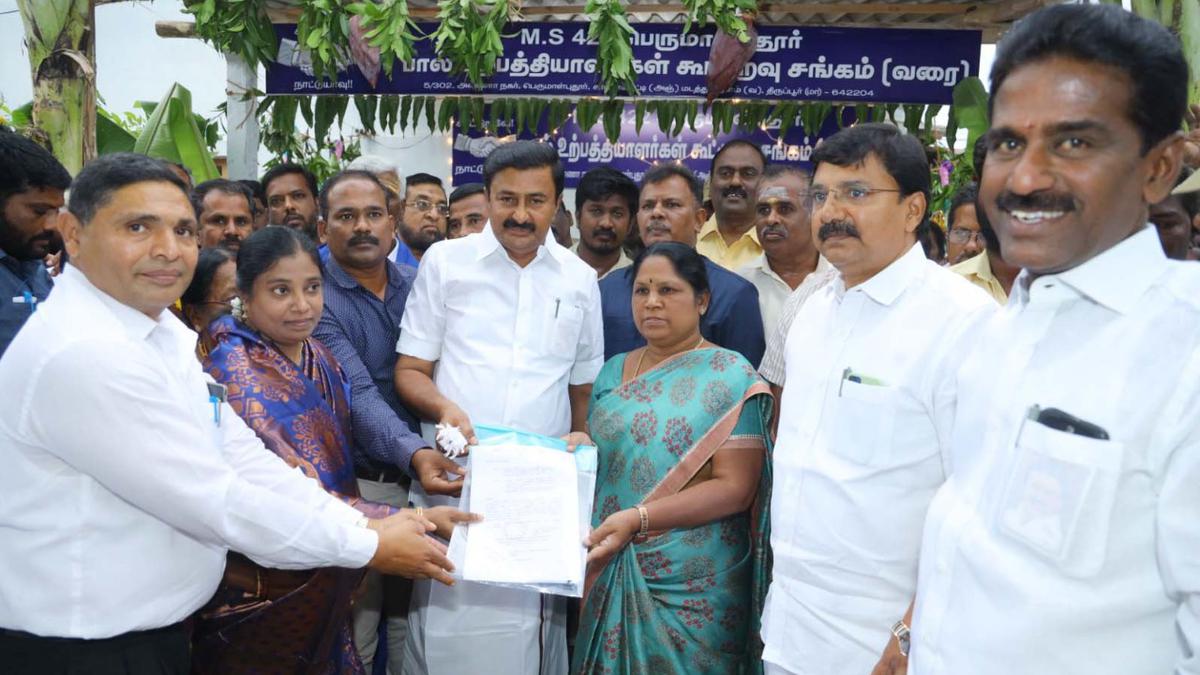 Milk producers' co-operative society for Adi Dravidar and Tribal women inaugurated in Tiruppur
The Hindu
Speaking at the event, Ms. Kayalvizhi Selvaraj says a proposal was made to create co-operative milk societies in 40 places across Tamil Nadu with the exclusive participation of Adi Dravidar and Tribal women as members
In a first-of-its-kind initiative, the Milk and Dairy Development Department, in partnership with the Adi Dravidar and Tribal Welfare Department, has opened a milk producers' co-operative society exclusively for Adi Dravidar and Tribal women in Tiruppur District.
Minister for Information and Publicity M.P. Saminathan and Minister for Adi Dravidar Welfare N. Kayalvizhi Selvaraj inaugurated the first milk society at Komaralingam village in Madathukulam taluk on Friday.
Speaking at the event, Ms. Kayalvizhi Selvaraj said during the discussion on demand for grants of the Adi Dravidar and Tribal Welfare Department in the last Budget session, a proposal was made to create co-operative milk societies in 40 places across Tamil Nadu with the exclusive participation of Adi Dravidar and Tribal women as members. Each of these societies would have 50 female members. The Tamil Nadu Adi Dravidar Housing Development Corporation (TAHDCO) would facilitate the infrastructure needed to set up the societies. The government would provide ₹1 lakh assistance to each of these societies for purchasing milk cans.
Listing the ongoing schemes initiated by the State government, since DMK came to power, Mr. Saminathan said the government would fulfil all its poll promises and redress various grievances of the public in a phased manner. The Ministers also inaugurated Urban Primary Health Centre and Panchayat office at a village in the Udumalpet panchayat union.
More Related News
Patole's row with senior Congressman and former State Minister Balasaheb Thorat had caused the latter to resign as Congress Legislative Party leader.
Key news developments in Tamil Nadu on Thursday, February 9, 2023.
The former NSE managing director, who was earlier arrested by the CBI in the alleged NSE co-location scam, was arrested in the money-laundering case by the Enforcement Directorate on July 14 last year.
Quad comprising India, United States, Japan and Australia invited Internet users across the Indo-Pacific to become part of the 'Quad Cyber Challenge' and practice "safe and responsible" cyber habits
Citing the LIC statement on the matter, the unions said LIC has earned a notional profit of almost ₹20,000 crore on its investment in the Adani Group
A plea had challenged several provisions of the Indian Penal Code and the Prisons Act relating to solitary confinement saying that they were in violation of the Constitution
The actors opted for Manish Malhotra creations for their special day, as the bride wore a pink and dust gold lehenga, while the groom coordinated in dust gold sherwani and saafa
Dr. Rajesh Pant added that there was 'turbulence' in digital policymaking as the government considers a slew of changes and additions to cyberlaw
Construction is in progress for 593 facilities. Chennai has the most number of these centres, with a total of 200 coming up. The centres will ensure immediate treatment for people, especially those who are living in urban slums, says official
The ST Commission sought a report on what action had been taken on complaints of lack of mental health support for SC, ST students