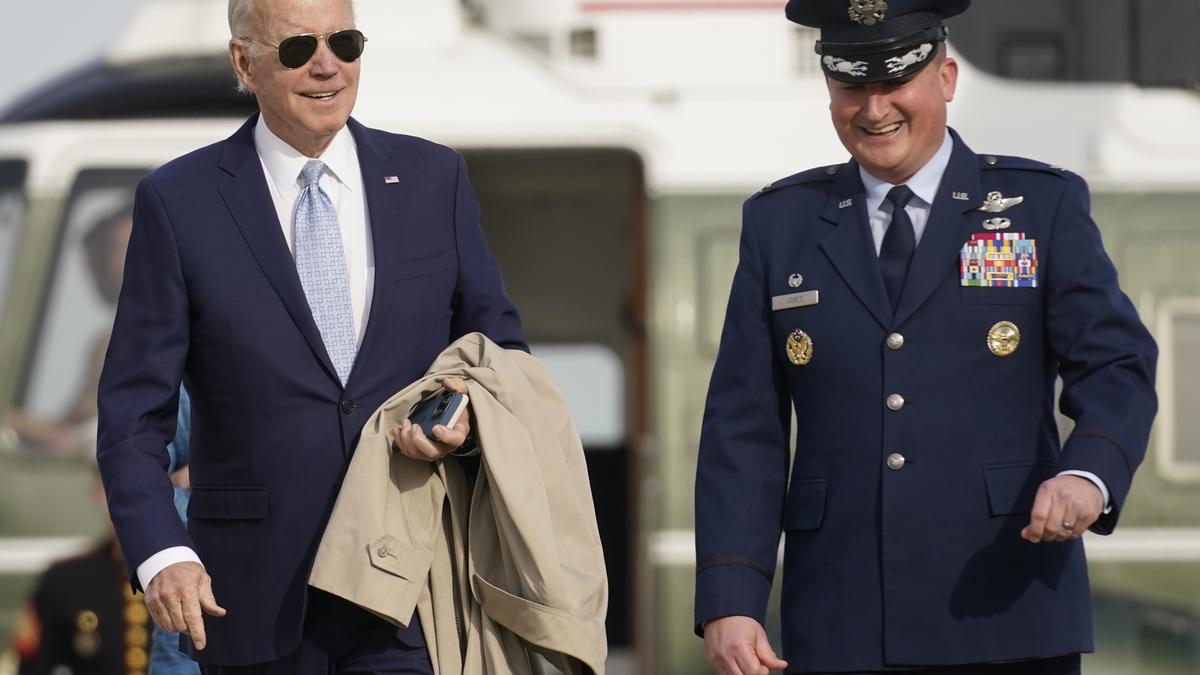 Migrants, drugs on agenda as Biden heads to Mexico
The Hindu
Aiming to tame criticism over what he has called a 'broken' immigration system, Mr. Biden will stop off in Texas
U.S. President Joe Biden will seek Mexico's help tackling illegal flows of migrants and drugs, particularly deadly opioids, during a visit beginning Sunday for a North American leaders' summit.
Aiming to tame criticism over what he has called a "broken" immigration system, Mr. Biden will stop off in Texas for his first trip to a border overwhelmed by record numbers of migrants and asylum-seekers.
Also read: Explained | Why are migrants crossing the U.S.-Mexico border in record numbers?
The issue is almost certain to top the agenda when Mr, Biden meets Mexican President Andres Manuel Lopez Obrador on Monday, a day before Canadian Prime Minister Justin Trudeau joins them for the so-called "Three Amigos" summit.
Another priority for Mr. Biden is stepping up joint efforts to fight trafficking of fentanyl and other drugs behind an addiction crisis in the United States.
"Mexico is extremely relevant and important in dealing with both acute issues, which have become political vulnerabilities for Biden," Michael Shifter, a senior fellow at the Inter-American Dialogue think tank, told AFP.
On Thursday, Washington announced that up to 30,000 qualifying migrants a month would be allowed into the United States from Cuba, Haiti, Nicaragua and Venezuela if they arrive by plane.
More Related News
Here's a select list of stories to read before you start your day
Myanmar has been in turmoil since the military's power grab and bloody crackdown on dissent, which has sparked fighting across the country and tanked the economy
Year-on-year inflation in January 2023 was recorded at 27.55%, the highest since May 1975, with thousands of containers of imports held up at Karachi port
The search in Rehoboth, which attorney Bob Bauer said was done "with the President's full support and cooperation"
The initiative comes at a time when the U.S. is seeking to out-compete China in critical technologies and tighten the screws on China's semiconductor industry
The U.S. has indicated solidarity with several Asian nations, several of whom have conflicts with an aggressive China which is flexing its muscles in the strategic Indo-Pacific region
A new innovation bridge will be created to connect defence start-ups on both sides, says Ministry of External Affairs
The Pakistani city of Peshawar was once known as "the city of flowers" but has borne the brunt of rising militancy in the region for the past decades
The attack happened at the Makerwal police station on Tuesday night, days after a suicide attack in a mosque in Peshawar killed more than 100 people
The Pakistani Taliban on Monday claimed responsibility for the January 30 mosque attack in Peshawar which left 100 people dead and over 220 injured
Halyna Hutchins died shortly after being wounded during rehearsals at a ranch on the outskirts of Santa Fe on Oct. 21, 2021