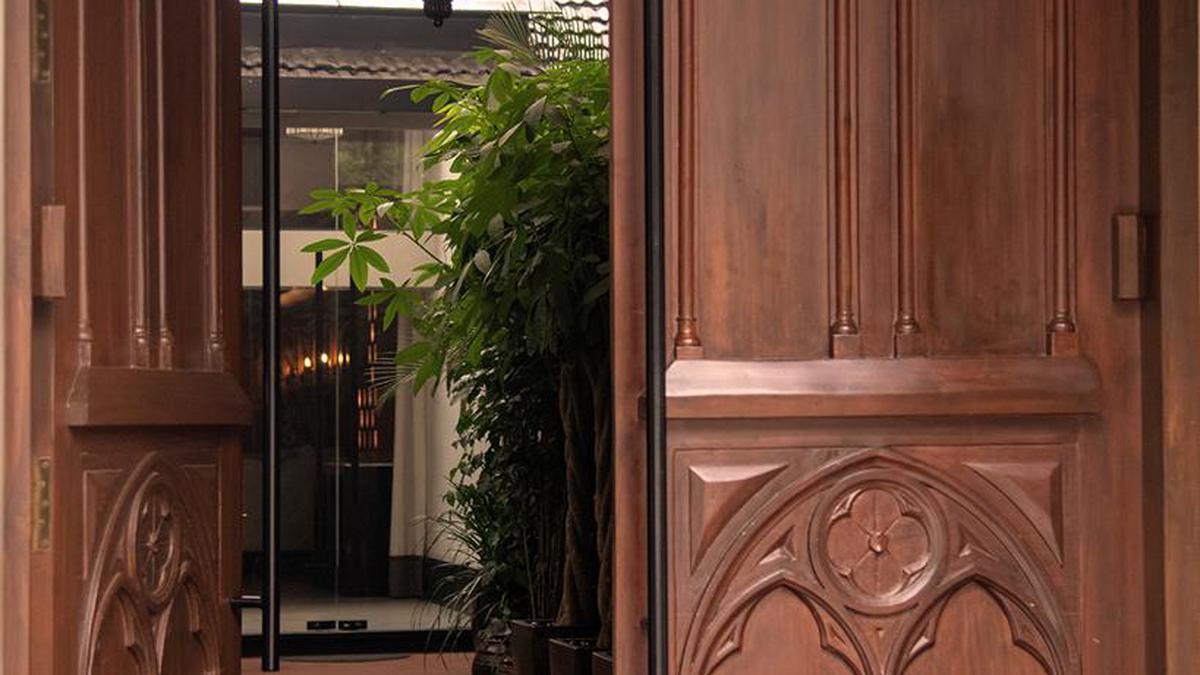 Meet Faisal Manzur: the Chennai architect behind wooden doors at The Entrance Café and Pandan Club
The Hindu
Faisal Manzur of Faisal Manzur Design Studio on designing the stunning wooden doors at Chennai's The Entrance Café, Pandan Club, and why he draws inspiration from TV shows and Wes Anderson movies
At Entrance Café in Chennai, the first thing you see is a massive ten-foot wooden door with carved Gothic-style panels. Tucked away in the by-lanes of Kilpauk, the restaurant's Insta-worthy interiors is courtesy city-based architect Faisal Manzur, who sourced the solid Burma teak door from an antique shop in Puducherry. "It is an old church door that was part of a six shutter panel. At the café, we could only accommodate two shutters," he says.
The brief by the branding team was to "leave the pressures and stress of your everyday life at the entrance. So, it was envisioned as a portal to a retreat of beauty and calmness", says the architect, who draws inspiration from TV shows and Wes Anderson movies for his designs. " The Crown showed us an elaborate version of English classical doors, and Mad Men showcased mid-century modern art meets pop culture."
The door has taken on a leading role in architecture, says Manzur. "It might be considered a secondary, instrumental element, and yet it is the first thing that people come into contact with when entering a building." He believes that it is through doors that you can enter other "worlds"; they are the face of a building.
Addressing how the design of doors have evolved over the years, Manzur, who has worked on several residential projects, explains that material trends have shifted through the eras. "Trends have been mainly influenced by cost, and the introduction of softwoods and plywood [made up of layers of softer wood to boost strength]. Plastic doors enjoyed a boom in the mid 1900s and early 2000s due to their perceived low maintenance and affordability, while aluminium and composite doors — made from combining materials to create one that is stronger than its individual components — are currently enjoying a surge in popularity." But these variants have merely been pretenders to the crown, he adds. "While solid wood doors will undoubtedly cost more in the short term than contemporary alternatives such as metal and glass, their unrivalled beauty, longevity, durability and energy-efficiency are just some of the reasons they remain the first choice."
Which is why there is a lot that he wants to bring back from traditional door designs. "Old world carvings, brass hardware… there are a lot of elements. The old proportions with huge lintels and wider shutter expanse, and combining them with contemporary materials such as glass and metal that suit our present day usage of doors." He also emphasises that the aesthetics of a door must match the characteristics of the structure and its owner.
The sustainability factor also gives wooden doors an extra edge. As the world becomes more aware of the growing climate crisis, Manzur says the fact that wood is globally known to be one of the most naturally renewable energy sources is another draw for environmentally-conscious customers. "This is especially true following reports of the potential impact that cheaper plastic doors have on our health due to the release of highly poisonous chemicals when disposed of," he says.
Manzur recently designed the doors — incorporating tiles and funky colours — at the city's newest Peranakan-style restaurant, Pandan Club. Decorative majolica tiles (an Arabic glazed, hand-painted style that became popular across the world) were commonly used in Peranakan (descendents of Chinese settlers in Southeast Asia) homes from the mid-1800s to 1950s.
More Related News
The Supreme Court upheld the Centre's proposal to give a six-month extension of service to Delhi Chief Secretary Naresh Kumar a day before he was due to retire on November 30
Agriculture Minister Cheluvarayaswamy expresses discontent over Union govt's reluctance to release drought relief to Karnataka farmers. He states that Karnataka contributes ₹4 lakh crore to Union govt's tax revenues, yet only gets back ₹30,000 crore. He urges Union govt to understand & release relief. He also directs officials to increase crop insurance registration & take up awareness activities. He emphasizes on water conservation & millet cultivation, curbing spurious & substandard products & establishing harvest hubs. He adds that 32,000 farm ponds will be built at ₹200 crore.
SDI, Mudasarlova, to shift to Dwaraka Bus Station building temporarily. Govt. has initiated steps to shift departments to Visakhapatnam for development. SDI has trained thousands of students since 2017. Building being renovated; rent to be ₹6-8 lakh/month. Move to help further develop region.
Police raid house, recover 200kg ganja. Tenant absconding. Police Commissioner urges citizens to verify tenants before renting. Teams formed to nab accused, cases booked under NDPS Act. House to be sealed. Courier services to be investigated.
The Bihar Education Department appears to be at loggerheads with the Raj Bhavan again after it ordered the suspension of the salaries paid to two Vice-Chancellors of State-run universities
Hyderabad Metro Rail completes 6 yrs of operations. Daily ridership nears 5 lakh, with Red Line carrying 2.45 lakh passengers. COVID-19 pandemic halted operations for 6 months. Govt instructs L&TMRH to lease train sets to tackle rush hour traffic. L&TMRH seeks financial assistance from govt. Airport Metro & Old City line pending, Bengaluru surpasses Hyderabad with 74 km of metro line.
Congress leader Rahul Gandhi on Wednesday dropped enough hints to send home the message that he may be contesting from Wayanad yet again.
V.V. Lakshminarayana to contest elections from Visakhapatnam. The former Joint Director of Central Bureau of Investigation underlines the need for weeding out bogus votes and initiating action against those deleting names of genuine voters.
MoUs signed at GIS summit translating into reality, says A.P. Chief Minister Jagan Mohan Reddy. In the last more than four years, 130 large and mega industries have come up across the State with an investment of ₹69,000 crore and providing employment to 86,000 persons, he says.
The Union Cabinet approved a special development mission for Particularly Vulnerable Tribal Groups (PVTG) with a total outlay of over ₹24,104 crore over a three-year period