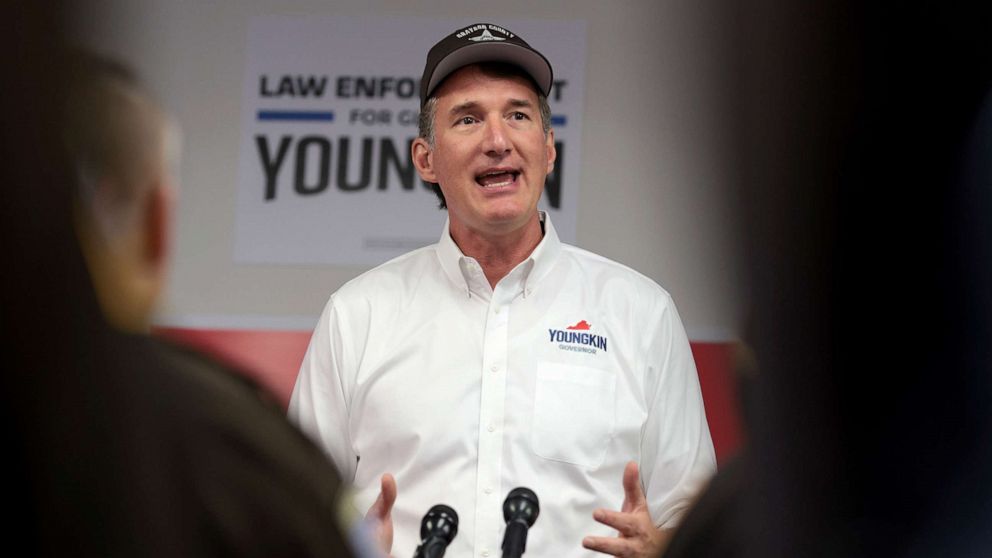 McAuliffe calls on Youngkin to condemn pledge to flag 'carried' at Jan. 6 rally
ABC News
Terry McAuliffe called on his opponent, Glenn Youngkin, to condemn attendees of a rally in support of him for pledging allegiance to a flag brought to the Jan. 6 rally.
Terry McAuliffe, the Democratic candidate for Virginia governor, has called on Republican opponent Glenn Youngkin to publicly condemn attendees of a GOP rally who pledged allegiance to an American flag said to have been flown at the Jan. 6 rally near the Capitol prior to the insurrection.
"They really brought a flag up there and they did pledge of allegiance to a flag that was used to bring down the democracy that that American flag symbolizes," McAuliffe told reporters Thursday morning. "I'm just asking Glenn Youngkin to issue a statement or go before the cameras today... and say, it was not appropriate to pledge allegiance to a flag... that tried to destroy the democracy."
The Youngkin campaign has not responded to ABC News' requests for comment about the "Take Back Virginia Rally" to support the statewide GOP ticket and hasn't said whether he condemns anything said or done at the event held in Glen Allen, Virginia, Wednesday evening.
At the start of the event, which was livestreamed on the right-wing platform Real America's Voice, the emcee called up a woman with an American flag, which the emcee said "was carried at the peaceful rally with Donald J. Trump on Jan. 6."
More Related News
The remains of a 9-year-old boy were discovered in a Houston home along with three children.
The Virginia gubernatorial race is testing a key theory of potential GOP success in territory that should favor a Democrat.
The FBI republished hate crime data on Monday after an error in Ohio.
Gun violence has been a serious epidemic in America for decades. Researchers say the first step to curbing the violence is to dig into the details.
ABC News will use data from The Gun Violence Archive to track gun deaths and injuries across the country.
Students are running on high stress as Philadelphia's extreme gun violence inside and outside schools continues.
Dr. Anthony Fauci was on "This Week" Sunday, October 24. This is a rush transcript and may be updated.