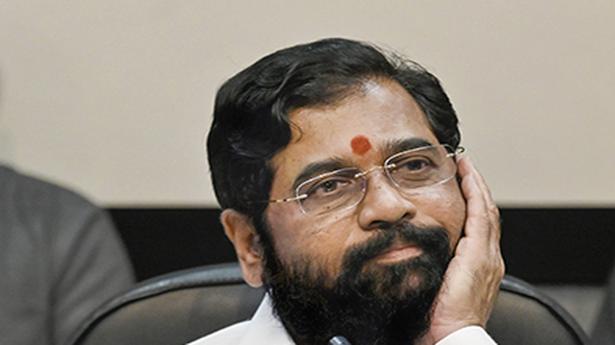 Maharashtra gram panchayat elections: Shinde camp delivers jolt to Uddhav faction in Aurangabad
The Hindu
NCP dominates Pune; BJP preponderant in Nashik, Jalgaon and Solapur
Following his intra-party rebellion that spilt the Shiv Sena wide apart, Chief Minister Eknath Shinde's faction gave a further jolt to the Uddhav Thackeray camp in Aurangabad in the gram panchayat results declared on Sunday.
In Aurangabad, the bastion of the Uddhav camp (the Sena dominates the civic body), 10 of the 15 gram panchayats were snared by the Shinde group with the former winning just one.
Of all districts, the taluks in Aurangabad had turned into a prestige fight between the two rival camps since Mr. Shinde took over as Chief Minister on June 30 after his revolt toppled the erstwhile Uddhav Thackeray-led MVA.
The GPs in the Wadgaon-Kolhati and Paithan areas of Aurangabad saw the influence of rebel Sena MLAs Sanjay Shirsat and Sandipan Bhumre, proving that the rebels had not lost their clout on ground despite breaking away from the MVA to join the BJP.
The National Congress Party (NCP), meanwhile clearly dominated the proceedings in Pune district winning 11 of the 19 GPs, with the BJP managing just two.
As with all local body elections, political expediency saw strange bedfellows as the BJP allied with the NCP in Parbhani, while the Shinde camp fought against the BJP in some taluks.
Jalgaon saw the BJP come on top, winning six of the 24 GPs with the Uddhav camp winning a creditable five. The NCP and Congress, too, scored five wins each while the Shinde camp performed dismally, failing to win a single GP.
More Related News
Muralidhar K., Deputy Commissioner (Welfare), told The Hindu that the initiative is being taken up as per the new guidelines of the Deendayal Antyodaya Yojana – National Urban Livelihoods Mission (DAY-NULM) where an FSSAI team will train street vendors on the safe parameters to be followed while preparing food
Apart from ordering a probe into the food provided by Firozabad police lines mess, SSP Firozabad Ashish Tiwari also ordered a probe against Constable Manoj Kumar, saying 15 cases were pending against him
Researchers at the Indian Institute of Science (IISc) have now identified a way to estimate ancient seawater temperature by probing tiny bones in the ears of fish
Under the 'Education for All' towards Inclusivity and Empowerment of the Girl Child, Aakash BYJU'S will offer free NEET and JEE coaching and scholarships to around 2,000 underprivileged and girl students
ED is the political tool of the BJP, alleges the former finance minister
It is rolling out initiatives to include folk art, music and theatre in school education
Minister promises immediate construction of permanent footbridge; MLA to bear educational expenses of Sannidhi's younger sister