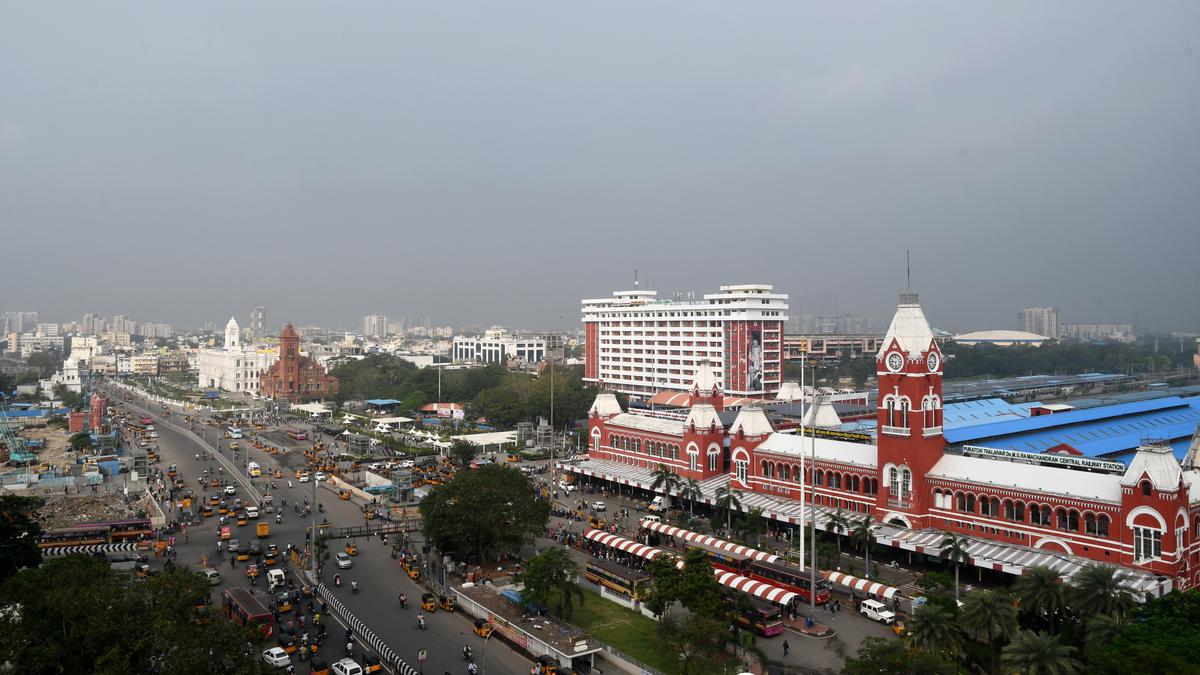 Life in a burgeoning metro: Chennai chapter
The Hindu
Chennai, like most other metropolises, is a pulsating, living being, a shape shifter as it grows and expands. Residents, who live in the city, and love it too, are not blind to its inconveniences. As the city gears itself up for another master plan or Singara Chennai 2.0, a look at how this city grew, and continues to grow
Most cities are well-loved by their residents though they might contain certain flaws. Chennai, a city that is over 380 years old, is a place even visitors are unlikely to forget; many return to experience its culture. Nothing beats a city with a beach, even if your feet on the beach sand turn up plastic wrappers and shards of glass every few feet.
But are the spirit, culture, and beach reasons enough to put up with the quality of life in Chennai today? It is well established that the city isn't pedestrian-friendly, and has infrastructure that pales in comparison with other metros. With open unfinished drains, uneven roads, and unused cables galore, fears of flooding every monsoon, the city and its infrastructure seem to be cracking under the weight of expansion and population growth. For the Chennai Metropolitan Development Authority (CMDA) and the Greater Chennai Corporation, which are seized with the task of building a city for the future, it is a challenge to develop master plans that will ensure equitable distribution of resources and evenly planned growth.
Today, Chennai is spread over 426 square kilometres; but in the 1970s, the city was smaller — just over 120 square kilometres — and quieter. Slowly, change, a pseudonym for development, crept in; in the 1980s, independent houses were replaced with apartments, and by the 1990s, office complexes dotted Chennai's landscape and cars frequented the roads.
The city is ever-expanding, much like an octopus stretching its tentacles, and will it continue to feel like the comfortable place millions call home? That remains to be seen.
Slowly, families look to move to the outskirts where the idea of space and affordable luxury seem enticing enough to leave a happening core city. Private developers take advantage of this trend. Newer building projects are coming up in the expanded area. The city has always been surrounded by well-entrenched suburbs on its peripheries, particularly in the south and west, but has the development been equitable in these areas?
Every city is destined to grow in terms of its population and area, and Chennai is no exception. Development is an inevitable process, but has development in Chennai rendered it a haphazard sprawl that urban planners are struggling to regulate? Chennai, being a coastal city, has grown in a semi-circular form with the business district at its centre. Growth is noticeable in the south and western suburbs, but more noticeable along the Grand Southern Trunk Road and Old Mahabalipuram Road that hosts a burgeoning information technology sector. In the north, where industries have taken root, people complain of neglect by the civic body and the government.
In October 2022, the Tamil Nadu government issued an order notifying the expansion of the Chennai Metropolitan Area (CMA), from 1,189 square kilometre to 5,904 square kilometres, to include the contiguous areas of Thiruvallur, Ranipet, Kancheepuram and Chengalpattu districts. According to an official of the CMDA, several factors necessitated the increase of the CMA, the chief among them being the growing population, the lack of affordable housing within the city and the unplanned development in the suburbs. "Economical development needs more land area; hence, the expansion of the metropolitan area would aid it," the official says. The CMDA hopes this expansion will contribute to a more balanced and well-planned growth of the region and its Third Master Plan (2026-2046) will lay down the guidelines. But will the current CMA improve land use and the quality of life, asks A. Srivathsan, an expert in urban planning.
More Related News
At Meta Connect, Zuckerberg to update investors on plan to build metaverse, a future of computing. Stakes high as investors last year slammed company for spending on metaverse. Developers to assess apps for new hardware, investors to scout signs of gamble. AI-powered virtual assistants with personalities to be embedded in apps.
TN CM M.K. Stalin announces 50K govt jobs in 2 yrs; 17K this yr. He lauded Vadivelu's family for donating his organs & appreciated govt employees. Delay in TNPSC exam evaluation due to sheer no. of candidates; govt taking measures for job aspirants incl. Naan Mudhalvan scheme. Ministers, CS present.
Kerala's second Vande Bharat Express to run on alternate days in orange and blue. Maintenance/inspection yard in Thiruvananthapuram. Train cannot be extended to Mangaluru due to insufficient time. Railways' task is to bring uniform speed of 110 km/hr in 1st phase, 130 km/hr in 2nd & 160 km/hr in 3rd phase. Fencing needed to allow train to run beyond 130 km/hr. Track design speed 210 km/hr, but trains operate at lowest permissible speed for safety.
Members of TARATDAC demand posting of sign language interpreters in Govt offices to help those with speech/hearing impairment. They staged a demonstration in Ramanathapuram Collectorate. Rajkumar said illiterate people face difficulty in communicating with officials. Govt should appoint sign language interpreters to reduce difficulties faced by those with speech/hearing impairment. Petition handed to Collector.
Shri Ram Mandir Construction Committee Chairperson Nripendra Mishra said areas surrounding Ayodhya will witness a surge in economic activities after the inauguration of the Ram temple and the city may undergo expansion similar to the National Capital Region.
FTC's lawsuit against Amazon tests U.S. antitrust law; experts say FTC faces high bar to prove consumers better off without Amazon's policies. Amazon must prove its policies have "legitimate" reasons to counter FTC's claims. U.S. judges "wary" of punishing low-pricing behavior, unclear line between good/bad low pricing.
TN DGP Shankar Jiwal warns of action against those spreading fake news of Tamils being attacked in Karnataka. Old photos/videos circulated as proof of attack false. People urged not to believe rumours; strict action against those posting false news.
State-level seminar on fisheries development to be held at Kufos in Kerala on Saturday. to be inaugurated by Kerala Fisheries Minister Saji Cherian, presided by Kufos Vice-Chancellor T. Pradeepkumar, and chief guest Bishop James Anaparambil. Aim to identify problems afflicting fisheries sector and suggest solutions. Stakeholders to discuss ocean fisheries, aquaculture, social security, procurement/sale of fish catch, and social life in coastal areas
An ongoing food festival brings popular Hyderabadi kebabs, biryanis, and khubani ka meetha
PM Modi aims to make India a global growth engine; Vibrant Gujarat Summit has grown from humble beginnings to a successful institution; India will soon emerge as a global economic powerhouse; Vibrant Gujarat has showcased India's industrial capacity, talent, and culture to the world.
Residents of Coimbatore's Ward 45 in West Zone raise concerns over clogged storm water drains, open waste dumping, irregular tap water supply, and a sub-par waste collection system. Neglected land owned by Coimbatore Corporation has turned into a dumping ground. Residents close to Micro Composting Centre (MCC) complain of stench. Clogged drain-turned-breeding-ground for mosquito larvae. Ward Councillor R. Babysutha promises mass cleaning teams to clear drains, fogging to resolve mosquito issue, and regular cleaning of MCC premises.