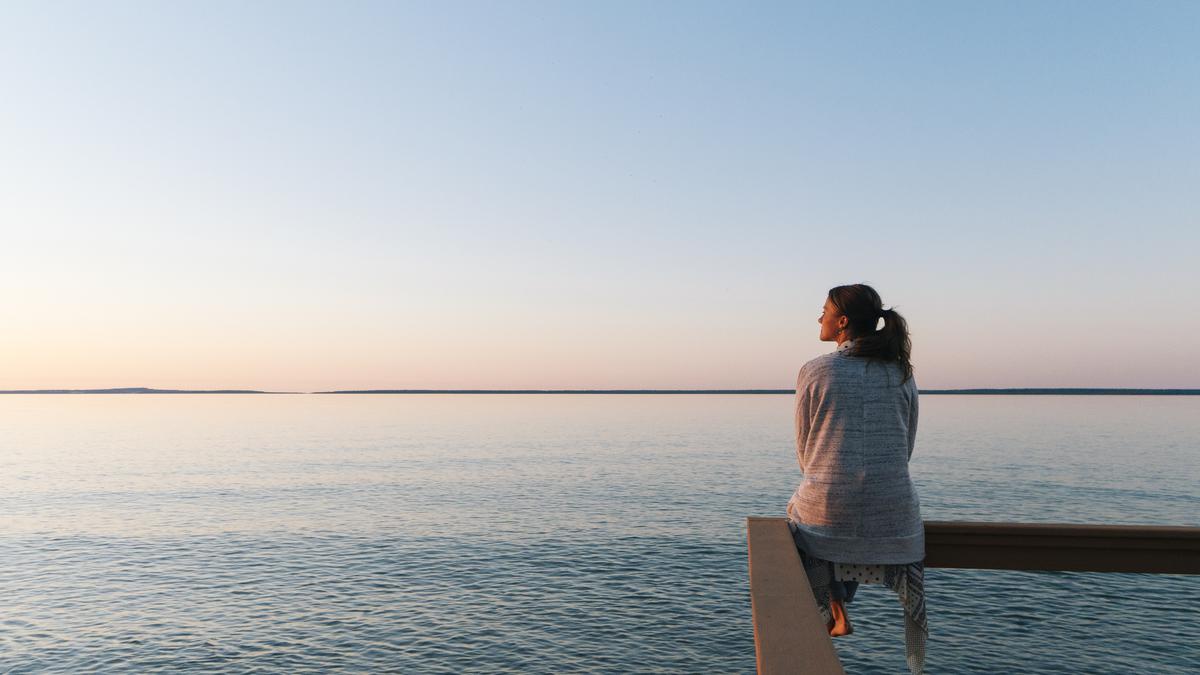 Life amid the old and new: review of Elizabeth Strout's Lucy by the Sea
The Hindu
The Pulitzer-winner author's fierce heroine returns with another instalment on life and human frailties, this time in the backdrop of COVID-19
When writers around the world were asked to contribute to an anthology on COVID-19, And We Came Outside and Saw the Stars Again, Majed Abusalama said the lockdown brought on by the virus was an experience he had lived through during the Intifada in Palestine years ago. The new normal was not really new for him.
In Elizabeth Strout's new book Lucy by the Sea, the eponymous protagonist leaves New York in March 2020 just as the virus is beginning to take hold. Prodded on by her former husband, William, they escape to a rented home on the coast in Maine. As weeks turn to months, and they settle down to a routine with a complex past hovering over them, realisation dawns on Lucy that her whole childhood was a lockdown, and thereby hangs many a tale.
Strout has been chronicling the life of the New York writer from the first novel in the series, My Name is Lucy Barton. Three other novels complete the quartet, and the third, Oh William!, was shortlisted for the Booker Prize in 2022. In the fourth, Lucy has just published her memoir, which is about mothers and daughters — but also about "trying to cross class lines".
Lucy had been brought up in desperate poverty in an abusive home; she and her siblings never saw anyone or went anywhere; it was always cold at home, and she stayed back in school each day just to keep warm. Even when Lucy grew up, moved away and became a mother and successful writer, the notion that she came from nothing refused to go away.
In Maine, William and Lucy look back at a fraught, anxious past, and both have lots to reflect on, secrets to share. Like the tumultuous world around them, their personal lives too have been a roller coaster, with shocks and upheavals. Strout's mastery lies in enabling her characters to handle devastating circumstances with quiet fortitude and a resilience they didn't know they had. "We are all in lockdown, all the time. We just don't know it, that's all. But we do the best we can. Most of us are just trying to get through," thinks Lucy.
When the virus arrives, Lucy will have to think things afresh, though in the initial days the collective bewilderment felt by all is reflected in her admission that she did not see it coming. But William is a scientist and he not only read the danger signs early, he warned everyone, including their two married daughters, to get away as far as possible from New York. Lucy is sick with worry about her daughters as the pandemic begins to take lives. Their relationship also undergoes changes.
Yet like a puppeteer, Strout never lets the characters or the story get ahead of themselves. We find connecting strands in the novel to her previous books: for instance, Olive Kitteridge (the protagonist of her eponymous 2009 Pulitzer-winning novel) makes an appearance at a retirement home here, making snide remarks at everyone. Lucy is flawed too: she doesn't give up her turn in the queue to a needier person and there are instances of other failures.
More Related News
The Supreme Court upheld the Centre's proposal to give a six-month extension of service to Delhi Chief Secretary Naresh Kumar a day before he was due to retire on November 30
Agriculture Minister Cheluvarayaswamy expresses discontent over Union govt's reluctance to release drought relief to Karnataka farmers. He states that Karnataka contributes ₹4 lakh crore to Union govt's tax revenues, yet only gets back ₹30,000 crore. He urges Union govt to understand & release relief. He also directs officials to increase crop insurance registration & take up awareness activities. He emphasizes on water conservation & millet cultivation, curbing spurious & substandard products & establishing harvest hubs. He adds that 32,000 farm ponds will be built at ₹200 crore.
SDI, Mudasarlova, to shift to Dwaraka Bus Station building temporarily. Govt. has initiated steps to shift departments to Visakhapatnam for development. SDI has trained thousands of students since 2017. Building being renovated; rent to be ₹6-8 lakh/month. Move to help further develop region.
Police raid house, recover 200kg ganja. Tenant absconding. Police Commissioner urges citizens to verify tenants before renting. Teams formed to nab accused, cases booked under NDPS Act. House to be sealed. Courier services to be investigated.
The Bihar Education Department appears to be at loggerheads with the Raj Bhavan again after it ordered the suspension of the salaries paid to two Vice-Chancellors of State-run universities
Hyderabad Metro Rail completes 6 yrs of operations. Daily ridership nears 5 lakh, with Red Line carrying 2.45 lakh passengers. COVID-19 pandemic halted operations for 6 months. Govt instructs L&TMRH to lease train sets to tackle rush hour traffic. L&TMRH seeks financial assistance from govt. Airport Metro & Old City line pending, Bengaluru surpasses Hyderabad with 74 km of metro line.
Congress leader Rahul Gandhi on Wednesday dropped enough hints to send home the message that he may be contesting from Wayanad yet again.
V.V. Lakshminarayana to contest elections from Visakhapatnam. The former Joint Director of Central Bureau of Investigation underlines the need for weeding out bogus votes and initiating action against those deleting names of genuine voters.
MoUs signed at GIS summit translating into reality, says A.P. Chief Minister Jagan Mohan Reddy. In the last more than four years, 130 large and mega industries have come up across the State with an investment of ₹69,000 crore and providing employment to 86,000 persons, he says.
The Union Cabinet approved a special development mission for Particularly Vulnerable Tribal Groups (PVTG) with a total outlay of over ₹24,104 crore over a three-year period