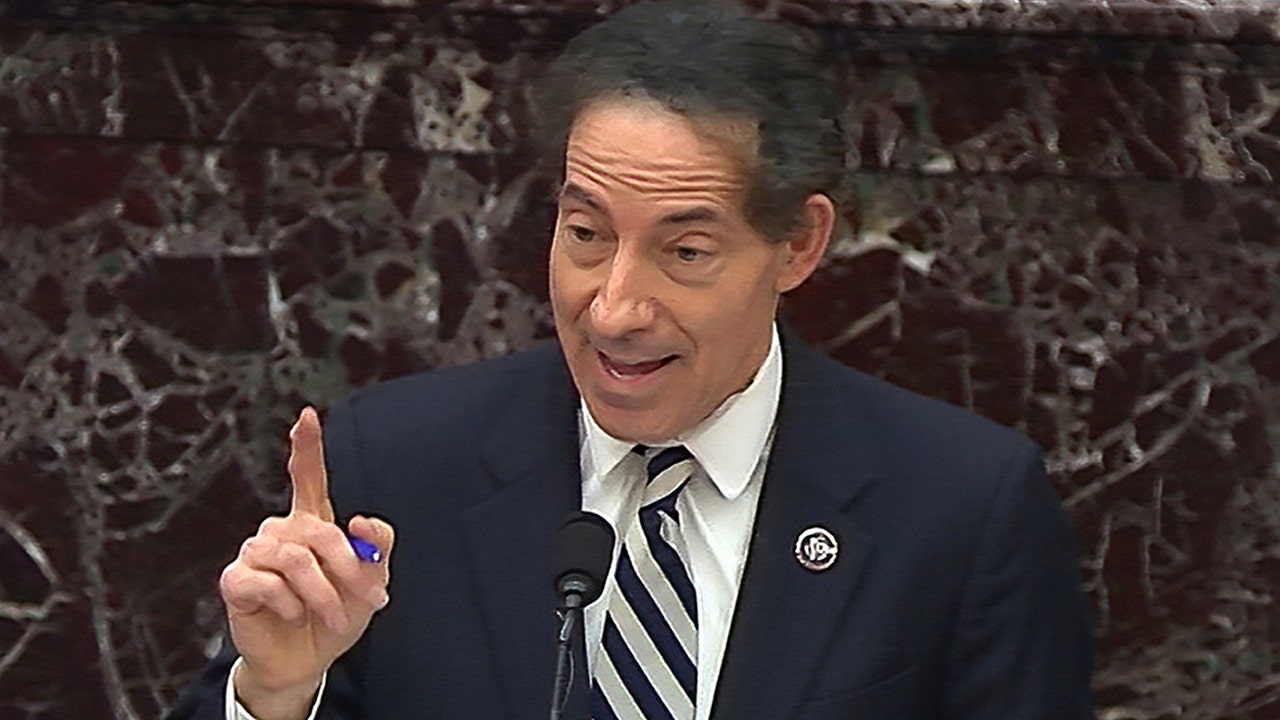 Lead impeachment manager Raskin reveals questions he would have asked Trump if he testified
Fox News
Former President Donald Trump will not testify in his own defense during his Senate impeachment trial, but lead House impeachment manager Rep. Jamie Raskin, D-Md., revealed what he would have asked Trump if he had chosen to appear.
"Donald Trump last week turned down our invitation to come testify about his actions, and therefore we've not been able to ask him any questions directly as of this point. Therefore, during the course of their 16-hour allotted presentation we would pose these preliminary questions to his lawyers which I think are on everyone's minds right now and which we would have asked Mr. Trump himself if he had chosen to come and testify about his actions and inactions when we invited him last week." Raskin then posed four questions aimed at Trump's mindset during and after the riot.
More Related News
House Subcommittee on Readiness Chairman Mike Waltz says China will soon try to invade Taiwan and also says the DOD needs to move away from "woke" policies.
A woman accused of attempting to kill her lookalike friend by giving her a poisoned cheesecake before stealing her identity allegedly left evidence on the cake box.
Tyre Nichols of Memphis, Tenn., should still be alive. He would be, were it not for the five Black police officers who took matters into their own hands and beat him to death.
I served in the military near the end of the Cold War and my primary assignment was in a 'SCIF' which stands for a 'Sensitive Compartmented Information Facility.'
Lindsay Clancy is recovering from an alleged attempt to take her own life as she faces charges for the alleged attacks on her three young children in Duxbury, Massachusetts.
Fox News host Greg Gutfeld examines the media's coverage of police beating Tyre Nichols to death on 'Gutfeld!'
Fox News host Jesse Watters gives his take on illegal migrants in New York City and America's immigration policies on 'Jesse Watters Primetime.'
Will Keeps, of Des Moines, Iowa, an ex-gang member who founded an educational program for at-risk youth, was released from the hospital Monday after he was wounded in a school shooting.
Sens. Tim Scott and Cory Booker remain committed to negotiating for police reform following the death of Tyre Nichols, but hopes of a bill approved in both chambers are slim.
Rep. Adam Schiff, D-Calif., was mistakenly labeled a Republican while facing questions regarding his removal from the House Intelligence Committee on CNN Sunday.
Democratic Kentucky Gov. Andy Beshear spoke on the state's teacher shortage Monday, and is expected to push the state legislature to increase education funding.