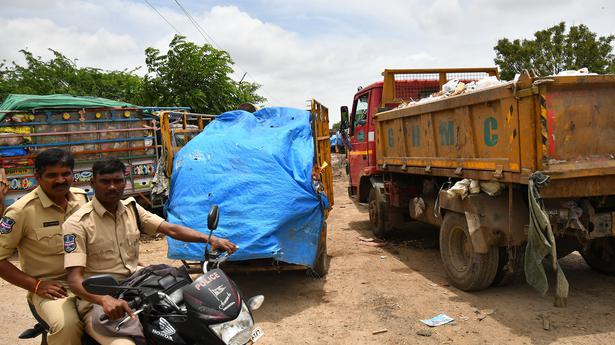 Lake turns sewage point, residents fume
The Hindu
Deeptisri Nagar residents to protest near Regulakunta lake today
Residents of a colony in Kukatpally are up in arms against the authorities to save their roads and a lake in the vicinity.
Vexed with lack of response despite complaints, the residents of Deeptisri Nagar have decided to conduct a public protest seeking resolution of the issues. They have tied up banners across the colony, venting out their frustration.
Two weeks ago, the colony was in news when fish died in large numbers in the Regulakunta lake following heavy rains. The lake abuts the colony, and has become repository of sewage and pollution from a dumping ground nearby, leading to the death of fish.
"Till recently, the lake had pristine water, which allowed fish to thrive. Government gave permission to about 60 fishermen to fish from the lake and eke out a livelihood. But the recent incident has left doubts in our minds about availability of catch anymore in the lake," said B. Prakash Varma, a resident of the colony.
Located about a kilometre away from the colony is a garbage transfer station of GHMC, adjacent to the Dharmapuri temple, from where pollution and stench emanate throughout the day, residents complain.
"They set up the dump yard about 10 years ago, promising that no trace of stench or pollution would emerge from there. Now, you cannot stay in the vicinity even for a minute. Added to it is the parade of garbage trucks day in and day out," complained Y. Seetaramaiah, president of the Deeptisri Nagar Colony Residents' Welfare Association.
Garbage from as far as Kukatpally and JNTU is brought here, and trucks carrying trash could be seen in waiting for half a kilometre from the yard, he says.
More Related News
Audi has opened bookings for the new Q3, which is likely to be launched in India next month. Custome
Decisions would be taken for making better arrangements for pilgrims after talks with religious leaders, says CM Gehlot.
Djokovic also not expected to be able to enter U.S. Open
Train witnesses overwhelming response with an average occupancy of 63%
The West Indies managed only 125/9 in reply of Kiwi's mammoth total of 215/5
Raju Srivastava was admitted to the hospital after suffering a heart attack on August 10, 2022
The court found Google misled some customers about personal location data collected through their Android mobile devices between January 2017 and December 2018.
Delhi flood control room said the water level breached the danger mark and reached 205.99 metres on August 13 morning
C.P. Muhammad Niyas, Judge, Kerala High Court, will inaugurate the programme at M.K. Damodaran Hall near the Kerala High court