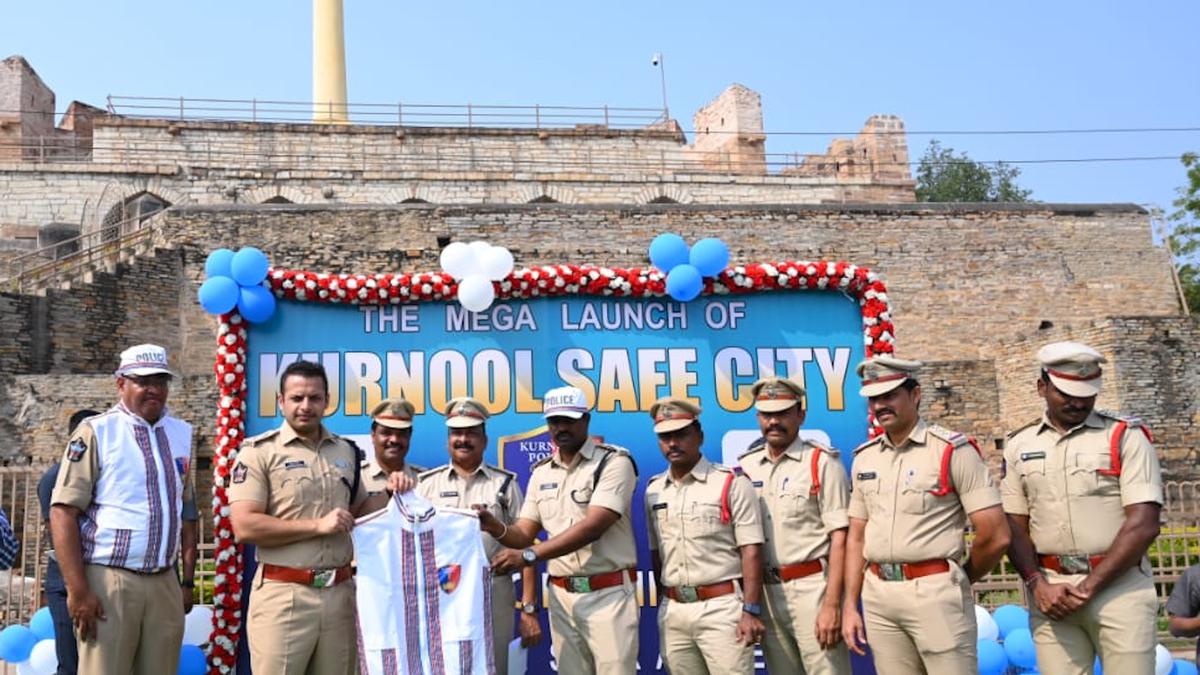 Kurnool inching closer to becoming a safe city: SP
The Hindu
KURNOOL
Kurnool city, with its strength of manpower and a technological edge to the investigation and detection, is inching towards becoming a 'safe city', said Superintendent of Police Siddharth Kaushal while reviewing the overall crime control scenario in 2022.
At a press conference here on Saturday, Mr. Siddharth Kaushal, along with District Collector P. Koteswara Rao, said that the district has been able to reduce the pendency of cases by 90% during the current year. Nabbing an inter-State gang that used a gas-cutter to rob an SBI ATM on the highway was the high point of the year, he said.
Explaining the direction of the police force in the New Year, he said: "We will monitor field-level movements prior to the upcoming general elections and its preparations. Personnel will visit every possible village and take steps to prevent crime," he said insiting on giving the highest priority to women's safety through Disha App, Dial 100, 112 Women's Police Beats.
Kurnool police also intends to provide additional training on case investigations and cybercrime andas part of Safe City Plan, night police patrols will be increased and special attention paid to urban areas. A specific action plan will be put in place for road safety in coordination with all stakeholding departments.
Out of 507 cases of property crimes they have recovered 72.13% in the last 6 months. During this year 8,483 compoundable cases were solved and Kurnool district stood first in the State in solving IPC cases in the Mega Lok Adalat, he added.
Weekly best performance awards were given to improve enthusiasm and bring out talent of the staff. There were 4,46,644 Disha App downloads and 388 complaints were made to Disha Call Center. All the complaints were resolved..
More Related News
Born in 1928 in Khadaklat in present-day Karnataka, she was known by her mononym 'Sulochana' and acted in more than 300 Marathi and Hindi films.
The Aam Aadmi Party (AAP) on Sunday attacked the Bharatiya Janata Party (BJP) over the Balasore train accident, and said that before the accident, there were complaints of problems with the signalling system and a shortage in manpower, but the Central government had not done anything about these issues.
The silver jubilee celebrations of Amrita Hospital, Ernakulam, were inaugurated on Sunday. Inaugurating the celebrations, Union Home Minister Amit Shah said the hospital had set an example by providing free medical support to needy sections of the society.
Dakshina Kannada Member of Parliament Nalin Kumar Kateel has said that 22 km of the 45 km- long Bikarnakatte-Sanur National Highway widening project has been completed.
A month after Manipur was engulfed in ethnic violence, only 18% of over 4,000 weapons, looted or taken away from police armouries have been surrendered with the authorities.
The Congress had earlier demanded the resignation of Railway Minister Ashwini Vaishnaw and criticised Prime Minister Narendra Modi
Mamata Banerjee announced ₹5 lakh compensation to the kin of the deceased, ₹50,000 to the injured
Members of HB Colony Residents Welfare Association and Visakhapatnam Apartment Resident Welfare Association staged a protest demanding that the APSRTC officials resume city bus 20A service immediately
As many as 32 people from Karnataka, part of volleyball teams, who were stranded after the train accident in Balasore, managed to return on Sunday
The power sector in Tamil Nadu may see a maximum coal demand of 65.7 million tonnes by the financial year 2030 from actual consumption of 27.95 million tonnes in financial year 2022, as per government's report on Integrated Coal Logistics Plan for efficient coal evacuation.
Heavy rain accompanied by strong winds brought down the mercury level in Sivaganga town and its peripheries on Sunday evening..