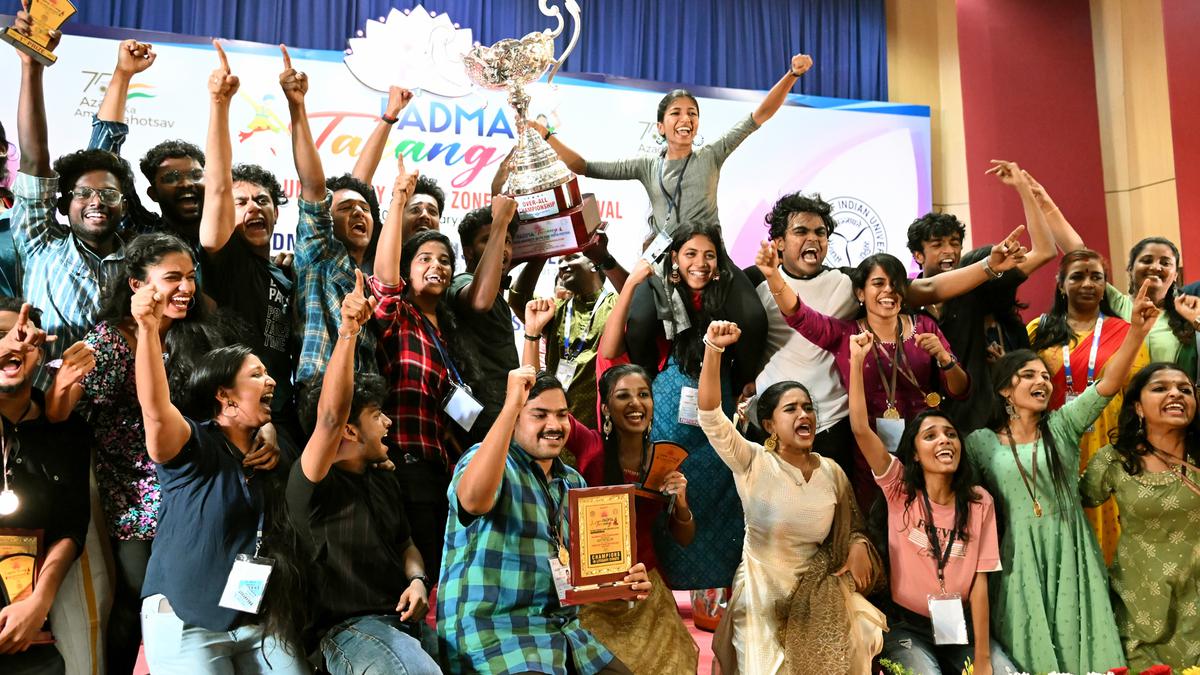 Kerala University wins 'Overall Championship' at youth festival held in Tirupati
The Hindu
Girls win more prizes than boys in the event where championships were awarded in five categories: music, dance, fine arts, theatre and literary events
University of Kerala bagged the 'Overall Championship' at Padma Tarang, the 36th Inter University South Zone Youth Festival that concluded on a colourful note at Sri Padmavati Mahila Viswa Vidyalayam (SPMVV) in Tirupati on Saturday. Mahatma Gandhi University, Kottayam, came the runners-up.
Championships were awarded in each of the five categories viz., music, dance, fine arts, theatre and literary events, which were respectively won by MGU Kottayam, Sri Sankaracharya University of Sanskrit, Yogi Vemana University, University of Kerala (last two categories).
Taking part as the chief guest at the valedictory session, noted Bharatanatyam and Kuchipudi dancer Alekhya Punjala said fine arts is not just an extracurricular activity, but a mainstream component of university curricula.
"Fine arts, theatre and literary events make us more sensitive, more conscious of the world around us and help us become better human beings," said Mr. Punjala, who had also served as the Registrar of Potti Sriramulu Telugu University, Hyderabad.
Association of Indian Universities (AIU) representative Arun Patil expressed delight at girls winning more prizes than boys in all the events here, and in similar events elsewhere too.
While congratulating the prize winners, Vice-Chancellor Jamuna Duvvuru and Registrar N. Rajani wanted a sense of sportsmanship to prevail among the participants, in the true spirit of the youth festival.
More Related News
Effort for reduction of recurring accidents involving motorists and pedestrians
A total of 1,250 farmers were selected for assistance through individual plans with 10 actionable points for their kharif crops.
The advocates win the sixth edition of CJ's XI versus AG's XI by seven wickets; it is the fifth time that the lawyers have lifted the winner's trophy in the last six years
PALAKKAD A two-day State professional family conference titled Proface organised by the Wisdom Youth
Parts of our history and rich culture and Heritage on the brink of collapse with sinking Joshimath: SJM
Prime Minister Narendra Modi was addressing an NCC rally at the Cariappa Ground in Delhi Cantonment.
'Humanity must unite' is the theme of the festival, which will be held from Feb 5-14
The move follows a review meeting held with senior police officers on January 19, where the complied data revealed a substantial increase in the number of grave crime cases reported in 2022 compared to 2019
The domestic goat (Capra hircus) is a familiar presence in the rural landscape of India and in many
MADURAI Education and equal opportunities for women are the core of Dravidian philosophy and are at
'We are keen on proving that we represent the Kazhagam [AIADMK] genuinely and consider the bypoll an occasion to gain the public's confidence'