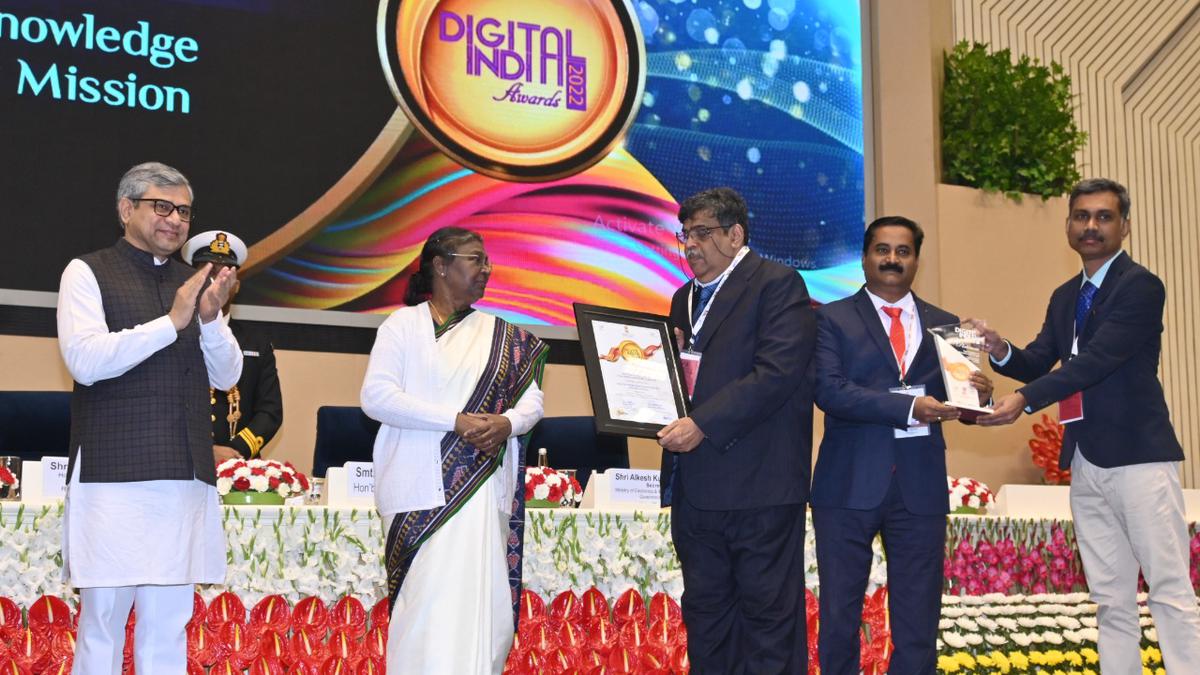 Kerala receives Digital India award for DWMS
The Hindu
DWMS was developed by a team headed by Ajith Kumar R., Director of the Centre for Digital Innovation and Product Development, Digital University Kerala
Kerala received the Digital India Platinum Icon award for its Digital Workforce Management System (DWMS) from President Droupadi Murmu in New Delhi on Saturday. K-DISC member secretary P.V. Unnikrishnan and Kerala Knowledge Economy Mission general manager Riyas P.M. received the award.
DWMS was developed by a team headed by Ajith Kumar R., Director of the Centre for Digital Innovation and Product Development, Digital University Kerala (DUK). The DWMS Connect mobile application has been downloaded 9.62 lakh times and has an average rating of 4.02.
DUK Vice Chancellor Saji Gopinath said the platform combines multiple skilling, job listing and gig work management platforms across the globe, making it a highly comprehensive ecosystem for supporting the Kerala Knowledge Economy Mission.
More Related News
She urged people of poll-bound Tripura to break myth of a double-engine government and vote only for her party, to introduce 'Bengal model' of governance
The Assembly Session will start with the Governor's address to the House, the first in the State Assembly after assuming office
As both teams head into the semifinal clash at the M. Chinnaswamy Stadium starting Wednesday, Karnataka has a score to settle.
Notwithstanding a couple of untimely adjournments, both the Houses conducted discussion on the Presi
The Home Minister, while chairing the meeting of the Parliamentary Consultative Committee on LWE, said that for the first time in four decades, the number of deaths of civilians and security forces was under 100 last year
Bengaluru Traffic Police launches special drive to crack down on vehicles using fake number plates
Madurai The first fully-solar powered police check post of Madurai district police was inaugurated a
The 21st edition of the event is open for school students in two categories
The High Court, in the meantime, began hearing submissions on the bail plea of the Rashtriya Janata Dal's youth wing leader and Jamia Millia Islamia student Meeran Haider in the same case