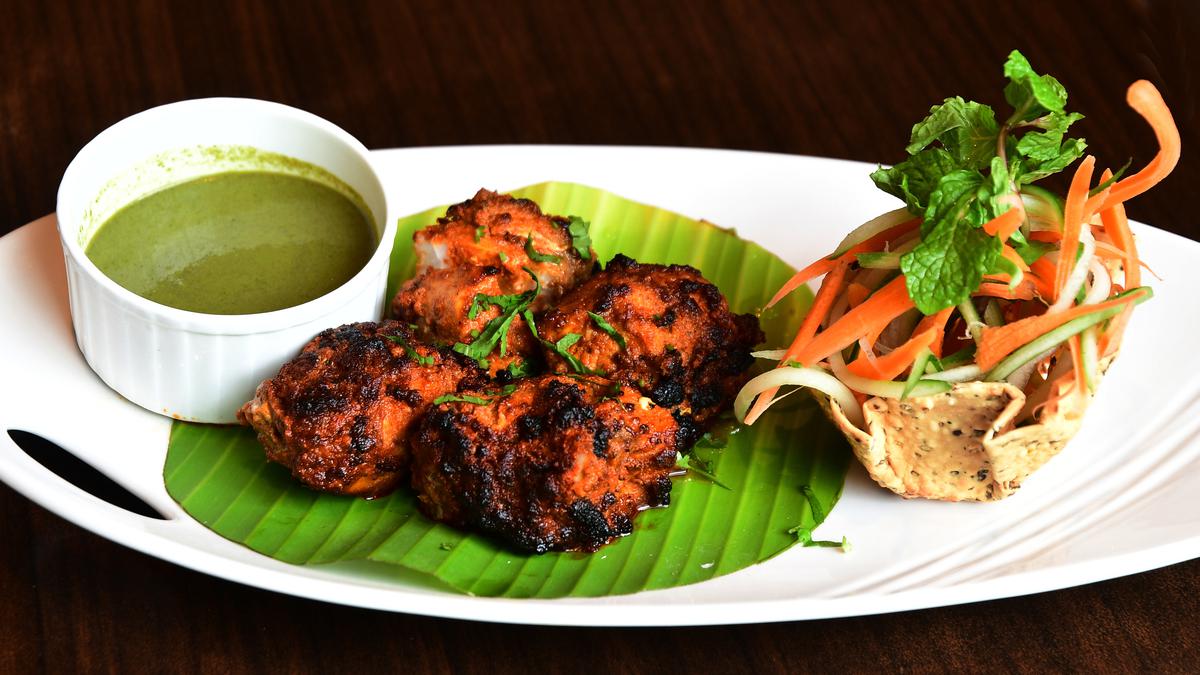 Kebabs, dum biryanis, and 'khubani ka meetha' at an ongoing food festival in Coimbatore
The Hindu
An ongoing food festival brings popular Hyderabadi kebabs, biryanis, and khubani ka meetha
Chef Bilal Khan fuels our conversation on Hyderabadi cuisine with the story of meat-loving toothless Nawabs. "The royal cooks had to come up with something that the nawab could eat without having to chew. They ground the meat into a fine paste and then added ginger and garlic, poppy seeds and various combinations of spices, made them as patties and roasted them over a fire. The resulting kebabs were crispy on the outside but so soft and silky within that even the toothless could eat them with pleasure," he explains, speaking about cuisines from Hyderabad which is a blend of Persian, Mughlai and Lucknowi at an on-going food festival at Latitude Restaurant of Vivanta Coimbatore.
Born in Hyderabad, Bilal who is now with Taj Krishna there, is an expert on royal cuisine and comes with 33 years of experience (earlier at Taj Banjara) with a knowledge of authentic Hyderabadi food and relates to the regal kitchens of the erstwhile Hyderabadi Nawabs. He talks fondly of the flavoruful Hyderabadi kache gosht ke dum biryani. "We first cook the rice and when it is half done we mix it with raw meat simmering in masala and cook them together," he says sharing a nugget on Nawabi cooking where the proportion of meat is always more than the rice. The result is a flavourful biriyani with tender meat that falls off the bones.
The menu at the festival features a variety of kebabs like ajwaini machhi tikka that has juicy fish cubes in a refreshing marination, and favourites like kebab-e-firdaus (with chicken thighs), mutton sheekh and more. "Most royal dishes are mild on spices but have a rich taste because of the generous use of dry fruits like cashew nuts, almonds, and pista in the form of ground paste. Hung curd is another must. We wanted to offer an exciting royal fare for our diners," says Saratchandra Banerji, executive chef of Vivanta.
Hyderabadi cuisine draws from the legacies of Deccani cuisine of Nizams with its delectable biryanis, haleem (pounded wheat and mutton dish) and kebabs. Some of the dishes like dum ka murgh made with hung curd and richly endowed with nuts and assorted spices and cooked in ghee or dum ki nalli, a mutton dish in fiery red gravy (that comes from fried onions paste) or a Nizami handi, a mixed vegetable sabzi, can be enjoyed with rotis and butter naan.
And the best part is the indulgent sheer-e-khorma, a hot rich kheer made from super fine vermicelli, and double ka meetha, a juicy bread pudding garnished with finely chopped raisins, almonds and cashew nuts that can be savoured just the way the Nawabs relished it.
The festival is served as a dinner buffet priced at ₹1700 plus taxes till October 1. For reservations, call: 9895053224 or 9039030184
More Related News
Someone in China created thousands of fake Meta social media accounts designed to appear to be from Americans and used them to spread polarising political content.
Climate change has been one of the biggest threats of this era posing major challenges to food and water security to not just human beings, but all species. But can science and technology address some of these issues, if not all, and offer a glimmer of hope of a sustainable future? Experts say yes.
India, Australia, U.K. co-hosted 1st Indo-Pacific Conf. in London to address security issues, build resilience & enhance stability. High Commissions of India & Australia welcomed U.K.'s interest in the region. India's High Commissioner rejected allegations of govt. killing separatists & U.S. prosecutors unveiled charges against Indian national in attempted murder-for-hire case. High Commissioner & Australian High Commissioner agreed to allow investigation results to be brought forward.
The workshop is tailored for a diverse audience, beckoning those eager to adopt a millet diet, individuals seeking a healthier way of life, and those grappling with lifestyle disorders.
Top news developments from Telangana today, December 1, 2023
Taslima Nasrin's novel Lajja brought her fame, a fatwa, and exile. Her works have been banned and fatwas renewed, and her views on patriarchy, gender injustice, and sexual freedom have caused controversy. Her new poetry collection Burning Roses in My Garden comprises poems that range in topic from love to language, country, and humanity. Nasrin's voice is soft, wistful, and reflective, and her blend of ideology and sensitivity is unique.
.Varavara Rao allowed to travel to Hyderabad for cataract surgery: NIA court permits activist to travel Dec 5-11; must report to NIA Dec 4 and provide details of journey. Court warns against misuse of liberty.
Adya Singh from Patna wins National Crossword Champion trophy 2023. Sahil Sabne & Sakshee Vaidya from Pune & Dhara & Lakshmi from Delhi are runners-up. 38 teams from across India competed in 2-day Grand Finale at YMCA Auditorium, New Delhi. Alan Cowell, English teacher from Don Bosco Academy, Patna, was Cross Master. Civil society initiative Extra-C has been organizing contest since 2013, acknowledged by Limca Book of Records.
Dudiya is a gripping tale of a young female Naxal recruit, exploring the exploitation of Adivasis and the rise of Naxalism in India. Through the character of Dudiya, Vishwas Patil sensitively portrays the dark reality of India's Maoist insurgency, while gently scoffing at the perceived threat of the 'urban Naxal'.
Kerala HC Division Bench stays single judge's order nullifying election of V.A. Sreejith as chairperson of Education Standing Committee of Kochi Corporation. Court directs State Election Commission to keep ballots in sealed cover. Single judge had allowed petition filed by UDF candidate Bastin Babu. Case to be considered later.