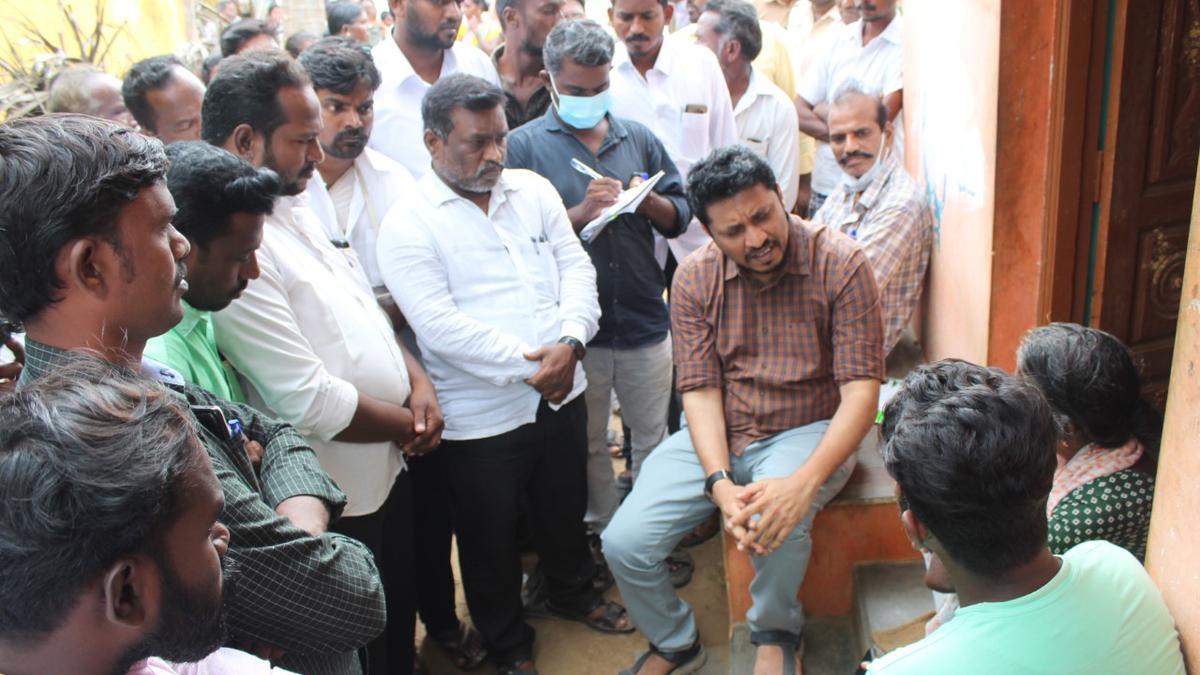 Kathir: making Dalit politics inclusive
The Hindu
Casteism continues even after death, says the Madurai-based activist
He still feels nervous when he talks about the first time he investigated an honour killing. A woman from the martial Naicker caste had eloped with a Dalit man. The villagers tracked them down and brought them back. "They tied her up with a chain in a public place like a dog," says Kathir, 50, founder of the Tamil Nadu-based non-profit, Evidence, which has legally pursued around 250 honour killings since 2005.
ALSO READ Prateek Khandelwal: ramping it up
"They collected money to 'purify' the temple that had been made 'impure' by the girl's association with a Dalit. They used the money to whitewash all the 70 houses in the locality. For three days the girl was kept alive… given food in a dog bowl. On the third day, she was killed by poisoning." When Kathir reached the village the next day, all he could see were her bones. "The village looked like it had just celebrated a festival — whitewashed houses and a temple with a new look," he says.
Despite the fact that there have been at least 60 Supreme Court and High Court judgments against honour crimes, relatives, caste groups and khap panchayats continue to use brutal means to prevent young people from selecting life partners. Kathir believes that though most Indians agree honour crimes shouldn't take place, they also sympathise with the parents who commit these crimes. In an age when the right to choice is being rapidly criminalised, Kathir's work is more crucial — and dangerous — than ever.
"Is your caste more important than your daughter?" Kathir once asked a father imprisoned for conspiring to murder his daughter. "It is more important than god," the man replied. A few years ago, Kathir had a bounty on his head after a sessions court awarded the death penalty to six people, including the father of a woman, for conspiring and killing her Dalit husband. Kathir didn't hit pause even when he faced two attempts on his life. In September, he presented Tamil Nadu Chief Minister M.K. Stalin with a proposed bill to end honour killings.
Two instances in his growing up years are seared in Kathir's journey of caste consciousness. He was in Class VIII in the 1980s when his cousin was gang raped. The panchayat fined the perpetrators ₹80; nobody filed a first information report of the crime. The second event occurred three years later, when his Class XI teacher pointedly asked him his caste name. His silence in front of all his classmates was interpreted accurately: 'You are Scheduled Caste'. That night he asked his father why he hadn't been born to an upper caste family. Both men cried.
In the years after, Kathir, who was born at home in a northern Tamil Nadu hamlet on a day the nearby Veeranam lake — one of the State's biggest — overflowed into his family's tiny hut, found answers in the lives of Che Guevara, Periyar and Ambedkar. He embraced the inclusiveness of Martin Luther King and understood the rage of Malcolm X. Somewhere along the line he dropped his given Christian name, Vincent Raj, and identified simply as Kathir.
More Related News
Yettinahole Integrated Drinking Water Project trial run caused flooding in Sakleshpur taluk, damaging houses, coffee beans, and a road. Locals blamed officers for the damage and raised doubts over quality of work. Project officers and MLA visited spots, assured repair work, and stopped trial run. To ensure efficiency, experts will examine pipeline and find leakage points.
Assembly elections results 2023: BJP leaders credit PM Modi's "charismatic" leadership & development agenda for party's success in 3 States. Home Minister Shah asserts people have put stamp of approval on PM Modi's "good governance".
Retired Air Force officer B. Rama Krishna Rao, who donated blood 257 times, encourages senior citizens to volunteer for blood donation. To mark Navy Day, retired officials of the Navy and Air Force, including S.N. Raju, V.V. Ramana, T. Shiva Sankar, Ch. Bala Raju, V.V.B.S. Thimmarasu, donated blood at New Life Blood Center of Vizianagaram. Awareness of blood donation needed to bridge gap between availability and requirement.
Election Commission of India directs Telangana Chief Secretary to suspend DGP Anjani Kumar for meeting TPCC president while election results were being announced. ECI recommended suspension of DGP for violating model code of conduct. DGP claims he was called to discuss arrangements for swearing ceremony. Suspension orders awaited.
Special Chief Secretary (Energy) K. Vijayanand told the CMDs of power distribution companies (DISCOMs) to be alert to the likelihood of cyclone Michaung causing widespread destruction during its landfall and to promptly take restoration works.
Salem district distributes terrace garden kits to 11,000 residents with ₹62.50 lakh subsidy. Kits include seed packages, bags, organic fertilizers, pesticides & manual. People can learn farming & meet daily vegetable needs through Uzhavar Sandhais.
Lt. Gen. Manjinder Singh assumed office as GOC-in-C of ARTRAC on Dec. 1, 2023. He is an alumnus of Sainik School Kapurthala, NDA, Khadakwasla & IMA, Dehradun. He has commanded a Battalion in J&K, an Infantry Brigade at LoC, an Infantry Division & a Corps. He was decorated with Yudh Seva Medal & Vishisht Seva Medal. He is the Colonel of Madras Regiment since Jan. 2021.
ENC C-in-C V.Adm. Rajesh Pendharkar announces Operational Demo on Dec 10, postponed due to Cyclone Michaung. 2nd edition of Exercise MILAN in Visakhapatnam in Feb 2024, with 50 countries. Highlights: Seminar, Table Top Exercises, DSRV, Multilateral Exercise, City Parade, Social & Cultural Events. Indian Navy to deploy Aircraft Carriers Vikramaditya & Vikrant to Eastern Seaboard.
Telangana election results reflect the aspirations of people there, say Chandrababu Naidu, Lokesh. In a joint message posted on X, they have advised the TDP cadre to refrain from belittling the losers, and added that time has come to focus on elections in Andhra Pradesh.
Sri Venkateswara Institute of Medical Sciences (SVIMS), the super specialty hospital being run by the Tirumala Tirupati Devasthanams (TTD), is laying an enhanced focus on tackling cardiac disorders and cancer care, while adequate thrust will also be given on preventive care through screening services. The paradigm shift in core focus started after R.V. Kumar, former head of CT surgery at Nizam's Institute of Medical Sciences (NIMS), Hyderabad, took over the reins of this institute as its Director and Vice-Chancellor. In an interview with The Hindu, Dr. Kumar spoke about his previous accomplishments and explained the roadmap for the development of the SVIMS.
A collection of images from India's youngest State, which has chosen Congress after handing over two successive wins to BRS.