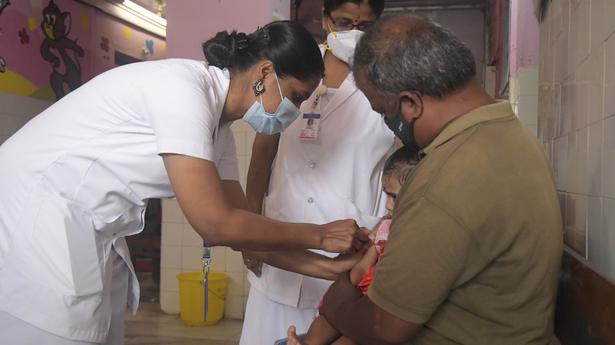 Karnataka achieves Sustainable Development Goal target of less than 25 in under-five mortality rate
The Hindu
Neonatal Mortality Rate and Infant Mortality Rate have also fallen by two points each in Karnataka
Karnataka has recorded a five-point decline in under-five mortality rate (U5MR), from 26 per 1,000 live births in 2019 to 21 in 2020. With this, Karnataka is among 11 states that have attained the Sustainable Development Goals (SDG-3) target of less than 25 in this prominent child health indicator.
Infectious diseases, including pneumonia, diarrhoea and malaria, along with preterm birth complications, birth asphyxia, trauma and congenital anomalies remain the leading causes of death for children under five.
According to data from the Sample Registration System (SRS) bulletin for 2020 released on Friday, U5MR varies from 18 in rural areas to 17 in urban areas in Karnataka.
The SRS taken up by the Office of the Registrar General of India is a large-scale demographic survey for providing reliable annual estimates of infant mortality rate, birth rate, death rate, and other fertility and mortality indicators at the national and regional level.
At the national level, U5MR is estimated at 32 and it varies from 36 in rural areas to 21 in urban areas. Among the bigger states/UTs, it varies from 8 in Kerala to 51 in Madhya Pradesh. On an average, the under-five mortality rates of female children are higher than that of male except in Delhi, Gujarat, Haryana, Himachal Pradesh, Kerala, Madhya Pradesh, Tamil Nadu and West Bengal.
Similarly, Neonatal Mortality Rate (NMR) and Infant Mortality Rate (IMR) have also fallen by two points each. While NMR has declined from 16 in 2019 to 14 in 2020, IMR has dropped from 21 in 2019 to 19 in 2020.
While NMR refers to the number of deaths of infants aged 0–27 days per 1,000 live births, IMR refers to the number of deaths under one year per 1,000 live births.
More Related News
During his 'Mann Ki Baat' radio broadcast on Sunday, Prime Minister Narendra Modi had announced that the airport would be renamed after Bhagat Singh as a tribute to the freedom fighter.
A video on the Popular Front of India
The incident came to public attention following the social media post by one of the actors about the harrowing experience
Maitreyi Ramakrishnan's childhood devotion to 'My Little Pony' turned out to be homework for her latest TV project
The deal involves dramas, comedies, documentaries, animation and children's series and will see the Pakistani activist team up with Oscar winner Adam McKay's production house on a feature film
"BJP has nothing else to do, but to crush Kejriwal's increasing popularity and crush the AAP," AAP MP Sanjay Singh said.
Mr. Govindan added that banning only one organisation against communalism will not help
He welcomed the Union Government's decision to ban the Popular Front of India (PFI)
Liquor businessman Sameer Mahendru is expected to be produced before a local court where the Enforcement Directorate will seek his further remand
Muhammad Ali Jauhar University is a private university established in 2006 by a trust and Samajwadi Party leader Azam Khan is its chancellor
The message from the Russian authorities has named Purnima Anand who worked as "an observer from India" during the referendum