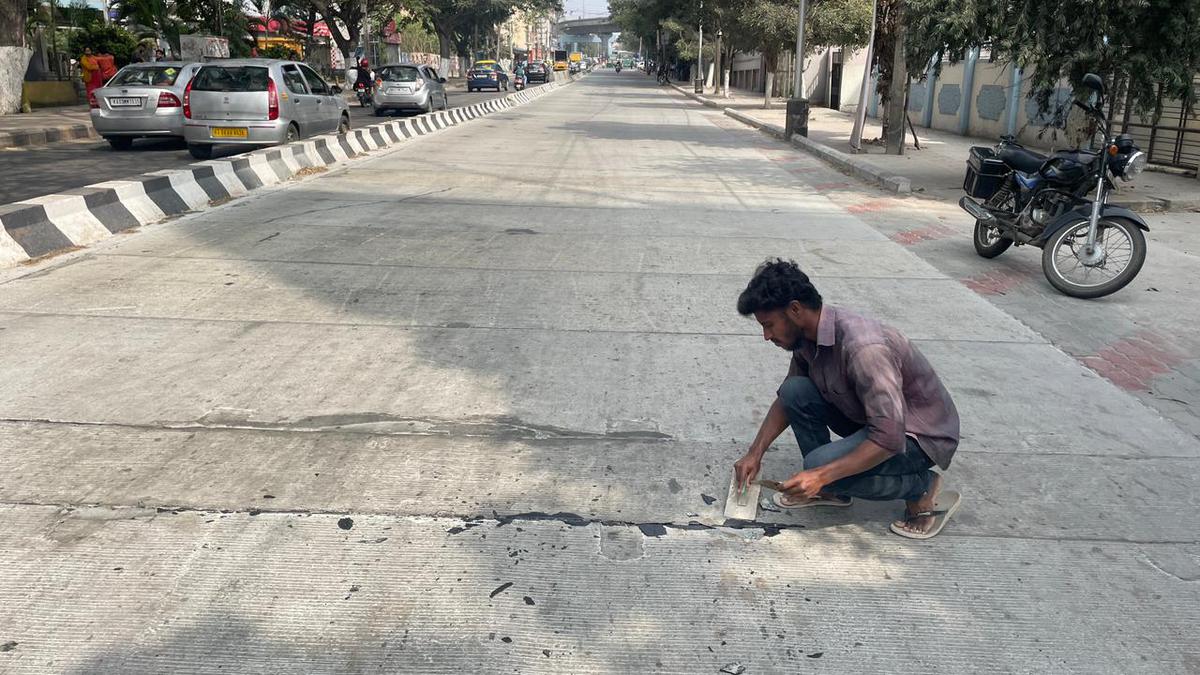 Just a month after its launch, Bengaluru's 'Rapid Road' develops cracks
The Hindu
As an experiment, a 375-metre-long stretch was laid on the busy Old Madras Road after missing several deadlines
Though it is a pilot project, the "rapid road" on Old Madras Road in Bengaluru has developed cracks within a month of its inauguration by Chief Minister Basavaraj Bommai.
The Bruhat Bengaluru Mahanagara Palike (BBMP) has not yet finalised the rapid road project and is still in the evaluation process. On December 8, Chief Minister Basavaraj Bommai had inaugurated the pilot rapid road stretch and had said that the Karnataka government would consider construction of rapid roads by using pre-cast technology only after examining its quality and cost.
For the last few days, the cracks have been noticed by motorists using the stretch. Arvind Krishnan, a resident of Indiranagar 1st stage, said, "The civic body had claimed that the road will be of good quality and will last for years compared to other roads. But from day one, the road seemed to be of poor quality and now one can see that it has developed cracks, which will be dangerous for motorists."
In the 'rapid road' method, pre-cast slabs are prepared, joined, strengthened and then laid. As an experiment, a 375-metre-long stretch was laid on the busy Old Madras Road (OMR).
The OMR 'rapid road' stretch was opened for traffic after missing several deadlines. The repair work was announced on November 23. The pilot project was supposed to be completed in three days, but took 13 days. The road sees a large volume of traffic every day, including inter-State transport vehicles.
S. Chandrasekhar, a motorist said, "The BBMP should have done a detailed study before wasting money on such a project. Though it is a pilot, the BBMP could have consulted various road experts and then constructed the road." Earlier, officials had said that while the white-topping roads take around 30 days, the rapid roads would take two to three days.
Since it is a new technology, a BBMP official said they were still in the process of evaluating and checking how the cracks had developed. "The investigation is going on. We have asked for an evaluation report by the Indian Institute of Science (IISc)," official said.
More Related News
Early June 8, Chief Minister Pinarayi Vijayan embarked on an eight-day foreign tour of the United States of America (USA) and Cuba amidst strident criticism from opposition parties.
Exploration of ways to monetise land without exploiting it led to the birth of Mycelium, a Bengaluru-based start-up that aims to buy private lands outside of protected forests and conserve or restore these spaces.
Heat-wave conditions are likely to continue in most parts of Jharkhand till June 12, the weather office said on June 8 Thursday.
Asia Kitchen by Mainland China opens a new 98-seater restaurant at Somerset Greenways in Chennai with Omurice and Thai khao niew mamung
The Southern Railway has decided to postpone the suspension of the Mass Rapid Transit System (MRTS) from Chennai Beach to Chepauk
Tamil Nadu police launch drive to trace missing children
Collector M. S. Sangeetha on Wednesday handed over compensation amount to the family members of those injured in the aftermath of an altercation that broke out during a temple festival in Othakadai in Madurai, last week.
More than 10,000 children took part in 363 summer camps organised by the Greater Visakhapatnam Municipal Corporation (GVMC) in 98 wards, Mayor G. Hari Venkata Kumari has said.
Here is a list of top news developments to look out for from Tamil Nadu on June 8, 2023.
Here are the important developments from Kerala to watch out for today.